How to Train Your Dog to Bring You His Bowl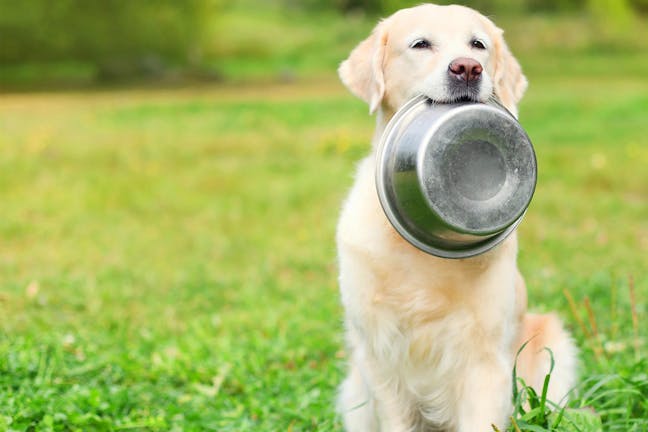 Introduction
It might be your job to feed your dog every day, but why not have a little fun at mealtime? Imagine how much easier it would be at dinner time if you could teach your pup to bring you his bowl instead of having to go get it yourself. A great training tool is to teach your dog to recognize the names of different objects such as his bowl, a ball, or his favorite toy.
What you may not realize is that your dog probably already knows several words such as his name and command words like sit, stay, come, fetch, drop it, and of course "No!" Perhaps he also knows "outside" and "walkies" too, so with this in mind and a dog that already knows these basic commands, training him to fetch you his bowl should go relatively smoothly.
Top
Defining Tasks
The idea here is to teach your pup to bring you his bowl when he is hungry. The command could be as simple as saying "Dinner time!" You can teach any age dog to do this trick as long as he is old enough and big enough to carry his own food dish. This trick is not so much an important one for you to teach him so much as it is a fun one for him to learn.
How much time training your dog to bring you his bowl will take depends on several factors. These include things like whether your dog already knows how to "Fetch", the age of your dog, and of course how much time you have to spend training him. The most important thing to remember is that training your dog to perform any type of trick is going to take time and requires tons of patience and, of course, an ample supply of treats.
Top
Getting Started
It doesn't take much to get started training your dog to bring you his bowl. Here are a few things you might find come in handy:
Treats: To reward him when he gets things right.

Patience: It will take time for your dog to get this trick down.

Peace and quiet: Training your dog to do just about anything is best done when it is quiet in your home so there are fewer distractions.

The right command: Choose a simple command such as "Dinner Time!" or perhaps "Fetch me your bowl!" and stick to it. Be sure the whole family uses the same command.
The best advice is to make training your dog to fetch his bowl fun for both of you. Not only will this make training more enjoyable, but it often helps dogs to learn more quickly.
Top

Make a spot
Create a training area and place your dog's bowl in it while bringing his attention to the bowl.
Touch the bowl
Encourage your dog to touch the bowl and reward him each time he does.
Move the bowl
Now stop giving him the treat until he understands the next step is to obey the command you have chosen and moves the bowl. Once he does, give him a treat and plenty of praise.
Pick up the bowl
Now encourage your dog to pick up the bowl and when he does give him treats.
Practice
Keep practicing this until you dog obeys the command by picking up the bowl and bringing it to you. When he does, be sure to shower him with praise and plenty of treats.

Touch the bowl
Teach your dog to touch his bowl every time you tell him to. When he does give him a treat.
Hold the bowl
Now teach him to hold the bowl in his mouth using the command "take it!"
Identify the bowl
Place the bowl on the floor and say "bowl" or "dish" and reward him when he touches it.
Combine tasks
Once your dog has successfully mastered this, reward him and encourage him to pick it up.
Delivery
Now that he has mastered picking up his bowl, have him bring it to you. Repeat this until he does so each time you tell him to. Be sure to reward him with lots of treats and praise.
The Going Backward Method

Holding the bowl
Start by making sure your pup can hold his bowl in his mouth.
Release the bowl
Once he is holding his bowl in his mouth, teach him to give it to you using the command "Give It!" Be sure to praise him and give him his dinner.
Deliver the bowl
Move a few feet away from your dog while he has his bowl in his mouth. Have him bring his bowl over to you and then have him "give it" to you. More praise and treats.
Increase distances
Continue moving further away and letting your dog bring you his bowl from further away.
Practice
Repeat the process until your dog will bring you his bowl when he is hungry, when it is dinner time, or whenever you feel like asking him to.
By Amy Caldwell
Published: 10/09/2017, edited: 01/08/2021
---