How to Train Your Dog to Catch Food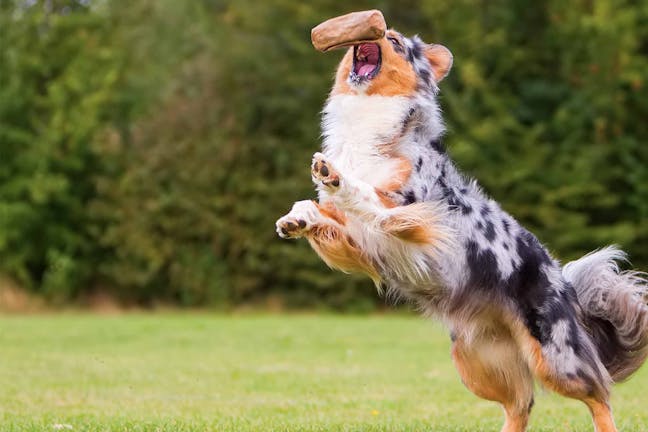 Introduction
Teaching your dog to catch food is a fun trick to try. Some dogs struggle with his trick, but for many, it is one of the easiest. Your dog is motivated to learn to catch food in his mouth because he gets a reward while he's doing the trick. Teaching your dog to catch food is an opening trick to teaching him to catch other larger objects like tennis balls and Frisbees. Some dogs, however, will watch a treat bounce right off their nose and then pick it up off the ground once it has settled. Giving your dog the fabulous idea of catching food becomes easier when he realizes it's a game for you both. You can turn your dog into a treat and food-catching dog with just a few hours of repetitive training.
Top
Defining Tasks
Training your dog to catch food is one of the more simple tricks as long as your dog is open to doing it. If you've tossed food at your dog and it hit his face and bounced to the ground, giving him a free on-the-ground treat, he probably won't be very motivated to learn to catch food. On the other hand, if you toss food his way it, watch it bounce off of his face and hit the ground, but  grab it before he can gobble it up, he may be more motivated to catch it in his mouth before you can get your hands on it. Not all dogs are natural at jumping up and catching food, so be prepared with some patience and dedication. Your dog may become bored with the idea of catching food if he's not a natural catcher and isn't rewarded for his efforts. Entice your dog with delicious treats and have fun with this one. Teaching your dog to catch food is easy with a little bit of repetition and dedication.
Top
Getting Started
To teach your dog to catch food you will need some tasty treats to toss to his way. Try to start with a delicious treat such as a beef jerky or small bits of cheese before moving on to something harder like peanuts. Expect a lot of these treats to fall to the ground, so you may want a buddy to help gather the treats that fall before your dog has gobbles them up.
Top

Start low
Put your dog in a sit position and hold his reward high above his head.
Reward
You don't want your dog to jump up and snatch the treat from you but rather let him stretch upward, reaching the treat. Once he stretches far enough, offer him the reward.
Repeat and increase
Repeat the above steps and increase the distance between the treat and your dog's mouth. Once your dog has to lift his front paws off of the ground, begin to drop it into his mouth.
Verbal praise
Each time you successfully land the treat in your dog's mouth, offer verbal praise. Be sure to show excitement, so your dog understands this is a cool trick.
Add difficulty
Continue to increase the distance between the treat and your dog's mouth, adding a more difficult challenge. As your dog catches the food, begin to toss food at him at more of an arc rather than dropping down words into his mouth.
Toss
Once your dog has a good understanding of receiving the treat as it's dropped into his mouth, begin to toss it at an arc, causing him to reach up and snatch it out of the air.
Practice
Catching food will take some practice, so enjoy a few small training sessions every day. Your dog may get this down within a few hours, or it may take him a couple of weeks. Every time you give your dog a treat, if you practice tossing it at him, forcing him to catch it, he is more likely to remember his neat trick.

Sit
From a sitting position, show your dog a small and tasty treat. Be sure this is a treat that is enticing, yet quick to eat.
Toss
Toss the treat up into the air and use the command word 'catch.'
Reward or praise
If your dog manages to catch the treat on first try, show him how excited you are and give him verbal praise. If he does not manage to catch it quickly, grab the treat so he does not get a reward just yet.
Repeat
Repeat these steps always using the keyword, 'catch.'
Enthusiasm
Your dog will be eager to earn the treat, so continue trying and he will eventually get that he needs to snatch it from you or catch it as you toss it to him. This will take some time, but be sure to show enthusiasm and excitement to your dog so he understands what he needs to do to please you.
The Short Sessions Method

Begin
Stand in front of your dog in a seated position.
Entice
Show your dog his favorite treat and toss it very gently towards his head over his nose.
Movement
If your dog moves to grab the treat, give him verbal praise but don't let him have it unless he catches it. If he does not move toward it, pick it up and try again.
Repeat and practice
Repeat these steps, not allowing your dog to have the treat unless he leaps forward in an effort to catch and catches the treat in mid-air. Repeat several times in 5 to 10 minute sessions.
Reward
Once your dog catches the treat mid-air, allow him to have to treat and offer him lots of love and verbal praise for a job well done. If after about 10 minutes he does not catch the treat, move him to a different position. Give him a simple command, such as 'sit', and give him the treat he worked so hard to get.
Retrain
Continue to work with your dog in 5 to 10 minutes sessions a few times a day until he gets the hang of catching the food in his mouth.
By Amy Caldwell
Published: 10/27/2017, edited: 01/08/2021
---