How to Train Your Dog to Bark at Intruders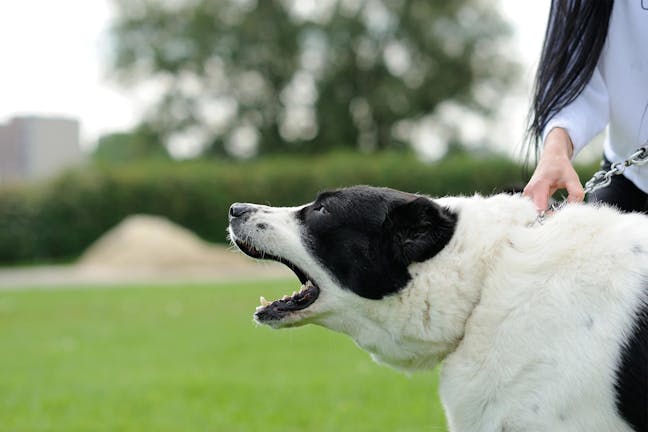 Introduction
You're lying in bed at night when you hear a faint and peculiar sound coming from downstairs. You quickly wake up your partner and beg them to go downstairs and check. Thankfully, they return two minutes later holding the bedside lamp. All is clear, you can sleep easy again. There is a quick and easy solution to fears about intruders though, and that's to train your dog to bark at them. If he barks when intruders approach the door, you will always be quickly alerted and it will also act as a pretty effective deterrent.
If you have children, valuable possessions, and cars then a barking dog can come in very handy. Studies have found dogs are the biggest burglary deterrents, so if you can train him to bark at any intruder, you can sleep peacefully every night.
Top
Defining Tasks
The good news is training your dog to bark at intruders is surprisingly straightforward. It is achieved by teaching him obedience commands so he barks on cue, but also so that certain situations will trigger a bark too. You will need to manage their environment so they can notice intruders swiftly and respond appropriately. If your dog is a puppy, he will respond to training in as little as a few days. If your dog is older and spent many years without using his voice, then he may need a little while longer to catch on.
Getting this training right could be essential for keeping your home and family safe and sound. Every year, homes are successfully protected by dogs and nothing puts the fear of God into intruders more than a chilling bark.
Top
Getting Started
Before you bring the roof down with your barking dog, you will need to get together a few bits and pieces. His favorite food or a selection of treats will play an important role in training, as they will be used to incentivize and reward him.
You will also need a quiet place, free from distractions to train and probably somewhere that isn't going to make you your neighbors' arch enemy. You will also need some brave volunteers who are unknown to your dog to test the efficacy of the training.
Once you have all of that, just set aside 10 minutes a day for the next couple of weeks and come with a can-do attitude.
Top
The Bark on Command Method

Set the stage
Secure your dog to a leash and a fence in the back yard. Then head out there with some treats in hand and his favorite toy to get him excited. Before you can train him to bark at intruders he needs to be able to bark on command.
Get him excited
Play with his favorite toy in front of him to get his attention. Play close attention to his body language, you are looking out for signs that he is about to bark.
Anticipate the bark
Just before you think he will bark, say 'speak'. Then as soon as he does bark give him a treat and reward him with praise. Practice this for 10 minutes each day and then have him bark without having to wind him up with a toy in the first place.
Add a trigger
Now leash your dog near the door and have a friend or someone approach the door. As soon as the person gets close to the door give him the 'speak' command. Once he does start barking, be sure to reward him with a treat and praise him.
Practice
Keep practicing this whenever someone unknown comes to the door. It is important you don't give him the cue to bark when a family member approaches the house otherwise he will bark at anyone that approaches. As he gets the hang of training, he will soon learn to bark at strangers without you having to give the command. When this happens, you can slowly reduce the frequency of treats.

Timing
Put your dog in a situation in the house that he usually barks at. It could be just before you take him out for a walk or when you prepare his meal. This is because the first thing you need to do is train him to bark on your command.
Add the command
As soon as he barks, say 'speak' and give him a treat and reward him. Practice this for 10 minutes each day and begin to say 'speak' before he barks. As he gets the hang of training, practice instructing him to bark even when he isn't in a situation he usually barks at.
Establish his turf
Before you can train him to bark at intruders he needs to feel like the entrances are his to protect. You can do this by simply moving his bed and toys into those areas and ensuring he has freedom to go there at night.
Cue the intruder
Now have an unknown person approach the house. Instruct him to bark and then have the volunteer to shout and run away. It is important the pretend intruder yelps and runs, this will signal to the dog he needs to bark at an intruder until they go away.
Reward and reinforce
Give him a treat and shower him with praise as soon as the person runs away. This will reinforce precisely the behavior and result you want. Practice this with someone different each day for a week. If he can smell the same person he will know they aren't an intruder and the training will stall. Eventually, you will no longer need to instruct him to bark or reward him with a treat, it will become a habit and natural that he wants to defend his territory.
The Boundaries and Quiet Method

Establish a perimeter
Put him on a leash and walk him around the perimeter of your home/area you want him to protect. It is important he is aware of where his territory ends and at what point someone becomes an intruder. Do this everyday, once or twice for a couple of weeks.
Trigger barking
Purposely put him in a situation where he will bark. This could be when you play with his favorite toy or when it is time for a walk. You are going to do this so you can teach him when to stop barking. This will ensure he doesn't bark at people he knows and that he stops barking when the intruder has run away.
Add a 'stop' command
When in a bark inducing situation, wait patiently for him to stop barking. As soon as he stops barking say, 'stop', give him a treat and then praise him. It is important this happens as soon as he goes silent otherwise he won't associate being quiet with the treat. Practice this everyday until you can issue the 'stop' command and he falls silent even without the promise of food.
Allow certain barking
now knows where his territory is and will naturally want to defend it. Be sure you emphasize to him barking at people he doesn't know is the right behavior.
Stop unwanted barking
When he barks at people he does know, such as family and friends, issue the 'stop' command. You will need to use a combination of praising for barking and the 'stop' command for a week or two until he learns to only bark at the smell, sight and sound of people he doesn't know. It isn't a straightforward ask to bark at intruders, so be patient and consistent with the training and you will see results in a matter of weeks.
By Amy Caldwell
Published: 10/08/2017, edited: 01/08/2021
---