How to Train Your Dog to Find Your Cat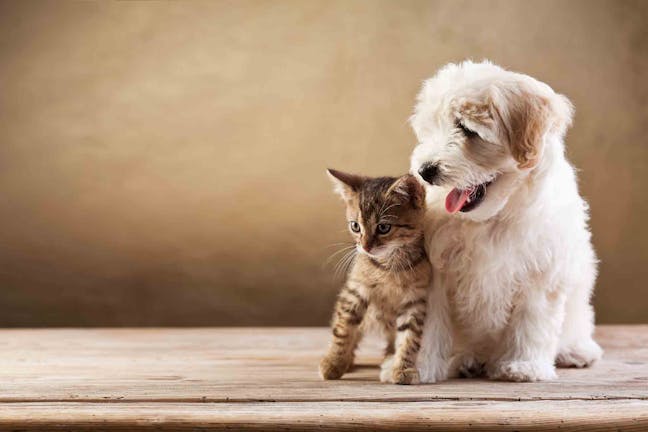 Introduction
Dogs have been used for search and rescue to find lost people for decades. But what you may not know is that your furry friend can also be trained to find lost pets, like your cat, when he wanders off. How is this possible? Let's start by looking at the fact that just like humans, every animal has its own distinct scent. This does not mean each breed, it means each and every individual animal has his or her own smell, one that no other animal shares.
Traditional search and rescue relies on the dog being able to track the person in question by their scent, often retrieved from an item of clothing they wear. Just as your dog can be taught to locate a missing person in this manner, he can also be taught how to find your pet cat in the same manner. No more spending hours searching the neighborhood the next time your kitty gets out when he is hiding under the house. You can even train your dog to help find other people's lots cats or dogs, making him very popular with your neighbors.
Top
Defining Tasks
The task itself is to train your dog to recognize the scent of your cat and then to be able to find your cat by following this scent wherever it goes until he finds your kitty safe and sound.  While this might seem easy enough, the reality is that it could take some time before your pup can successfully track your cat anywhere he happens to go, even up in a tree.
You can teach this trick to any age dog as long as he has been trained to follow basic commands. Not only can this be a very important skill for your dog to learn, but teaching your dog to seek out and find your cat or anything else by scent can be a lot of fun. Bear in mind, you will need to be very patient and have enough time to work with your pup on a daily basis until he masters it.
Top
Getting Started
To get started training your dog to find your cat, you will need a few things to make the training easier and more successful. These include:
Treats: You need a way to reward your dog when he gets things right.

A target pet: In this case, you will need your cat, but make sure you have him in a cage or carrier.

A training wand or stick: To assist in target training.

Training requires that your pup understand exactly what it is that you want him to search for, then you have to teach him to look for your pet, and finally, you have to teach him how to let you know he has found your cat.
Top
Choose a cue word
Start by deciding on the name you will use for your cat, choose something like "kitty" or simply the animal's name. Be sure to stick with the same name every time.
Use the cue with your cat
Call your cat using the chosen name on a frequent basis, this will help your dog get used to the name and to associate with your cat. Dogs are very smart and pick up on things like names very quickly.
Targeting
Place the target stick on the cat's carrier and give your dog a treat when he comes over and touches the crate.
Without the stick
Get rid of the target stick and reward your dog each time he touches the carrier after you say the cat's name.
Command with cue
Now place the carrier in another room and call out, "find kitty" (or whatever cue you choose to use). Reward your dog when he locates the carrier and touches it.
Identify a signal
Most dogs have a natural reaction to finding things, such as wagging their tail. The next time he finds the carrier, wait a few seconds before you give him his treat. Instead, wait for your dog to let you know he has found the target.
Practice
Practice this over and over until he finds your cat every time, increasing the distance and then moving outside. Be sure to reward him with treats and praise. He should now be able to track your cat no matter where he roams in the neighborhood.
Supply the scent
Find one of your cat's toys, her bed, or anything else that might be covered in her scent.
Getting familiar with the scent
Call your dog and have him smell the item until he recognizes it. Dogs have a very sensitive nose and are very good at locking onto a scent.
Retrieve the item
Place the item on the floor and tell your dog to 'fetch it' using your choice of commands. When he brings it to you, be sure to praise him and give him lots of treats.
Change location
Move the item into another room and repeat the process. When he is successful at least 90 percent of the time, move the training outside where your pup has many other smells to overcome.
Reward!
Reward him each time he finds the item.
Create a scent trail
Finally, try dragging the item to create a trail that your pup needs to follow before he can find the item. This will prepare him for following your kitty the next time he tries to get lost. Be sure to use the same command each time and be patient while he is learning.
Choose a scented item
Start with something that is heavily covered with your cat's smell.
Learn the scent
Hold it in front of your dog's nose and let him get used to the scent.
Find it
Place the item on the floor and command your dog to retrieve it using a 'find' or 'seek' command. When he does, be sure to give him treats and plenty of praise.
Scent trail
Now drag the item across the floor, coating the carpet with your cat's smell. Take into another room and hide it out of sight. Now command your dog to find the item and let him go. If he successfully finds the item, reward him with another treat.
Repeat
Repeat this until your pup finds the item every time.
Take it outside
Time to move outside and repeat the process,expanding the trail length each time until he finds the item every time.
Practice
Remember to be patient and give your dog plenty of praise and treats when he is successful. It can take weeks to reach this point, but it could save your kitty's life. Once he has mastered this skill, you can teach him to track pretty much anything by simply using his nose.
By Amy Caldwell
Published: 11/22/2017, edited: 01/08/2021
---