How to Train Your Dog to Heel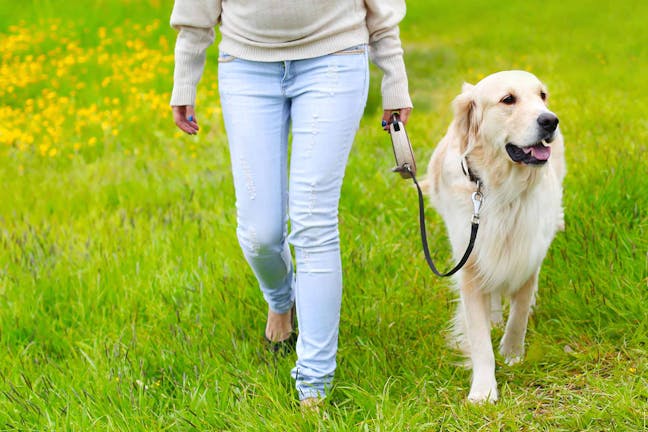 Introduction
If your dog is going to be on walks with you quite often, teaching him to heel will make your life easier and enhance those leash manners your dog should already have. If your dog runs ahead of you or lags behind, or is curious and distracted, teaching him to heel will be beneficial. Having a dog who often pulls on a leash tugging you in different directions can be frustrating and potentially dangerous if your dog can overpower you and pull you along. Teaching your dog to heel offers a solution to an excited dog who pulls on a leash constantly. Once you have taught your dog to heel and it becomes a habit with every walk, you are likely to enjoy your walks with your dog more often than not. A heel position with your dog keeps your dog close to you instead of running ahead. This position helps to keep your dog obedient and safe.
Top
Defining Tasks
'Heel' simply means having your dog walk beside you instead of running ahead pulling on the leash or lagging behind. As simple as it sounds, 'heel' is an advanced command. Many dog trainers teach heel on the left side of the owner's body. Some heel positions will vary depending on whether your dog is a service dog, a working dog, or simply your best pet. No matter the role of your dog, having him heel means having him walk beside you with self-control and without running ahead or pulling in front of you.
Top
Getting Started
You will need a few things to prepare to teach your dog to heel. Be ready for some quick 5 to 10 minute lessons several times a day for several days.
You will need :

A leash and a collar or harness. Dog trainers and veterinarians typically recommend harnesses for hard to control or large breed dogs.

Treats for rewarding good behavior.

Time to commit to training sessions.

Patience and a positive attitude to share in your dog's accomplishments.

Ideally, the best place to teach your dog to heel would be outside where you can take longer walks. However, if you are teaching a dog or a puppy in the winter months, teaching your dog to heel while walking hallways is perfectly acceptable.
Top
The Clicker Training Method
Leash walking
Your dog should be used to a leash before teaching the heel command.
Choose a training spot
With your dog harnessed and leashed, walk him in an area without distractions. For these first few sessions, you may want to choose a familiar area such as your backyard or a hallway within your house.
Get in position
Position your dog on your left side with your clicker in your right hand.
Start from 'sit'
Giving your dog the 'sit' command, have him sitting next to you. When your dog sits, click and treat. Be sure not to start any walking or the heel command until your dog is sitting calmly next to you.
Lure with a treat
With a small treat in your left hand, slowly begin walking forward. As you walk, use the command "heel". The expectation is your dog will walk beside you. Holding the treat out near your body will keep the dog close to your side. Every few steps your dog remains close to you and walks at your pace, click and treat.
Practice
Repeat these steps for 5 to 10 minutes a couple of times a day for about a week.
Reduce lure
After the first week of consistently training heel with short walks and the click and treat method, try to do the same walk without the lure of the treat in your left hand. As your dog walks beside you on your left side matching your pace, click and treat each time you use the command heel.
Practice
Increase the distance of your walks while using the command and the click treat reward method for another week or two making your walks longer each session. If your dog becomes distracted or begins to pull ahead, stop in your tracks and have your dog sit. Then start from the beginning with short walks building back up to the distance where your dog lost focus.
Choose a spot
Using a wall next to your dog will help keep your dog near to you as you teach him the heel command. Starting in a hallway or alongside a long building with few distractions, place your dog between yourself and a wall.
Start from 'sit'
Have your dog sit, rewarding for good behavior.
Start walking
Using the verbal command "heel," take a step forward, expecting your dog to follow with you. As you walk along the wall, your dog is likely to stay next to you because he will be in a confined space between you and the wall.
Encourage and reward
If your dog does not lurch ahead of you or lag behind you, every four or five steps reward your dog for positive behavior and continue the verbal command heel.
Practice
Practice this with your dog daily as he associates the verbal command 'heel' with the positive behavior reward and walking close to you with the aid of having a wall next to him.
Add some distance
As your dog begins to heel naturally with the aid of the wall, move farther away from the wall repeating the same steps. Treat positive behavior with a reward and consistently use the verbal command heel.
Practice
Continue to practice this until your dog can 'heel' away from the wall and out in the open. Use the command heel to keep your dog next to you when you are walking in public and also to keep your dog away from distractions he is bound find in his world.
The Off-Leash Heel Method
Location
An off-leash heel command can be beneficial if you are walking around your protected space such as your private property. Many municipalities will require leashes in public spaces, so be sure if you are using the off-leash heel command, you were using it in a proper space.
Sit
Ask your dog to sit facing forward on your left side by enticing him with a treat that puts his body in the correct position.
Lure
With treats in both your left and right hands, use hand signals to entice the dog to walk with you and entice the dog to sit with hand signals and a reward treat.
Walk
With a treat in your left hand use the verbal command 'heel'. Wave the treat in front of his nose, encouraging him to walk next to you at your pace.
Sit
When you are ready to stop, use your right hand to encourage a 'sit' position and offer the treat for positive behavior.
Practice
Continue to repeat this process using your left hand and treats to encourage the dog to pace with you and next to you and to sit when you stop.
Keep moving
As your dog gets used to this method, increase your pace asking your dog to sit less.
By Amy Caldwell
Published: 02/14/2018, edited: 01/08/2021
---