How to Train Your Dog to Not Bite His Leash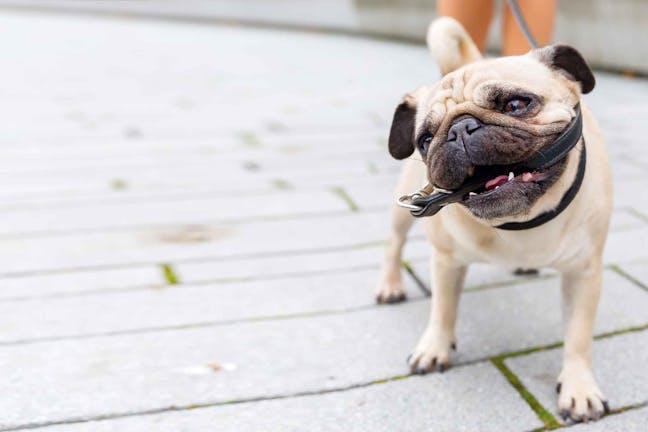 Introduction
As soon as you reach for your shoes, does your dog leap up from his state of hibernation and tear around the kitchen? The highlight of his day has come and he's making no attempt to hide his enthusiasm. Once you finally manage to get the leash on though, you struggle to get out of the door because your dog has the rather peculiar habit of trying to bite and chew at his leash.
To start with, it was rather amusing, but now it massively slows down the walking process, not to mention it leaves leashes looking worn and tattered after just a couple of weeks. You're happy he enjoys his walk, but you want to get a selfie with him looking up at the camera, not being deeply invested in tearing his leash apart. Getting a handle on this behavior can restore your walks to normality, increase the longevity of leashes, plus help you get that elusive dog walking selfie.
Top
Defining Tasks
Leave it.
Just a couple of straightforward words, you might think, but it's commanding obedience during your dong's heightened state of excitement that is the challenging part. Techniques mainly involve using obedience commands to prevent the behavior, but there also steps you can take to distract and discourage him from chewing on his leash as well.
Thankfully, you can train him not to bite his leash in just a couple of weeks. It will be quickest in puppies as they are most receptive. Older dogs may require slightly more time as they may be stuck in their bad habits. But if you want to reduce the number of leashes you have to buy and prevent them looking worn and aged, then getting on top of this behavior is important. If your dog is constantly trying to bite his leash, he's probably slowing down your walk and making getting out of the house a nightmare, another reason to tackle the chewing. 
Top
Getting Started
Before you begin your training campaign there are several things you will need. First, treats or his favorite food broken down into small chunks will be required to incentivize and reward your dog. A toy of some sort that will be used as a distraction will also play a vital role.
You will also need a quiet place to train, free from distractions such as noisy children and other pets. You will also need to set aside 10-15 minutes each day for a week or two, as consistency is key with the type of training. 
Once you have all of those things, just bring an optimistic attitude and all the patience you can find and then you're ready to get to work!
Top
Slowly reach
Slowly go for the leash in front of him. He probably won't start trying to bite the leash until it is on its way down to him. So just reach for the leash and keep it out of his reach for now.
Reward
Reward and praise him for remaining calm. While he hasn't even got to the stage of lunging for the leash yet, praise him and give him a treat to show him being calm brings rewards.
Constant praise
Slowly move the leash towards him, praising him continuously. Give him a treat and show him this is the right behavior. Be alert though, and as soon as he tries to bite the leash, move it out of his reach, stand still, stop praising, and ignore him.
Repeat
Once he has calmed down again, repeat the process of slowly moving the leash towards him. As soon as he goes for the leash again though, ignore him until he has calmed down. This can be the frustrating and time-consuming part, but eventually he will understand he is rewarded when he stays calm around the leash, and ignored when he tries to bite it. He will also realize he won't get his walk until he stays calm either.
Consistency
Be consistent and, when he regularly stops biting the leash, slowly reduce the frequency of treats. It may take several days or a couple of weeks, but he will get the hang of it and then you just need to cut down the number of treats, until he doesn't bite his leash even without the promise of food.
The Channel Excitement Method
Understand the 'why'
Understand why he bites his leash. When he bite the leash, you probably pull on it, creating a tug-of-war game, which is nothing short of extreme entertainment for him. Without realizing, it you are incentivizing him to bite his leash.
Introduce a toy instead
When you put the leash on him and he goes to bite it, pull out a cuddly toy and encourage him to bite and play with that instead. When he bites it, pull and play with him, distracting them from his leash.
Reward
Reward him with a treat. You are showing him that the right behavior is to play with the toy and if he bites the toy instead, he will get food. Positive reinforcement is the most effective way to train your dog.
Take the toy everywhere
As soon as he starts to bite his leash, even if it is on a dog walk, stop walking and encourage him to play with the toy instead. Again reward him when he chews the toy instead. If you are consistent with this method, he will break the habit of biting his leash and instead always channel his excitement towards the toy. You are showing him that no tug-of-war game will take place if he bites his leash anymore.
Cut out the rewards
Be patient and slowly reduce the number of treats you give him. As he increasingly goes to play with the toy instead of his leash, start to reduce the frequency of treats. Soon enough, just playing with the toy will be enough of a happy distraction from the leash. Eventually, he will stop seeing the leash as a plaything altogether and the annoying habit will finally be defeated.
Capture his attention
Take a treat in your hand and hold it in front of his face. You need to ensure he is fully aware there is a treat right before his nose. By teaching him to 'leave it', you will be able to instruct him to drop the leash whenever he tries to bite it.
Tease him
Let him sniff, lick and try and get to the treat. Ensure your hand is firmly closed but patiently wait for him to give up trying to get to it.
'Leave it'
Say "leave it" firmly and as soon as he gives up trying to get the treat, reward with a treat from your other hand. It is important you give him the treat within 3 seconds of him giving up, otherwise he won't associate 'leaving it' with the reward.
Daily practice
Practice this training every day for 10-15 minutes. Once he responds to the 'leave it' command regularly, slowly reduce the frequency of treats until he responds to the command alone.
Bring back the leash
Introduce the leash. Once you are confident he responds to 'leave it', put the leash on and follow exactly the same technique. As soon as he goes to bite it, firmly tell him to 'leave it'. You may need to use treats to start with, but then you will slowly be able to reduce their use until the command alone is enough.
By James Barra
Published: 11/05/2017, edited: 01/08/2021
---