How to Train Your Dog to Detect Panic Attacks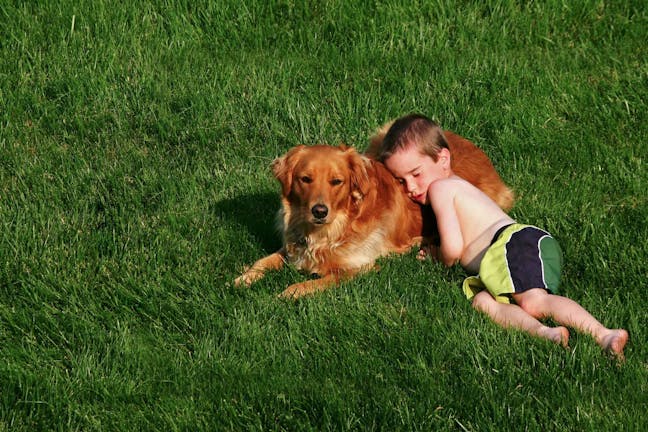 Introduction
People who suffer from panic attacks experience debilitating symptoms, including intense fear and discomfort, pounding or accelerated heart rate, sweating, trembling, shortness of breath, dizziness, nausea and other unpleasant symptoms. Unlike anxiety attacks, which tend to be triggered by a stressor in the environment, panic attacks are unpredictable and arise without warning. Sufferers of panic attacks can end up being limited in their ability to function normally because of an inability to work, attend events, or even perform routine tasks such as shopping or attending appointments.
A service dog trained to detect and warn their hander of an impending panic attack, so that the handler can move to a safe place, take medication, or practice other therapeutic techniques to alleviate the panic attack, can allow a panic attack sufferer to participate in activities they previously were unable to. This improved function can allow them to work, attend functions, and perform daily routine activities with confidence that they have a way of managing their attacks.
Top
Defining Tasks
A panic attack detection dog alerts their owner when they detect signs of an impending panic attack. Dogs trained to perform this task can detect a panic attack several minutes before the person recognizes the signs, allowing sufferers to remove themselves from a situation, go to a safe place, get medication, or practice relaxation techniques. This gives the panic attack sufferer confidence that they can manage their condition. Panic attack detection dogs can also provide assistance by protecting their handlers with their bodies, leading them to a safe place, notifying a loved one, or fetching/carrying medication or a phone.
Service dogs used for detecting panic attacks should be certified as service dogs to gain access to public places where they will accompany their handlers. A dog with an obedient, calm, gentle temperament in diverse situations and environments, and around different people where many distractions are present, will be required.
Top
Getting Started
If you suffer from panic attacks, you will need to determine what symptoms specific of your panic attack you will want your dog to alert to. Having a friend or family member video a panic attack may be helpful to identify cues that your dog can be trained to alert to. Cues such as increased heart rate, breathing, or muscle tremors may be useful signs that your dog can be trained to identify that would indicate a panic attack is imminent. You will also determine what sort of alert your dog will perform to let you know that a panic attack is about to occur Many owners have their dog nudge their hand or leg, or put a paw on their leg, to notify them that a panic attack is imminent.
You should investigate certification for service dogs in your area to allow your dog to accompany you in public to places not normally accessible by pet dogs. Obedience and temperament testing will be part of any certification and should be addressed prior to training.
Top
The Associate with Reward Method
Choose cue
Identify a panic attack symptom, for example scratching, touching face, or fidgeting.
Present cue
Present the symptom in the presence of your dog. When your dog pays attention to what is happening, reward him with a treat.
Practice
Present symptoms and when the dog attends you and the symptoms, reward.
Teach alert
Teach your dog an alert such as a nudge and put it on a verbal command.
Associate alert
Present the panic attack symptom and the verbal command for the alert. When the dog practices the alert while you are practicing the symptoms, reward. Ignore alerts without symptoms preset.
Remove command
Practice the panic attack symptom, without providing the verbal command for the alert. When the dog alerts to symptoms alone, provide a reward.
Practice
Practice in a variety of situations and environments with distractions.
The Associate with Alert Method
Reward alert
Teach an alert behavior such as a nose nudge. Capture the behavior and reward with treats.
Command alert
Now add a verbal cue for the behavior.
Vary
Change position and train your dog to perform an alert in several different places and while you are sitting or standing in response to a verbal cue.
Choose cue
Identify a panic attack symptom, for example scratching, touching face, or fidgeting, which will be your dog's cue you are about to have a panic attack.
Provide cue
Act out the panic attack symptom and give the verbal cue for an alert.
Practice
Reward your dog when he performs the alert and the cue is present. Repeat, practice often for several weeks.
Remove command
Now manifest panic attack symptom without providing the verbal cue. When your dog manifests the alert behavior in the presence of symptoms, reward.
Vary and practice
Practice in different places and positions, providing the cue and rewarding alert. Ignore false alerts.
The Clicker Training Method
Capture alert
Capture an alert behavior such as nudging your hand. Mark with a clicker and provide a treat as a reward.
Verbally command
Associate a verbal command such as "nudge". When the dog nudges, mark with clicker and provide treat.
Add cue
Manifest a panic attack symptom. Use the verbal command and mark with clicker when your dog alerts appropriately.
Remove verbal command
Manifest the panic attack symptom, but do not give the verbal cue. Continue to mark successful alert behavior with clicker and reward.
Remove clicker
Manifest the panic attack symptom and reward alert behavior without the clicker. Ignore alert behavior when panic symptoms are not present.
Practice and vary
Practice in lots of different places, positions, and with distractions. Go back to step 3, if necessary, in different distracting situations and proceed through steps until the dog is able to alert to panic attack cues in a variety of circumstances.
By Amy Caldwell
Published: 11/19/2017, edited: 01/08/2021
---