How to Train Your Dog to Not Eat From the Table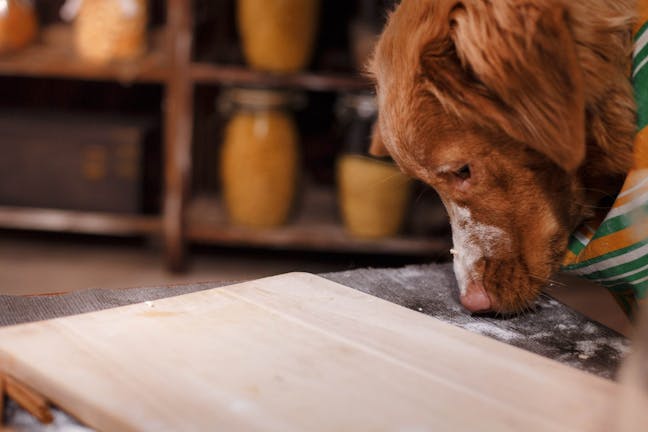 Introduction
There are two ways in which your dog might get food from the table. He may steal food from the table when your are not looking, a huge problem if the table is laid for some formal holiday feast and your dog decides to help himself to the turkey and stuffing! Or, your dog may beg at the table incessantly, until someone in the household breaks down and gives him food from the table, which only reinforces the behavior.  
Scavenging for food and following his nose are natural behaviors for your dog, and it is the owner's responsibility to teach their dog what is and isn't appropriate food for him to consume and in what circumstances. There are several problems with your dog taking food from the table. Besides that many people find begging at the table to be disruptive to meal times, unsanitary, and annoying, having your dog take food from a tabletop or counter without permission can ruin a planned family meal. Also, this behavior can be dangerous for your dog--often human food like poultry or fish containing bones can be a health hazard to your dog, and some human foods are toxic to dogs, including grapes, chocolate, and some fruits and vegetables.  Another health concern is that a dog that becomes reliant on human food may not have his dietary requirements properly met, as a human diet is not appropriate for a dog.
Top
Defining Tasks
There are several ways to prevent counter or table surfing or begging at the table before it begins. Teaching your dog to eat his food at his designated location from the beginning, and not feeding scraps or human food, will diminish his interest in your diet, and usually establish that his food is his, and yours is yours. Preventing your dog from opportunistically discovering human food, by keeping him away from the table at meal times and in between and putting food away is recommended. Also, you can use doors and gates to keep your dog away from areas where human food is present, making it inaccessible, to prevent your dog eating from the table in the first place. Punishing a dog for table or counter surfing is usually ineffective because by the time the transgression is discovered, it is too late and the dog will not associate the punishment with the food stealing behavior, besides he already received a reward for that behavior: some delicious food!
Top
Getting Started
While training, make sure that your dog is not tempted to steal or beg for food, by removing access to food left around the house, access to the kitchen, or access to mealtime with the family. If your dog is able to take food from the table it will reinforce his food snatching ways and undermine what you are trying to accomplish. You will need alternatives to eating from the table, which may involve changing your schedule so your dog eats at the same time as you, in his own area, or providing alternatives such as chew bones during mealtime. Also, using treats to teach your dog the 'leave it' command is useful for stopping table eating, and applies to a host of other food stealing behaviors, such as stealing another dog's food or rummaging through the garbage. Noise making devices to deter your dog from stealing food, and a foul-tasting non-toxic substance to lace food with, can also be used to create a negative association with stolen people food.
Top
Command 'leave it'
Hold a treat in your closed hand. Present your closed fist with the treat to the dog, and when he sniffs your hand, say "leave it".
Reward 'leave it'
Provide a treat to your dog when he stops investigating and ignores the hand holding the treat.
Increase availability
Place a lower-value treat, such as dry kibble or a biscuit, on the floor and give the 'leave It" command. When your dog obeys the leave it command, reward him with a much better treat, like a piece of hot dog or boiled chicken.
Increase difficulty
Move the activity to different locations. Leave treats in strategic places, and when your dog discovers them, give the 'leave it' command. Reward him with a treat when he obeys and start replacing treats with praise and attention.
Apply to table food
Use the 'leave it' command when your dog approaches the table or people food. Having established the 'leave it' behavior, your dog should avoid the food. Be sure to praise him as a reward.
The Alternative Behavior Method
Provide location
When food is being prepared and your dog may hover, waiting for an opportunity to steal food, or when the family is eating at the table, provide your dog with his own space and food to create an alternative behavior to begging or hovering to steal food. Provide a mat or take your dog to his crate, if crate trained, away from the food preparation and serving area.
Provide other behavior
Give your dog his meal, or a rawhide bone to keep him entertained at his designated spot. A hollow rubber toy with food inside or a puzzle feeder to keep him busy is a useful tool.
Enforce seperation
If your dog leaves his spot, take him back over to it, and command him to 'stay'.
Reinforce
Periodically go to your dog and praise him for staying in his spot. Give him an additional treat for staying in his spot.
Establish
Repeat this process over a period of days, until your dog learns that when humans are preparing and eating food in their territory, he has his own spot where he consumes his own food.
The Negative Association Method
Treat food
Apply a non-toxic and foul tasting on some people food "bait", such as a commercial food deterrent or lemon juice.
Set trap
Set up a "booby trap" with aluminum cans filled with coins that will fall when the dog pulls food off the table, or standby with a loud noise making device.
Allow dog access
Set food out and leave unattended. Allow your dog access.
Spring trap
When your dog reaches for the food, set off a noise making device, or let the cans fall.
Create negative association
The loud noise will frighten and deter the dog, and the taste of the food (if he gets any), will be unpleasant, creating a negative association between stealing food, a loud noise, and an unpleasant taste, which should dissuade your dog from attempting food stealing in future. You can also run into the room, take the food and scold your dog at this point to remove the food reward and add negative consequences to the food stealing behavior. This scenario may need to be set up several times over a few days to reinforce the negative association.
By Laurie Haggart
Published: 11/13/2017, edited: 01/08/2021
---