How to Train Your Dog With the Positive Reinforcement Method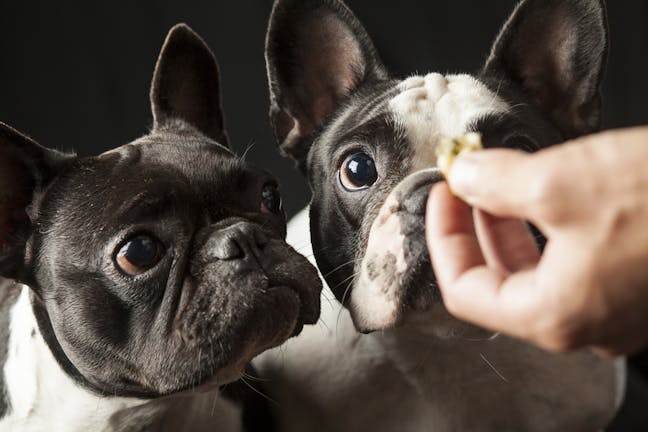 Introduction
There are many competing theories around about the best way to train your dog. But the most popular method, and one that's also highly effective, is to use positive reinforcement.
Positive reinforcement training is based on one simple principle: if you reward your dog for doing the right thing, they'll be more likely to repeat that behavior. For example, if you give your dog a treat or a whole lot of praise when they sit on command, there's a good chance they'll repeat the behavior when you ask them to "sit" in future.
Positive reinforcement training is known by a number of other names, including rewards-based training and force-free training, and it's a simple and efficient way to teach your dog how you want them to behave.
Let's take a closer look at how positive reinforcement works, the benefits of this method, and a couple of examples of how you can put it into practice with your dog.

Top
Defining Tasks
It wasn't all that long ago that dog training basically focused on showing your dog that you were the "alpha". This so-called "dominance theory" required pet parents to assert dominance over their dogs, sometimes through the use of force. However, there's now a large body of evidence showing that not only do these methods cause anxiety, fear, and pain for dogs, but they also often fail to address the cause of behavior problems in dogs.
This has led to a rise in the popularity of positive reinforcement training. The theory behind positive reinforcement is that if a behavior is rewarding, dogs will repeat it. Rather than punishing your dog for doing the wrong thing, it's designed to show them the right way to behave.

So the first step when training your dog with positive reinforcement is to find the reward that your dog values the most. This could be a particular food treat, cuddles and praise, or playtime with a favorite toy. By giving your dog a high-value reward when they perform a desired behavior, you'll reinforce their belief that doing what you want them to do leads to nice things.
The other most important aspect of positive reinforcement training is developing a relationship of trust with your dog. This is something that will grow over time as you train your dog using positive, rewards-based methods rather than those based on fear and punishment. As your dog comes to learn that they have nothing to fear from you, and in fact that making you happy leads to a whole lot of good things, the bond between the two of you will only grow stronger.
And when you and your dog are working together as a team, positive training results will soon follow.

Top
Getting Started
The exact training process when using positive reinforcement varies depending on the skills you're trying to teach. Before you start, it's important to understand why your dog is behaving the way they are. For example:

Do they bark out of fear when there's a stranger at the front door?

Do they constantly pull on their lead because they've learned that doing so will get them wherever they want to go?

Do they act out due to separation anxiety when left home alone?

Once you know the cause of any undesired behavior, you can get to work solving the problem. And once you know what reward motivates your fur-baby the most, it's time to start training your dog.
Let's take a look at how you can use positive reinforcement to tackle two common dog behavior problems: pulling on the lead and greeting visitors calmly.

Top
The Leash Training Method
Get your dog to focus on you
With your pooch leashed up and ready to walk, ask them to sit beside you and reward them with a treat. Now that you've got their attention, it's time to start walking.
Reward loose leash walking
When your dog is walking politely beside you on a loose leash, reward them with a treat.
Stop when they pull
If your dog starts pulling on the leash to try and get somewhere faster or veer off course, stop where you are. Wait for your dog to stop, focus on you, and return to a loose leash before continuing.
Alternative option: change direction
Rather than simply stopping and staying still, you may find you get quicker results if you walk off in the other direction than the one your dog is pulling in. Don't use excessive force or try to yank your dog around to follow you — instead, rely on an excited tone of voice to get their attention. When they're once again walking beside you on a loose leash, you can reward them with a treat and turn around to keep going in your original direction.
Repeat
It might take a little while for your dog to understand what you do and don't want them to do, so be patient. Stay calm at all times, never use force, and remember that repetition is the key. Once your dog has got the basics nailed, you can start to phase out the treats. That said, it's always a good idea to have a couple of treats on hand during a walk to reward your pooch for their exemplary behavior.
The Greet Visitors Calmly Method
Getting started
The first step in the training process is teaching your dog the basics of a polite greeting. To do that, it's time to improve the way your dog greets you when you arrive home. If they can't contain their excitement and jump all over you, there's a high chance they'll do the same thing when guests arrive. That's why it's important to stop reinforcing this behavior — if greeting you with unbridled enthusiasm results in a lot of attention, your dog will likely keep doing it. So when you walk in the door, ask your dog to "sit" before you pay them any close attention. Once they're sitting calmly, you can reward them with gentle praise, a cuddle, or a treat.
Repeat
Repeat step 1 until your dog has learned that polite greetings are the only way to get attention. If you do this each day, your pup will gradually understand that jumping on people is the wrong way to say hello. You can even put a special mat near the door and encourage your dog to sit on it when someone arrives at the door — only once they're sitting on the mat will they get a greeting from you.
Take it up a notch
Now it's time to let your dog practice their newfound greeting skills with other people. Enlist a friend who loves dogs to come over and help you out. When they knock on the door, instruct your dog to sit calmly on the mat — only once they're in position will you open the door and let the visitor inside. And if they show signs of returning to their jumping and overly enthusiastic greeting ways, your friend will need to ignore them until they calm down. Once again, with the positive reinforcement of their favorite reward, they'll gradually come to understand the right way to greet people.
Practice makes perfect
This is one of those behavior problems that can't just be fixed overnight. But with a patient and consistent approach, your pooch will soon learn the right way to behave.
By a Labrador Retriever lover Tim Falk
Published: 03/02/2021, edited: 03/02/2021
---