How to Train Your Dog to Say Please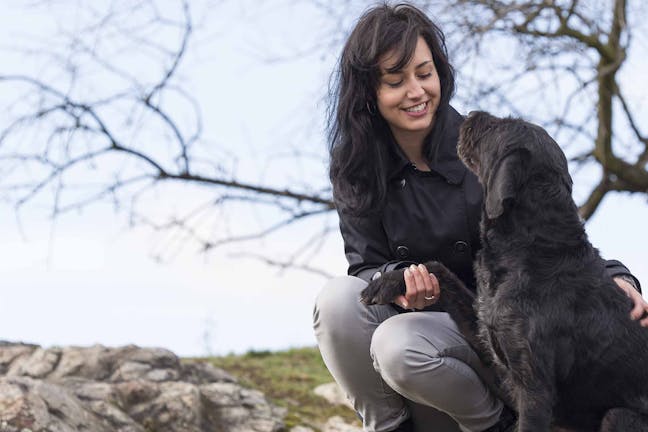 Introduction
If your dog does not practice his manners, he will not be as appreciated by the people in your life as you would like. A dog with good manners sits and waits patiently and calmly before allowing any humans to pet him. A polite dog quietly lets you know of his needs for meals and to be let outside. A polite dog with fun tricks can also shake your hand and "say" please when he wants something from you. 
Teaching your dog to 'say please' can be as simple as making him sit and wait politely before he gets what he wants. Some dog owners have their dog beg with one or two paws up, asking politely for what they would like to have. Training 'please' can be fun and rewarding for both you and your dog and entertaining for your guests when they hear you tell your dog to 'say please' before you give him anything he wants.
Top
Defining Tasks
If your dog has obedience training down, it will be easy to teach the command, 'please'. Once your dog has learned the basics, training 'please' is basically teaching him to wait patiently. You can have him offer a paw to or 'sit pretty' to say please. 
Have some patience with this command because your dog understands the basic commands and when to do them already. Adding 'please' is adding patience from your dog. It might take a bit of time to adjust to being patient for something he wants after he is worked for something using the commands he already knows. Be prepared to reinforce good behaviors with treats and verbal praise. Practice 'please' in various situations, so your dog recognizes 'please' as manners, not just a command. He should be saying please for food, special occasions, when he needs to go outside, and many other opportunities to show respect and manners. 
Top
Getting Started
You will need treats to offer for good behavior and showing patience. Be prepared for different scenarios to teach 'please' to your dog. He can show you his manners and use please for food, treats, waiting to open to door, or wanting to get up on the couch with you. Have fun with this training and impress your friends with the manners your dog can learn.
Top
The Wait for Rewards Method
Basic commands
If your dog does not have common commands down pat, go back and practice these before practicing 'please'.
Favorite treat
Using a favorite treat such as cheese or meat, ask your dog to sit first.
Say Please
Hold back on offering the normal treat he would receive for obeying a command and as he sits, say the words, "say please."
Pause
When your dog sits, pause and wait a moment.
Praise and treat
Give verbal praise and then give him the treat.
Practice
Repeat these steps, focusing on the long pause after you ask your dog to 'say please'.
The For Activities Method
Outside
When your dog needs to go outside, he might go to a door and bark or signal you to open the door. When you see this happen, ask your dog to sit.
'Please' command
Once he is sitting, use the cue words, "Say please." Don't expect him to do anything but sit patiently. Saying please is being calm and quiet.
Redirect
If your dog jumps up from his sitting position as you open the door, use the command "say please" again. If he does not sit, ask him to sit and repeat the above steps.
Command and wait
Once he's sitting, use the "say please" command again and wait a moment. If your dog is sitting patiently, give him a treat and open the door to let him outside. If he moves again, repeat the steps above.
Practice
This may take several training sessions. Keep the sessions short and stay on task. This method can be used for any activity your dog wants. If he wants to go for a walk and gets excited once his leash is in your hands, you can use this method. This can work for patience before getting into a car for car rides or for sitting on the couch. Be patient and consistent.
'Sit' command
Ask your dog to sit and offer a treat when he obeys. If your dog does not sit immediately, go back and revisit this command with your dog so every time you say the command, "sit," he knows what to do.
Hold a treat
Holding a treat in one closed hand show it to your dog but don't allow him to eat it.
'Please' command
Give the command, "say please," and wave the treat in your closed hand under your dog's nose.
Wait
Wait patiently for your dog to paw at your hand trying to get to the treat inside your closed fist. Your dog may sniff your hand, but stand firm and wait for that paw to come up to try to open your hand to release the treat.
Paw Up
Once the paw comes up and touches your hands to release the treat, tell him "good boy", open your hand, and allow him to eat his reward.
Practice
Practice this several times until you can have an open hand with a treat sitting on top, and when you say the command, "say please," your dog touches your hand with his paw before eating his treat.
Repeat
This training may take several days, several times a day, to practice, but eventually when you say the command, "say please," your dog should put his paw up in your hand before expecting a treat reward.
Manners
As part of the manners training, before you allow your dog to get what he wants, ask him to say please first, expecting him to paw the air in front of him.
By Stephanie Plummer
Published: 02/02/2018, edited: 01/08/2021
---