How to Train Your Dog to Balance Treat on Nose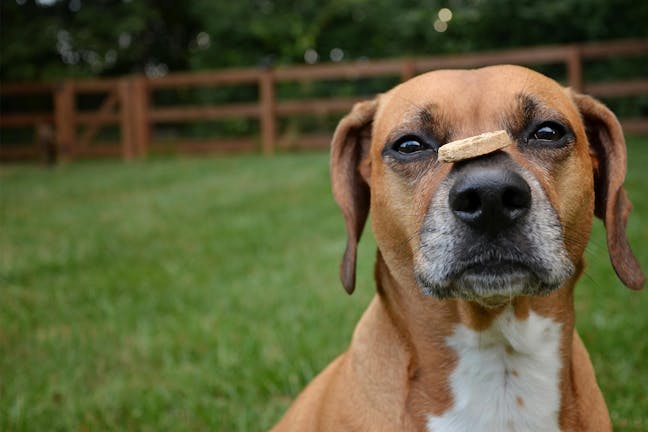 Introduction
Everyone had that one friend when they were younger who had an adorable and funny dog. Your friend could have him roll over, play hide and seek or bark on command. Now your kids are growing up and they're dead set on getting your family dog up to the same entertaining standard. One such trick that is guaranteed to leave your kids laughing and their friends keen to come over is if your dog can balance a treat on his nose.
This is a fun trick to teach him and it also comes with added bonuses. If you have a highly active and energetic dog, this is a good way to help him blow off steam and see to it that he spends more time napping and less time tearing around the house. Teaching him obedience commands like this will also make teaching him other tricks and commands easier too.
Top
Defining Tasks
Now as you can probably imagine getting him to leave a delicious and tasty treat on his nose isn't going to be all plain sailing. It will require rigorous obedience training to ensure he balances the treat on his nose and doesn't just eat it in a split second. While it may be challenging, younger dogs who are receptive could pick it up in just a few days or a week. If your canine pal is older and not quite the quick learner he was in his youth, then it may take a couple of weeks.
It may initially seem like just a bit of fun, but training him to perform tricks like this will keep his mind active and productive, plus it will make training him to heel or not bark at strangers more straightforward too.
Top
Getting Started
Before you turn your pooch into the latest member of a circus, you'll need several things. Treats or his favorite food broken down into small chunks will be the most essential component. So whether it's cheese or chicken, stock up!
You'll also need a quiet space, away from distractions such as noisy kids. Ten minutes each day will also need to be set aside for training until he has the hang of it.
Once you have all of the above, just bring some patience and an optimistic attitude and you're ready to begin!
Top

Find a good spot
Take him into a quiet room and bring a handful of treats along with you. Make sure you won't be disturbed and that his attention is fully on you.
Have him sit in front of you
If he doesn't sit straight away you can take out a treat to grab his attention. Then make sure his eyes are on you and he is focused and ready to work.
Place a treat
Slowly place the treat or a small piece of food on the flat part of his nose. You may need to hold his head slightly with your other hand to ensure he looks straight so the treat will balance.
Reward
Immediately say 'OKAY' and let him have the treat. It is important you give the 'okay' command straight away and then shower him with praise as he gobbles up the treat. You need to ensure he knows he has done something right even if he isn't quite sure what yet.
Practice
Repeat the above steps again and again but slowly increase the time between putting the treat on his nose and giving the 'okay' command. The key here is patience. It may take many days before you can leave the treat there for longer than a few seconds, so don't lose hope. He may be a slow learner, but with consistent daily training he will soon get the hang of it!
The Average vs. Awesome Method

Have your dog sit in front of you
Then kneel in front of him and ensure you have his full attention. You can then slowly get out an average treat that he isn't going to go crazy for.
Place the treat
Hold his chin with one hand and slowly put the average treat on top of his nose. Then hold the treat there for a couple of seconds and remove it.
Reward
As soon as you remove it say 'okay' and give him a different tastier treat. Also shower him with praise and attention, reinforcing to him that staying still was the right behavior. Practice doing this for 10 minutes each day for the first few days.
Increase time
Now slowly increase the time you hold the treat on his nose before removing it and giving him a treat. You can also slowly take your hand off the treat for a few seconds to ensure he will remain still even when you aren't holding it in place.
Stop holding
When you think he has the hang of it, stop holding his face with your hand and slowly reduce the frequency of treats. Once he understands he needs to stay still you cannot only take your hand off his chin but you can also step back for a few seconds before giving him the 'okay' command that will signal to him he can drop it. After a week or two, slowly reduce the frequency of the final treat until he holds the treat on his nose without the promise of food.
The Object Build Up Method

Have him sit calmly in front of you
Hold a treat in your hand as you do this, you need him focused and ready to work.
Touch
Reach your hand out and touch him on the top of the nose, then say 'yes'. Once you have done this you can reward him with a treat and praise him. You are doing this to get him used to having something on his nose before it's something irresistible like a treat.
Introduce an object
Instead of your hand, use something small like a business card, an eraser, or anything small and flat enough to rest on his nose. Leave it there for just a couple of seconds then say 'yes' and reward him with a treat and praise.
Increase time
Slowly increase the length of time you can leave something balanced on his nose. After a few days he will understand he needs to stay still and balance something on his nose until he gets the 'yes' command from you. Increase the length of time you can leave something there until you can leave it there for 10 seconds.
Repeat with treat
The hardest part is out of the way, but now his will power will be truly tested. If he struggles to resist the treat, use something less tasty like vegetables and work your way up to something delicious like cheese or a treat.
By Amy Caldwell
Published: 10/08/2017, edited: 01/08/2021
---