How to Train Your Dog to Be Your Alarm Clock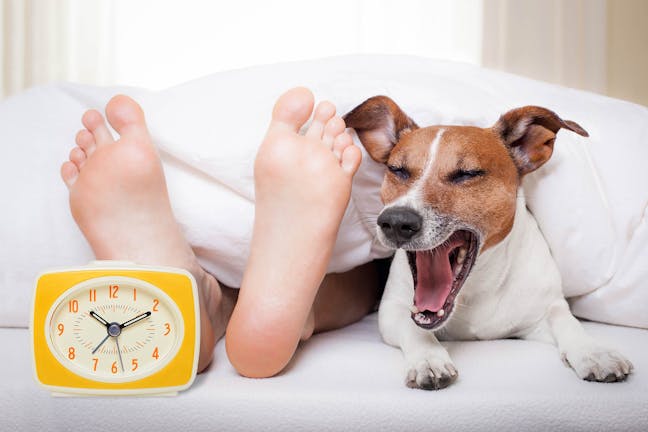 Introduction
If you've ever owned a dog, you've probably known the joys of being woken up with a snuffle, kiss, or the occasional paw to the stomach. While this scenario probably happens sporadically and at times when it's not wanted or needed (like when you're trying to sleep in on a Sunday morning) what if we told you your dog can be trained to wake you up on a regular schedule.
Dogs may be man's best friend, but they can also assist with a variety of household tasks and chores, including that of a four-legged alarm clock. Curious to find out more? Read on for the how's, why's, tips and tricks for substituting your annoying morning wakeup call with a smooch from man's best friend.
Top
Defining Tasks
While we assign many human emotions and characteristics to our four-legged friends, dogs don't form complex thought processes in the same way as humans. This means that in order to teach your dog to do something like wake you up in the morning, you'll need to train a command to a specific cue. Training your dog to be an alarm clock is useful for both your own life and for keeping your dog occupied and "employed". Dogs that have jobs around the house stay out of trouble and tend to have fewer problematic behaviors, such as raiding the trash, chewing, or destructive behavior.
Top
Getting Started
To start training your dog to act as your alarm clock, you're going to need a few basic supplies. Treats are a big part of any training routine. You should acquire a variety of cookies and edibles in a range of "values." When we say value, we mean increasing levels of tastiness. This approach to treating while training keeps your dog guessing and allows you to give bigger rewards for more accurate behavior. Snacks that range from dry cookies to hot dog slices to cheese to cooked steak are a great example of ranging values. The rest of the items you'll need are already in your house, which means you'll now be ready to choose a method or methods that work best for training your dog to be your alarm clock!
Top
The Teaching a Routine Method

Start them young
Establishing a routine for your dog will be essential to training them to be your alarm clock, either in the morning or throughout the day, helping you keep on track of both of your schedules. From the first day you bring your dog into your home, meals, walks, play time and bed should all have a set time.
Walks and potty breaks
Walking your dog at the same time every morning will help develop your dog's internal alarm clock. This will be especially helpful for young puppies. Generally, your dog can hold their bladder for about one hour per month of age, up until about 6 months old. Scheduling potty breaks first thing in the AM after your feet touch the floor is a great way to train your dog to wake you up every morning.
Meal time
Meals should also be on a set schedule. Dogs should eat at least twice a day to help prevent issues that come with overly large meals such as bloating and to help reduce inappropriate pottying in the house. Younger dogs may need a third, lunchtime meal to help provide necessary nutrition to their growing bodies.
Reward for reminders
As you progress on establishing a routine for your dog, they may naturally begin to alert you when it's "time" to perform a certain task. If potty walks always happen at 7am sharp, don't be surprised to find your dog at your bedside at 7:01 if you haven't appeared downstairs. Begin to reward your dog for these behaviors by offering a cookie or treat.
Your dog will remind you
As you continue to reinforce your dog reminding you, they will become more consistent with their approach to keep up with their schedules. Remember to always treat, praise, and immediately perform the scheduled task to reinforce this behavior and have your dog keeping you on schedule.
The Jumping into Bed Method

The reasons why
Teaching your dog to jump or climb onto your bed on command will have many benefits. First, you can train your dog to jump up on the bed at certain times or after certain cues or events, such as the coffee machine turning on, to train them to replace your morning alarm clock. In addition, your dog's inclination to perform this behavior at other, inappropriate times, will also naturally extinguish as they don't receive a reward.
Lure your dog
Using a tasty treat, lure your dog up onto your bed by showing them the food item and having them follow it until they are on your bed. If you have a small dog, you may need to get a small ramp or set of stairs to help them climb up. Once your dog is on the bed, release the treat and give praise.
Add a command
Lure your dog repeatedly until they are reliably following your hand and treat up onto the bed. Next, add in a cue word such as "bed", "sleep" or "wake". Say the command before you show them the treat and then lure your dog up on the bed. Remember to treat and praise once they've climbed or jumped up.
Remove the lure
After you've used the verbal command many times over many sessions, it's time to remove the cookie lure. Try saying the command on its own to get your dog in bed. Don't be worried if it takes a bit longer for your dog to get up the first time. If need be, go back a step and repeat the command with the lure a few more times to cement the association.
Add in a morning trigger
Once your dog is climbing into bed on command, it's time to add a morning trigger. If you are still using an alarm clock and need your dog to be an extra encouragement, you can use the noise as another command or cue, training it in the same way as Step 4. The sound of the morning coffee pot is also a great external trigger.
Be patient
Go slowly and remember to avoid advancing to the next step before your dog has mastered the previous and you'll have your dog trained to replace your alarm clock in no time.
The Barking on Command Method

Watch and listen
While all dogs will bark from time to time, training your dog to bark on command is a useful way to teach them to replace your morning alarm clock. Start out by listening to your dog's daily barking routine. Observe what triggers barking to start reinforcing the behavior.
Reward for barking
Once you've identified your dog's barking triggers, it's time to start treating and praising. Have cookies on the ready and give your dog a reward the next time they bark. Be sure to reward in multiple settings so that your dog associates the reward with barking instead of the external event (i.e. the mailman or doorbell).
Add a cue word
After your dog is regularly expecting a reward for barking, it's time to add a cue word. Anticipate a barking session and add in your command such as "speak", or "bark", immediately before. Your dog will bark at the event but will start to associate the cue word with barking after many repetitions and plenty of treats.
Selective treating
Slowly wean your dog off rewards for all barking and only reward if they bark on your cue. This will have several benefits. Your dog will eventually be barking on command and will usually stop barking when you haven't given the cue since they know the action won't trigger any kind of reward.
Link the command to a morning event
Once your dog is reliably barking on command, it's time to add in another event or cue that triggers barking. The coffee pot starting up in the morning is a common "trigger". Practice with starting the coffee pot, including beeps, and using your cue word. Keep repeating this until your dog has associated barking with the machine's various dings and you'll have a barking alarm clock in no time.
By Amy Caldwell
Published: 10/05/2017, edited: 01/08/2021
---