How to Train Your Dog to Detect Peanuts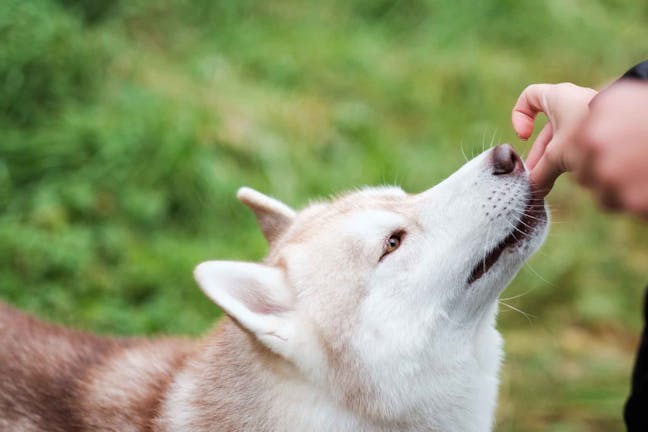 Introduction
Can you imagine having a severe allergic reaction every time you come into contact with peanuts, even just proximity to peanuts? Your throat starts to close, your airway becomes compromised, and a life-threatening situation develops. Now imagine you are a child. What a terrifying experience.
For thousands of people, this experience can be an everyday reality if they are unknowingly exposed to peanuts or products contaminated with peanuts. In some cases, the sensitivity and reaction are so severe that simply being in the same room with a peanut contaminated product can induce a life-threatening reaction. So what can people with such severe allergies do to protect themselves? The answer is, use an allergen detection dog; specifically, a dog trained to detect the presence of peanuts. A dog's sense of smell is thousands of times more sensitive than ours, with ⅓ of their brain being dedicated to the sense and discrimination of smell! No wonder they spend so much time with their nose to the ground. We can harness this special ability in our dogs to work for us and save lives, such as by detecting the presence of life-threatening allergens in the environment and alerting allergy sufferers to the presence of these allergens, so appropriate precautions can be taken.
Top
Defining Tasks
For allergen detection dogs, life can be like a constant game of hide and seek. Dogs trained to locate a certain scent, alert their handlers, and receive a reward can be invaluable to humans suffering from life threatening allergies. Dogs are trained to detect and identify a particular scent, in this case peanuts, and alert their handler, usually by providing a location alert such as 'sit and look at me'. The handler may be the person with the actual allergy, or in the case of a minor child, the handler may be the child's parent or guardian. Handlers may send the dog into a room prior to the allergic person entering, to perform a scan of the room, or present foods to the dog to smell, such as in a restaurant so the dog can scan for the presence of peanuts. Because no one is perfect, you cannot rely on a dog to be accurate 100% of the time, and precautions such as reading labels, instructing people preparing foods, and educating classmates about the presence of a severely peanut allergic person, is still required. Nothing is a substitute for appropriate vigilance, however, a peanut detecting dog can identify sources of peanut contamination when there is no other practical way of discovering them prior to exposure of the allergic person. Dogs can be taught to identify several different allergens, which can be especially useful if the handler is allergic to more than one type of allergen. Allergy dogs are often taught to also carry epi-pens and other medication required by the allergic person in case of emergency.
Top
Getting Started
While training dogs to identify scents, you will need a small container for scents. It is best to avoid plastic, if possible, as plastic has its own scent. Dogs that are very food or toy motivated make the best detector dogs and are easiest to train to identify scents for a reward. Remember, this is like a game for the dog, and is fun for them. A dog that is motivated to locate the scent and receive his reward works best. You will need several months to train a dog to be obedient in a variety of situations, including public situations, and also develop the skills to discern peanut scent with other competing scents and distractions present. A young dog can be trained to detect peanuts as long as they have a calm, confident demeanor, and can stay focused on their job. More mature dogs are also used to detect allergens, such as peanuts, and may already be comfortable working in a variety of distracting or stressful environments.
Top
The Match to Sample Method
Establish signal
Teach your dog a signal such as 'sit and look at me'.
Plant scent
Provide two articles, one that is scented with peanuts, one that is not. Put objects in two different spots on the floor of the room.
Provide scent
Provide your dog with the peanut scent on a separate object.
Shape and reward match
Let your dog loose in the room. When your dog approaches the unscented object, ignore. When he approaches the scented object, click and reward. Gradually click and reward as your dog gets closer and closer to the scented target object. Repeat the exercise multiple times a day for several weeks.
Add signal
Now give your dog the command for his signal, such as 'sit and look at me', when he locates and matches the scented object. Continue to click and reward when your dog successfully matches the scent and signals you by sitting.
Remove command and click
Gradually remove the 'sit' command. Gradually remove the click.
Remove match sample
Gradually remove the match sample. Expose the dog to the peanut scent in a room, allow him to locate and signal when he finds the peanut scent. Reward. If the dog has trouble go back to previous steps, practice and try again.
The Associate with Toy Method
Play
Provide a toy and play with your dog often. Use play with the toy as a reward for basic obedience commands.
Hide toy
Start hiding the toy in a box and teach your dog the game 'find it'. Start with fairly easy locations and let your dog see you hide the toy. Gradually make hiding spots more complex.
Introduce alert
Teach your dog to alert you when he finds the toy by performing a signal such as 'sit and look at me'. Put the signal on verbal command at first and provide the command whenever your dog finds his toy. Gradually remove the verbal command so your dog performs the signal when he finds his toy and reward with play after successful alert is provided by the dog.
Hide scented toy
Start hiding the toy along with the peanut scent to be targeted. Either cover the toy in the scent, wrap the toy in the substance, or hide the substance with the toy. Command your dog to 'find it'. Your dog will learn to associate the smell of peanuts with the toy and play. When your dog finds the scent and toy and performs the alert, reward with play.
Vary hiding
Start hiding the toy and scent in more complex locations
Substitute just scent
Gradually move to just hiding the peanut scent. Command 'find it', and when your dog locates the peanut scent, play with the toy.
Make complex
Find more complicated hiding places, introduce distractions. Reward locating the peanut scent and alerting with play with the favorite toy.
Teach signal
Teach your dog a signal such as 'sit and look at me' or 'bow' that will be used to indicate the presence of the peanut scent. Use a hand signal to command and capture the behavior with a clicker.
Add scent
Now use the hand signal, and provide the peanut scent in a small open container. When the dog performs the signal in response to the presence of the scent and hand signal, click and reward with food or toy play. Practice several times a day for a few weeks.
Remove command
Gradually remove the hand signal. Continue to present the peanut scent and use the clicker. Reward the dog for performing the signal.
Hide
Now hide the scent in a small container, such as a small open box. Let your dog find the scented object, click and reward.
Make complex
Move to larger containers and hide the scent in more difficult places. Click and reward. The dog will eventually learn to locate the scent in large containers in various locations.
By Amy Caldwell
Published: 12/06/2017, edited: 01/08/2021
---