How to Train Your Dog to Not Accept Food from Strangers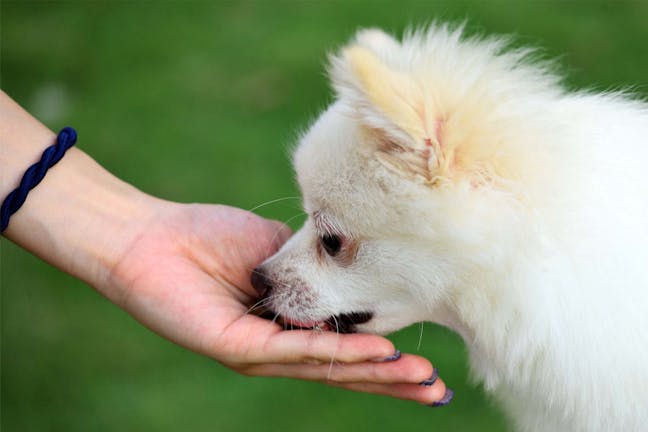 Introduction
So, you've spent countless hours training your dog and are pretty proud of their success with learning and following important commands. Commands that will keep them safe in all instances - such as "come," which is important if they run into the street and "down," a handy command to keep them from chasing after a skunk. But what about when a stranger decides to give your dog food? Is this something you should be wary of? Training your dog to not accept food from strangers is another skill essential to their well-being. Read on to see how it's done!
Top
Defining Tasks
It can be pretty difficult to convince your furbaby not to eat a scrumptious treat. But to keep them safe (in the rare instances a stranger has bad intentions) and to prevent your pooch from becoming a beggar to everyone they encounter, learning this skill is a good thing. For the most part, dog poisoning is rare, but it does happen. Having a dog who becomes a smooch is more common though, and quite annoying to all those involved.
To start training a dog to not accept food from strangers, it's best to wait until the pup is an adolescent. A young puppy needs to learn basic commands and understand that you are leader and then they can move on to more complicated training like this. The training can take weeks of daily sessions to perfect. This lesson can also be taught to mature dogs; just remember to have patience as you and your dog work together. You also have to take into consideration how broad of a spectrum of avoidance you're looking for. Do you want the dog only to take food from you? Should they eat only inside the house? Would you like to use a special bowl for eating? All of these factors will be at play during training.
Top
Getting Started
Some things to help you along the way are:
Use a variety of tasty goods in your sessions. Get both common dog treats and people-food favorites (think cheese and hot dogs).

If you're going to teach your dog only to eat from one bowl, get one that stands out a bit. It's also important to make sure that it can be easily replaced.

It's much easier to teach a dog this behavior if you have a "stranger" on hand to test out how things are going. Try to get someone that your pup has never met to help you.

To complete food avoidance training, you're going to need to devote time for at least one session a day. And don't expect this to happen overnight. It may take weeks before your pooch understands what's going on.
You can practice these avoidance techniques in various settings to give your dog a chance to test their skills in any environment. Start off at home though, so that your furry companion is not distracted by other dogs. Use an encouraging voice when training and offer lots of praise for effort and compliance. Remember, dogs are often very food-oriented so the task may take several sessions of instruction before they catch on.
Top

Choose the code word
Select a code word that doesn't sound like "sit." In other words, don't use the term, eat. Let's try "enjoy."
Have your pooch sit
Ask your dog to sit. If their bum begins to rise and they are going for the food bowl, make them sit again and wait. Remove the food and attempt to give it again on the next sit.
Use the code
Use the word "enjoy" every time you feed your dog and have them sit and wait first.
Increase the intervals
Once your dog knows and understands the "enjoy" command, increase the intervals in between the sit and the placing down of the food.
Practice makes perfect
Practice on other occasions, using a treat instead of a bowl of food. Use the same procedure: sit, wait, and enjoy.
Use praise
Remember to use praise as a reward and keep your voice upbeat. Be patient as well.
Try other words
Use other words to test your dog's skill. They should not take any food or treats until you say "enjoy."
The Eye Contact Reward Method

Teach your dog sit
If your dog is not proficient at the sit command, practice consistently until the command is easily recognized and performed.
Sit and wait
Have your dog sit and wait beside the food bowl. Make sure you feed your pup in the same location every day.
Make eye contact
Make eye contact with your dog. Hold a smile, too. You want the eye contact to be a positive experience.
Eye contact and release
Once your pooch has learned that they have to keep eye contact with you, it will become natural. Only release your dog with a hand gesture or chosen word such as "okay" when the expected eye contact at each meal is established.
No eye contact with strangers
Because a stranger will not know the routine, they will not be aware of the sit, wait, and eye contact expectation. Practice the routine with someone your dog does not know to ensure that your dog understands the session.
The Impulse Control Method
Gather the treats
Gather a handful of treats and set up in your practice area. This can be inside or out, depending on your dog's mastery of basic commands.
Place the food
Have your pooch in the sit position. Put the food/treats on the ground or in your hand.
Hold the sit
Your dog must hold the sit position. If they go for the food, cover it or close your hand.
Choose a word to relate to the task
With your pup in the sit position, give them the command, "food" which will be the signal that they can now take the food or treat. If your dog attempts to take the item without the cue "food," cover the food and try again.
Repeat and practice
Practice over and over until your dog never attempts to take any morsel of food unless given the cue, "food".
Set up a scenario
Take your pup on a walk in the yard where a pre-set food item, different than what is usually given, is placed. Have your dog on-leash and walk by the food. Don't allow your furry buddy to take the food.
It's up to you
Don't allow your dog to eat the food outside; get them used to eating only inside and curb the desire to eat unfamiliar food in an unfamiliar setting. Your dog should now not take food given outside or without the cue.
By Amy Caldwell
Published: 10/06/2017, edited: 01/08/2021
---