How to Train Your Dog to Not Eat Grass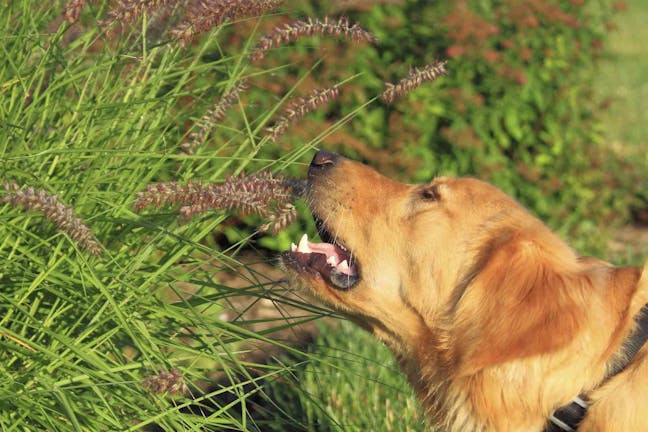 Introduction
 What can be grosser than when your dog pukes grass green vomit in the middle of the living room carpet? The answer to this question, as any dog owner can tell you, is: "not much." There are several reasons why your dog might be chowing down on the lawn when he gets a chance. These include to help with digestion, to add fiber to his diet, and "pica", which is a condition that gives your pup the desire to eat non-food items.
Keep in mind that your pup's ancestors would eat grasses, berries, roots, meat, and anything else they could find to eat out in the wild. It is also possible that the desire to eat grass and leaves is nothing more than a leftover trait from long ago. The good news is that with the proper training, you can teach your dog to stop grazing out in the backyard. It can also put an end to those puddles of green vomit in the middle of your carpet. 
Top
Defining Tasks
In the past, dogs may have eaten grass, berries, and anything else when they were hungry. However, today grass may be contaminated with a range of highly toxic herbicides, pesticides, waste from other animals, and many other substances that can harm or kill your dog. In order to get your dog to stop eating grass and many other items, you must teach him to obey the 'leave it' command. You can then use this same command to get him to stop chewing on or eating a wide range of items. 
Top
Getting Started
If you are determined to teach your dog how wrong it is for him to eat grass, you are embarking on a task that is likely to take quite a bit of time. This is because, even today, eating grass is something that most breeds do naturally and teaching them not to eat grass goes against their nature. 
To convince your dog there are better options out there, you'll need some tasty treats to reward him during training. You'll also need his leash handy, and for one method, a spray bottle filled with water to use as a deterrent. 
Top
Attach a leash
Attach your dog's leash and head out for a walk.
Use the command
When he shows interest in grazing, give the command, "leave it!" in a firm voice.
Call him back
Follow this by calling him back to you. Never use the leash to "reel him in". When he comes to you, praise him and give him a treat.
Rewards
If he does as he is told, give him a treat and plenty of praise. If he doesn't, keep working on this step until he complies.
Off-leash
Once he has mastered this behavior while on the leash, you should be able to do the same thing without his leash.
Go for a walk
Attach your dog's leash and head out for a walk.
Use the 'heel' command
Each time he shows interest in dining out, use the 'heel' command.
When he returns
When he returns to your side without pulling on the leash, give him a treat and praise him.
If he gets it wrong
Never punish him for getting it wrong, just continue working with him until he gets it right every time. If your dog doesn't already know 'heel', work on it with him using a treat lure to keep him by your side or by stopping and turning each time he strays or pulls his lead.
Working with him off-leash
Once he has mastered bypassing the grass by walking to heel while on the leash, you can start working with him off-leash until he no longer wanders over to the nearest clump of grass and starts chowing down.
The spray bottle
Fill a spray bottle with fresh cold water.
Go for a walk
Go for a walk with your dog on his leash.
Just say no
Each time he wanders over to his favorite clump for a snack say "NO!"
In his face
Spray him in the face with the cold water at the same time. When he gets it and stops chowing, give him a treat and heap praise on him. In time, your furry friend will come to associate eating grass with getting sprayed in the face with cold water.
Be patient
While it might take a while, this harmless method of deterrent training can be a very effective way to stop him from doing things like eating grass, getting on the couch or bed, getting in the trash, and many others.
By PB Getz
Published: 01/31/2018, edited: 01/08/2021
---