How to Train Your Dog to Not Eat Everything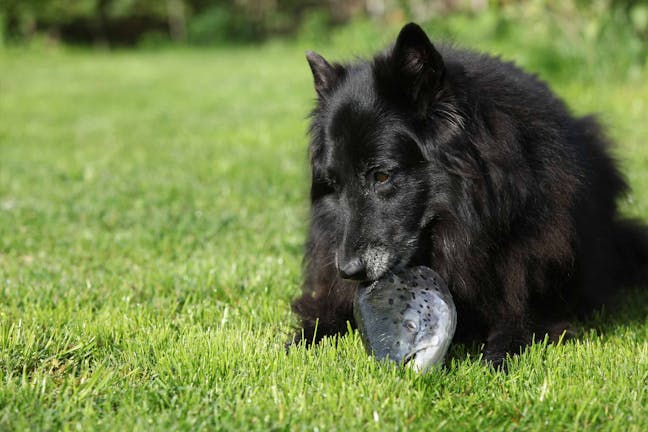 Introduction
If your dog's favorite menu consists of just about anything he can get in his mouth, you might have a problem. Most of us really don't need to have half-eaten birds, sneakers, or any other type of trash laying all over the yard, not to mention the fact the other half is somewhere in your pup's digestive system. More importantly, swallowing anything that is not intended to be food can be very hazardous to your furry friend's health.
The good news is that you can teach your dog not to eat everything. There are ways to train him not to scavenge and other methods, such as using a muzzle.  Many dog owners feel that using a muzzle is mean or could lead to others thinking their dog is aggressive. However, if you buy a muzzle that fits properly, your dog won't be uncomfortable, and it could save his life. 
Top
Defining Tasks
One very important thing to note is that as with any type of training, teaching your dog not to eat everything is going to take time. This is even more the case when you are trying to teach your dog to 'come away' from something he believes might be the tastiest treat he has ever seen. The challenge with teaching him to come away from his perceived treat is to teach him that he wants to leave this treat in order to get a better one. 
Top
Getting Started
If this sounds confusing, it really isn't that bad. It simply means you must be prepared to offer your pup something of equal or greater value, such as his favorite puppy treat. While it is quite natural for a dog to move towards the item he wants, it is just as natural for him to come to you when called, especially if you have a treat. The following training methods make full use of this concept and should help you to train your dog not to eat everything he comes across. 
Top
The Going for Walks Method
Go outside and play
Take a ball or one of your pup's favorite toys along with you and play fetch. This will keep his mind focused on the game and not on finding garbage to eat.
Teach tricks
Teach him tricks he can perform along the way, such as jumping or how to walk to heel along your left or right side.
Change routes
Change routes regularly as the change will give him something new to smell.
Take something to play with
When you go to the dog park, be sure to take a ball or frisbee to play with you.
Talk to your dog
Talk to your dog as you are walking, this will help keep his interest and let him know you are still there
Place a treat
Start by placing a treat on the counter or trash can or whatever your dog likes to get into.
'Leave it'
Take your dog over to the food and leave him standing there after telling him to "leave it."
Walk away
Walk a few steps away and call your dog.
If he walks away
If he walks away from the food and comes to you, take him over to the food and give it to him along with plenty of praise.
If he grabs
If he grabs the treat instead of coming to you, repeat the process until he follows your instructions. Patience is a virtue with this type of training, but perseverance will eventually win out and your pup will 'come away' from perceived foods each time you recall him.
The Moving Outdoors Method
Place a few treats
Start by placing a number of his favorite treats in different locations around your backyard and mark their spots so you can see when your dog is getting close to them.
On the long lead
Hook your pup to a long lead and let him start roaming around the yard
Hold him back
As soon as he indicates he has smelled a treat and reaches a point where you think he is close enough, keep him from proceeding.
Call him back
Don't pull him back, call him back and let him make up his own mind to obey.
Treats for success
When he does, make sure you give him a treat and plenty of praise. The importance of teaching him to make the right decisions cannot be stressed enough. If you can't get him to make the right decision when he is on the lead, how do you think he will ever do it once he is off the lead?
By PB Getz
Published: 01/31/2018, edited: 01/08/2021
---