How to Train Your Dog to Detect Anxiety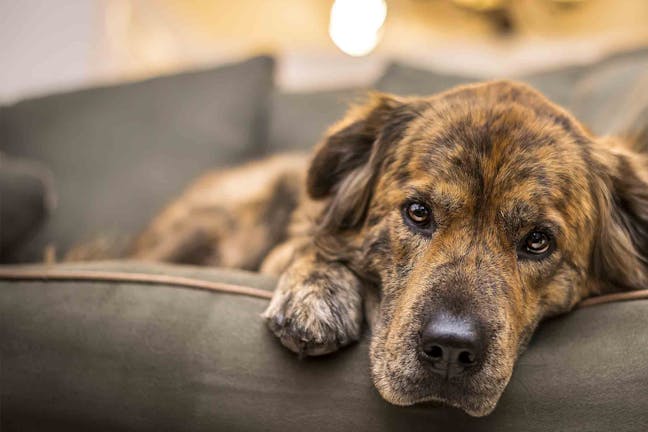 Introduction
Imagine a bride that suffers from anxiety attacks-- how does she manage on her wedding day, a day full of anxiety-producing triggers? The answer: with the help of her anxiety detecting service dog. Pictures of a bride and her anxiety service dog, Bella, comforting her on her wedding day, captured the hearts of many, when they appeared on social media. Bella helps her mistress by alerting to symptoms of a heightened anxious state in her owner, and allowing her owner, to take a moment, get help, adjust her environment, and receive comfort from her anxiety service dog. Bella helped her owner get through her special day with flying colors. Dogs like Bella can make a big difference in the life of people who suffer from anxiety attacks, heightened states of anxiety in response to stressors in the environment. Allowing people suffering from anxiety to function and conduct a normal life by participating in events, holding down a career and functioning in public settings are just a few of the benefits an anxiety detecting dog can provide.
Top
Defining Tasks
People experiencing anxiety attacks are triggered by a stressor in the environment, however, the anxiety reaction can far exceed that of what a non-anxious person would experience. Symptoms such as shortness of breath,a racing heart, muscle tremors, foot tapping, or leg bouncing, or other involuntary movements may occur. These symptoms can act as triggers for a vigilant anxiety detecting dog to pick up on, before the person suffering the anxiety attack is even aware that their anxiety level is rising. The service dog can alert the person to their rising anxiety level, providing distraction, allowing owners to consciously engage in anti-anxiety activities to bring down their anxiety level, receive medication, or remove themselves from the anxiety-producing situation. In addition, some anxiety detecting dogs are also taught to provide comfort such as deep pressure therapy, or other anxiety relieving behaviors. An anxiety service dog may help guide a confused person to a safe place, alert a loved one, or put their body between the person and others to protect them and give them a sense of security.
Service dogs must have quiet, calm temperaments so they can be used in public, but be alert enough to pick up on small cues that an anxiety attack is occurring, and motivated to work to alert their handlers and provide comfort. Most dogs begin training at 1-2 years of age, and training can take several months to a year or more. Dogs are trained to alert their handlers with a predetermined alert such as a nudge of the leg or the hand, which gets the handler's attention and allows them to initiate steps to prevent their anxiety from escalating further.
Top
Getting Started
Before training, you will need to determine what alert you will want to have your dog use to let you know that anxiety levels are rising. Frequently, a nudge with the nose is used as a signal. You will also need to identify what symptoms of anxiety you manifest that your dog will need to alert on. For example, increased heart rate, breathing rate, muscle movements, scratching, or touching your face are all possible signs people exhibit when their anxiety level starts to rise. Lastly, you will need to determine what actions you want your dog to take to help you reduce anxiety, lead you away from the situation, provide DPT, or fetch medication are all possible tasks your anxiety service dog can perform to help resolve anxiety conditions. All service dogs being used in public places will need to be well socialized and obedient in a variety of circumstances and around a variety of people, so a lot of work to establish the dog is comfortable working in various situations prior to training will be required. You should also investigate service dog certification requirements in your area.
Top
The Link Alert & Anxiety Method

Reward alert
Tech an alert behavior such as a nose nudge. Capture the behavior and reward with treats.
Command alert
Now add a verbal cue, such as 'nudge'.
Vary
Change position train your dog to perform the alert in several different places and while you are sitting or standing.
Choose anxiety cue
Identify an anxiety symptom, for example scratching, touching face, or fidgeting.
Provide anxiety cue
Act out the anxiety symptom, and give the verbal cue for your dog's alert.
Associate
When your dog provides an alert in response to the command and anxiety symptom, reward. Ignore false alerts. Repeat for several weeks multiple times per day.
Remove command
Now manifest the anxiety symptom without providing the verbal cue. Reward when your dog performs the alert behavior in response to the anxiety cue alone.
Vary
Practice in different places and positions.
The Link Anxiety & Reward Method

Choose anxiety cue
Identify an anxiety symptom, for example scratching, touching face, or fidgeting.
Present cue
Present the symptom in the presence of your dog. When your dog pays attention to what is happening, reward him with a treat.
Teach alert
Teach your dog an alert such as a nudge and put it on a verbal command.
Associate
Present the anxiety symptom and the verbal command for the alert. When the dog practices the alert while you are practicing the symptoms, reward your dog. Ignore false alerts.
Remove command
Practice the symptom without providing verbal command. When the dog alerts to symptoms or cues for anxiety, provide your dog a reward.
Add complexity
Practice in a variety of situations and environments with distractions.
The Clicker Training Method

Capture alert
Capture an alert behavior, such as nudging your hand. Mark with a clicker and provide a treat as a reward.
Verbally command
Associate a verbal command such as "nudge" when the dog nudges. Mark with clicker and provide treat.
Add anxiety
Manifest an anxiety symptom, use the verbal command for the alert, and mark alert with the clicker when the dog alerts appropriately.
Remove verbal command
Remove the verbal command, manifest the anxiety symptom, and continue to mark successful alert behavior with clicker and reward.
Remove clicker
Remove clicker command, manifest anxiety symptom and reward alert behavior that occurs with anxiety cue only.
Practice and vary
Practice in lots of different places, positions and with distractions. Go back to step 3 if necessary in different distracting situations and proceed through steps until the dog is able to alert to anxiety cues in a variety of circumstances.
By Amy Caldwell
Published: 10/10/2017, edited: 01/08/2021
---