How to Train Your Dog to Not Eat Human Food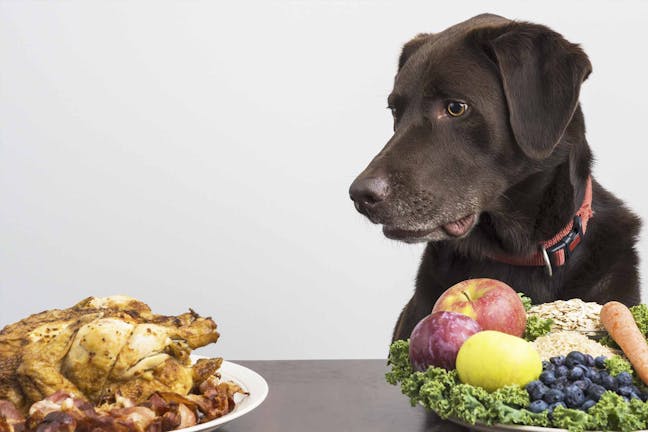 Introduction
Does your dog sit next to you at the table begging for your dinner instead of eating his own? Have you ever made yourself a sandwich and left it on the counter only to find your pup has snatched it when you weren't looking? Dogs are notorious scavengers, the urge to behave like this is deeply embedded in their ancestry. But, this doesn't necessarily mean it's an acceptable behavior.
At the same time, if you have ever given your pup a "treat" in the form of tidbits from your plate or food that is left where he can get to it, you have only succeeded in reinforcing the fact he is getting rewarded (in the form of food) for this type of behavior. While it can be challenging to train your pup not to eat human food, it is not impossible. 
Top
Defining Tasks
Training your dog not to eat human food falls under the general training, but can be very challenging. The basic command you must train your dog to obey is 'leave it' or your own version. No matter what command you finally settle on, be sure you always use the exact same wording and that you do so with a firm voice that tells your pup you mean business and expect him to obey.
As with most commands you train your dog to obey, this one can take a few weeks for your pup to learn he must do as he is told. But once he learns it, you should find that not only does he stop begging, but in most cases, he will ignore foods that are left within his reach (at least for a while, as any dog will give in to the temptation from time to time).
Top
Getting Started
Getting started can be a bit challenging, but you have to begin somewhere. Be sure to have plenty of his favorite dog treats on hand to reward your furry friend for getting things right. You may also need to lay in a supply of top quality dog food if you are not already feeding your pup the best, to ensure his nutritional needs are being met. Beyond this, you will need his favorite human food, a quiet place to work, and an ample supply of patience. 
Top
Place his food out
Each day place a bowl of your dog's favorite food in the required amount out for him to eat.
Give him an hour
Do this twice each day and give your dog an hour to eat before picking the bowl up.
Try later
If he doesn't eat it the first time, try again later in the day.
Never give in
Do not give in, your dog will not let himself starve.
No snacks
Most important of all, do not give him anything else to eat and keep all other foods out of his reach.
Smarter than you realize
Your dog is smarter than you may give him credit for. Once he realizes he is no longer going to be given people food just because he is begging and hasn't eaten, he will eat the food you put out for him. The more you repeat this type of training the faster he will learn.
The Leave the Food Method
A quiet starting spot
Start in a quiet room with a plate that has people food on it.
Treats in hand
Have his favorite treats on hand.
Leave it!
Each time your dog approaches the plate, tell him to "Leave it!"
Praise for success
When he does so praise him and offer him the treat. Be sure not to punish him if he fails the test, but be ready to continue working with him.
Repeat until he gets it
Be sure to do this every time you see him approaching human food and in time he will simply stop on his own. This method tends to work very well for most dogs and again, the concept of 'leave it' can be applied to anything else you don't want to end up in your furry friend's mouth.
Find a spot
Start by finding a spot for your dog to lie down and stay while you are preparing your meals and eating.
Lie down right here!
Teach your dog to lie down on this same spot each time you start preparing a meal.
Reward time
When he does, reward him with a treat and plenty of praise.
Rinse and repeat
Repeat this process until your dog goes and lays down by himself in hopes of getting a treat.
You win
Eventually, your dog will simply go lie down on his own without the need for commands or treats. This method works much better if you give your pup a nice comfy bed to lie on during your meal times.
By PB Getz
Published: 02/02/2018, edited: 01/08/2021
---