How to Train Your Dog to Say Prayers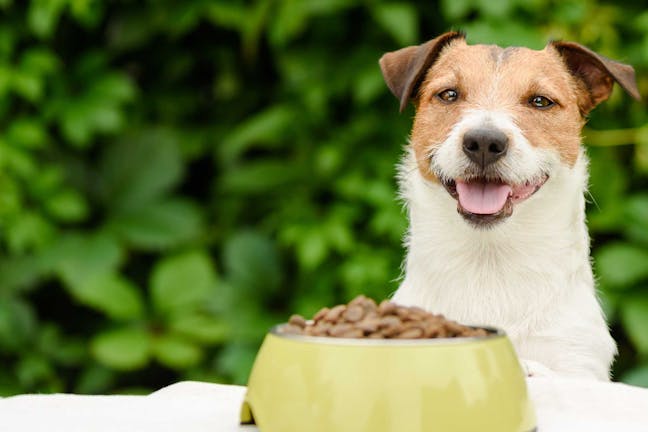 Introduction
There's nothing like a good bedtime routine! You and your pooch head to the washroom. First, you brush your teeth, then his. You put on your comfiest pajamas while your pooch fluffs up his bed. You curl up in the covers and peek over. Awe! Your little fur buddy is saying his prayers!
No, not really. But teaching your dog how to say his prayers is a pretty fun trick regardless. And it's sure to make all of your friends and family smile at your next barbeque!
Top
Defining Tasks
For this fun little trick, your dog will learn how to put both of his paws up on a table or chair and bow his head down. In some variations, your dog doesn't leave the ground during the trick. It looks a lot like your pooch is saying a little prayer, hence the name.
From 6 months on, your dog should be able to handle learning to say his prayers. It's the kind of party trick that only takes an afternoon to master, but it can bring joy to you and your guests throughout the dog's life! And don't worry, most dogs pick this one up without much trouble at all.
Top
Getting Started
To get your pup closer to God, you'll only need a few things. They are:
Treats: This trick works best with positive reinforcement. Try to find small treats, as you'll be dishing out a lot!

A Strong Arm: Make sure you can support your dog's weight on your arm. For little dogs this is not big deal, but for giant puppers, you may need to enlist the help of a larger family member.

A Standing Prop: Look for something that is about chest level when your dog is on his hind legs. It should be sturdy.

A Clicker: These handy tools make training a breeze! You can pick one up at your local pet store.

Before you make your pooch prop himself up to pray, make sure he is healthy enough to do so. Older dogs and dogs with injuries should probably sit this one out.
Below are some easy methods to get your furry friend saying blessings in no time. Each of them is great, so just pick the one that suits your style the best.
Top

Get your pup to sit
You can do this using hand signals or a verbal command. Give him a treat as soon as his bum drops.
Lure the dog to the ground
Bring a treat to the floor and say "lie down".
Get his head to lower
Hold another treat right to the floor. Don't give it up until your pooch's chin is resting on the ground.
Add the command
After a few successful attempts, start to say "bow your head" or "say your prayers" as your pup heads south.
Make him stay
Encourage him to stay with his head down. His release word should be "amen".
The Upright Blessing Method

Lure your dog onto your arm
Either tap your arm and say "come", or use a treat to get his paws up there.
Get both feet up
If at first your pooch is only offering one paw, give him a treat for the first one and encourage him to bring the second one up.
Make him stay
Tell him to stay so he knows not to bounce back on the floor.
Bow his head
Use a treat to get his head between his paws. Put the treat in your other hand and bring it under your arm to his paws so he puts his head down.
Hold and release
Keep him there for a second, then give him the treat.
Add the command
Repeat the exercise until your dog is consistent. Then start saying "say your prayers" as your dog goes through the motions.
The On-the-Chair Prayer Method

Get your dog on your arm
Teach him to lift both paws up onto your arm. Reward him if he does!
Add a command
Say "up!", each time your pooch puts his paws on your arm until he does it on command.
Use a prop
Find a chair or table that is sturdy and the appropriate height for your pup.
Get him up there
By using the "up" command, encourage your furbaby to lift his front feet onto the chair or table.
Teach him to bow
Bring a treat up from under the dog in between his paws. Hold it there, then give it to your pup.
Add the final cue
Each time your mutt does this trick, add the "say your prayers" command.
By Amy Caldwell
Published: 10/24/2017, edited: 01/08/2021
---