How to Train Your Dog to Perform the Heel Position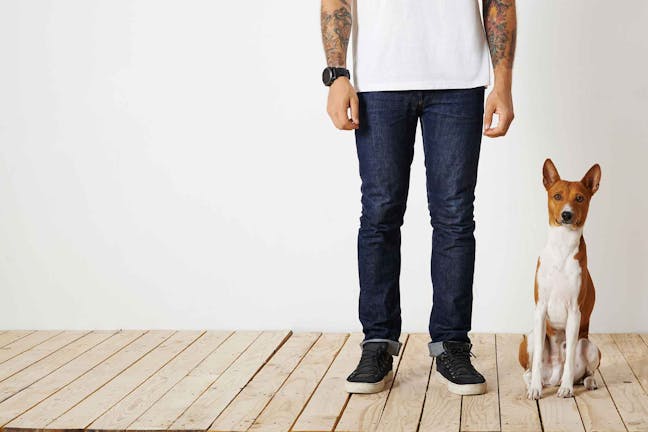 Introduction
One of the best ways to strengthen your bond with your dog and to allow your dog to engage in enrichment is to take frequent walks together. Walking allows both of you to get some healthy exercise while also immersing yourself in the natural world around you.
But while having a four-legged companion at your side can be uplifting and comforting, the situation can quickly become frustrating and dangerous if your dog doesn't know or follow his walk commands. In those cases, your dog is often the one walking you! Dogs aren't born knowing how they should walk alongside their owners, so it's up to you to teach your dog the right way to walk.
One critical walk command is 'heel'. In the heel command, the dog should walk directly next to the handler, not in front of or behind. Not only is this an essential skill for harmonious walks between dog and owner, but in certain situations, such as walking along a busy street or a crowded walkway, it's vital that your dog is at your side.
Top
Defining Tasks
Fortunately, training your dog to heel is a relatively straightforward process. It will involve repetition and patience on your part, as well as consistency both in going for walks and in training your dog until he learns the command.
Puppies may tend pick up on the heel command more quickly as they are younger and quicker to absorb new material. Older dogs may take a bit more time as they may already be set in their ways, having had years to solidify poor walking habits. Be patient and, with practice, your pup will become a respectful walking buddy.
Top
Getting Started
Before you begin training, you will need a few items on hand. First, make sure you have a sturdy but comfortable collar and a resilient enough leash. Have some small training treats on hand as well. Select some low-traffic or non-distracting yet familiar location to begin the training. You can work your way up to louder, more distractive, and more crowded places after your dog learns the basics of the heel command.
As always, don't get frustrated with your dog. He will learn at his own pace, and if you are patient and consistent, he will pick up on what you want far more quickly.
Top
Get your pup in the right mindset
Have your dog sit on your left side. Make sure he is focused and listening to you.
Begin the walk
Hold the leash firmly in your hand and say, "heel!" Make use of your dog's name, so he learns to associate the 'heel' command with action.
Correction for when your dog runs ahead
Let your dog go forward until the end of the leash. At that moment, give the 'heel' command and turn in the opposite direction. This action will startle your dog into following your lead in this new direction. Be sure to praise him when he catches up to you. Patiently repeat this step as often as needed.
Correction for when your dog falls behind
If your dog is lagging behind you on a walk, use verbal encouragement to entice him to keep pace with you. You can also give a gentle shake of the leash to recapture his attention and let him know he needs to be walking next to you.
Finish the walk with a 'sit'
Let your dog know when the walk has concluded by consistently putting him in a 'sit' at the end of each walk. Slow down before you come to a stop, and don't give the 'sit' command until you have stopped moving. You may need to gently push on the dog's haunches or pull up carefully on the leash if your dog is not familiar with the 'sit' command.
Be prepared
Have your clicker in your right hand and some small training treats in your left. If you plan on training for a while, store some extra treats in your back pocket.
Get your dog's attention
Call your dog's name, take a step, then click and give your dog a treat.
Repeat and add steps
Get your dog's attention, take two steps, then click and treat your dog. Be sure to praise your dog each time he follows your directions.
Click and treat when your dog is in the right position
Eventually, you want to get to the stage where you only click and treat your dog when he has assumed the 'heel' position at your side.
Add more steps until you get to ten
Continue to practice adding steps until you get up to ten steps successfully. At that point, start giving your dog a verbal cue using his name ("Buddy, heel!") in an upbeat tone. Then, step out and start walking.
The Advanced for Stairs Method
Get your dog's attention
Using your basic 'heel' commands, get your dog's focus on you, not on the stairs or anyone else on the stairs.
Place treats on each step up or down
By placing small treats on each stair, your dog is forced to pause at each stage and keep a constant presence at your side. This step works exceptionally well with younger dogs.
Walk up or down stairs with appropriate speed
Walking up or downstairs at the right speed will force your dog to stay with you as opposed to bolting ahead or lagging behind you.
Practice
It may take your dog some time to become confident enough on stairs to follow your lead and stay at your side regardless of what direction you are going in.
Enforce the 'heel' command
Once your dog is comfortable and confident on the stairs, enforce your standard 'heel' command. Remember to praise and treat your dog when he completes what you ask of him.
By PB Getz
Published: 11/14/2017, edited: 01/08/2021
---