How to Train Your Dog to Play With Other Dogs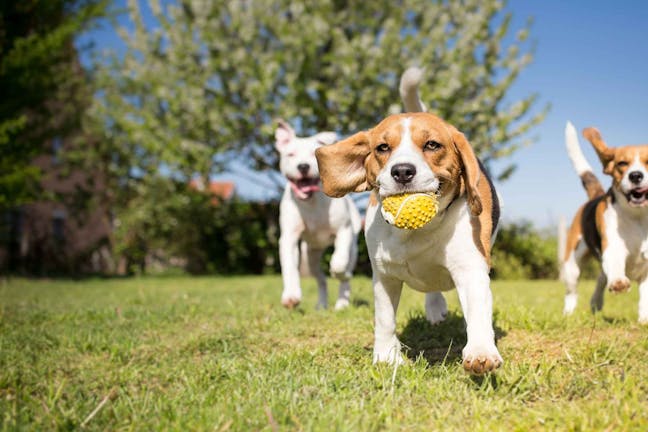 Introduction
Everyone's together for great grandma's 80th, all the grandchildren are there, all the aunties and uncles, and a whole host of household pets. But while everyone else's dogs play relatively harmoniously together, yours is too nervous to join the others. Instead, he stays close to your side and misses out on the canine fun going on around the BBQ. If you do manage to get him close to other dogs, he displays signs of aggression and you have to quickly pull him away.
Training him to play with other dogs is important, not just for you but for his wellbeing too. He should be able to have fun and blow off steam with other dogs. A dog that is sociable with other dogs is more likely to be sociable with people too.
Top
Defining Tasks
Training can be a slow process. The key is to gradually familiarize your dog with other dogs to build up his confidence and to keep him feeling comfortable. You need to motivate him with food and reward positive play with a variety of easy treats. If he's a puppy, bringing him out of his shell could take just a week or two. If he's older with years of anti-sociable behavior under his collar then the process may take up to a couple of months.
Your patience will be rewarded though. You'll have a happier dog who can enjoy the company of other pets when he's out and about. This training will also build up his confidence so he's more willing to try any number of other things, from swimming to playing with your kids and their friends.
Top
Getting Started
Before he becomes one of the 101 Dalmatians, you'll need to get a few bits together. You'll need treats or his favorite food broken into small pieces. The tastier the food the more eager he will be to learn. You'll also need access to other dogs in a controlled environment. Friends' or neighbors' dogs should do the trick.
Apart from that, you just need time to commit to training each day and all the patience you can find. Once you've collected all of that it's time to get to work!
Top
Stock up on treats
This clever method works be pairing the presence of other dogs with happy talk and tasty treats. If you can make every dog encounter upbeat and positive, then he'll feel comfortable and want to play with them.
Open the bar
As soon as you see another dog in the distance, start talking to your dog in an animated and happy voice. At the same time, keep giving him the odd treat. Really make another dog being in the vicinity a trigger for great attention and rewards from his owner.
Close the bar
As soon as the other dog leaves, stop with the treats and happy talk. Return to normal and go about your walk or whatever it is you were doing. Repeat this process every time you see another dog for the next couple of weeks. Soon he will associate the sight of other dogs with great and wonderful things.
Encourage play
Now you can let him play up close and personal with other dogs. Try and stay present throughout play so you can react if things turn sour and so you can retain control. Your presence will also make him feel more comfortable. Give him the same happy talk and treats during play time with other dogs.
Shut down the bar for good
After many weeks or months of successful encounters using the open bar method, you can shut up shop. By this point you will have made seeing other dogs a pleasant and positive experience. He will no longer need treats to behave. Just stay relatively close in case anything does happen and always resort back to the bar method if his behavior goes down hill.
The Gentle Familiarization Method
A dog he already knows
Get hold of a friend who has a dog your canine pal already knows to some extent. Just walking past each other on walks is enough of a connection. Then head out to a local park or field with that friend and your dogs.
Slowly approach
Hold your dog firmly by your side on a leash and gradually make your way towards the other dog. Ensure you are between the two dogs, that will make your dog feel safer.
Reward consistently
As you approach the other dog, give him treats and praise for as long as he looks calm and happy. Continue to praise him and reward him as you walk around the dog and let them sniff around each other.
Upgrade to play
When they're comfortable with each other, let them off their leashes and throw a toy into the mix. It's important both owners stay close and give their dogs reassurance and praise as long as they play nicely together.
Introduce other dogs
Once he's comfortable with this dog, it's time to follow exactly the same process with other dogs. You need to slowly approach and consistently praise him and be there every time he meets a new dog. Then throw in a neutral toy and encourage them to play. If either dog shows any signs of aggression, pull your dog away and wait until next time. You need to ensure positive, friendly play at all times.
Start with food and toys
You're going to train him to come away from his food and toys, so when he's at his most excited around other dogs, you can calmly call him away. So make sure you have his favorite treats with you at all times.
'Leave it'
Issue the 'leave it' command when he's about to eat or playing with a toy. Say it in a clear but firm voice and use a treat to lure him over. Start by standing very close to him, but increase the distance as he gets the hang of it. Keep practicing this every day for a few days until you can call him over from a different room.
Introduce another dog
Only let him play with another dog for a short amount of time. This will stop him getting over excited. Encourage them to play by throwing balls for them and giving them consistent praise. Also stay close to them, this will make your dog feel safe and protected, putting him more at ease.
Use the command
Whenever there is any aggression or you want play time to come to an end, issue the 'leave it' command to call him away. It's important you use this regularly, this will keep play controlled and on your terms.
Build up exposure to other dogs slowly
Don't suddenly plunge him into a place with a whole load of dogs, that will freak him out. Instead practice the above procedure with dogs he somewhat knows to start with. Then upgrade to dogs he might bump into on walks. Then go on to let him play with other dogs in locations like dog training classes.
By James Barra
Published: 10/23/2017, edited: 01/08/2021
---