Top Dog-friendly Road Trip Destinations in Washington DC
Top Dog-friendly Road Trip Destinations in Washington DC
By Mel Lee-Smith
Published: 10/08/2020, edited: 11/18/2021
Save on pet insurance for your pet
You don't have to choose between your pet and your wallet when it comes to expensive vet visits. Prepare ahead of time for unexpected vet bills by finding the pawfect pet insurance.
When brainstorming dog-friendly road trip ideas, Washington DC probably isn't the first destination that comes to mind. With conservation areas, wide-open highways, unconventional museums, and more tasty grub than you can shake a bone at, there's a myriad of reasons the capital should make your shortlist!
Now that you're on board, let's check out some "pawsome" places you'll want to see in DC! 
Where to play
After hours in the car, your pack will surely want to stretch their legs. Below are a few places Fido will definitely want to sniff out. 
Smithsonian Gardens
Start your dog-friendly trip in DC right with a relaxing stroll through the Smithsonian Gardens. These exhibits will challenge preconceptions of what habitats are and open your mind to the ecosystems beneath your paws. 
Art and life merge in the Fallen Sculptures exhibit, where bugs make the artwork their own. These functional pieces change daily as insects burrow, creating unique patterns on the surface of the raw wood. 
The Bug B&B and butterfly garden are great hands-on learning experiances for kids who love creepy crawlies. Leashed pups can explore every corner of the Smithsonian outdoor gardens, except the Enid A. Haupt Garden and the Hirshhorn Museum and Sculpture Garden.
Kingman and Heritage Island
Next head to Kingman and Heritage Island Park, a dog-friendly conservation area with peculiar beginnings. What was once a dumping ground has transformed into a pivotal part of DC's ecosystem. After the project that created these islands was abandoned, the area was used for waste disposal and quickly deteriorated as invasive plants and animals took over.
In the early 2000s, a campaign to reclaim the natural landscape began. Now this place is a "critical wildlife area," and native plants are returning. These islands have some of the coolest (and most eerie) dog-friendly trails in Washington DC Share creepy campfire stories while you walk and enjoy the spooky vibes the thick fog brings. 
Shirlington Dog Park
When your pup wants to let their fur down, head over to Shirlington Dog Park in Arlington, VA, for socialization and a splash of fun.
This park is undoubtedly the most "pawpular" around, but the highlight for most dogs isn't the nature trail or the socialization enclosure — it's the cool creek! Relax as Sassy and Buddy channel their inner mer-dogs; just don't forget the towel! Accessible asphalt pathways make this a great spot for a stroll with two- and four-legged children alike.
Prince William Forrest Park
Next, take your pack on a covert mission to explore a WWII-era spy training camp turned nature park. Prince William Forrest Park in Triangle, Virginia, is 45 minutes from DC, but it's well worth the drive. Here, your pack will find 37 miles of the best dog-friendly trails in the Washington DC area, plus bountiful wildlife and endangered native plants. 
Want more info on the park's classified past? Contact the visitors' center to arrange for a park ranger to give you the scoop! 
Scotts Run Nature Preserve
Last but not least, pack a picnic and set off for Scotts Run Nature Preserve for some truly remarkable trails. Of all the tracks that traverse this landscape, the River Trail is most visitors' "ultimutt" fave. You'll see tremendous wildflower displays through the hardwood forests as you make your way to the cascades. 
Take a break at the creek while you enjoy the birds songs and watch your pupster wade in the cool water. Paths in this preserve are some of the most strenuous around, so these might not be suitable for novice hikers. One thing's for certain — your pup will sleep like a rock after this trek! 
Where to stay
DC has fewer campgrounds than other popular road trip destinations — but what it lacks in quantity, it makes up for in quality. Need recommendations for cushy dog-friendly campgrounds in Washington, DC? We got you. 
Cherry Hill Park
Fun-seeking families may want to check out Cherry Hill Park in College Park, Maryland, just 35 minutes from Capitol Hill. Here, you'll find tons of boredom-busting activities with two pools, a splash pad, and a putt-putt course where your pack can play in their downtime. 
Fido will be happy to know there's a special area for floofers frolic and relieve themselves. The park has cabins, yurts, "glamping" pods, cottages, and RV sites, if tent camping with dogs isn't your cup of tea. 
Lake Fairfax Park Campground
Another pup-welcoming spot worth taking a look at is Lake Fairfax Park Campground. This cute lakefront campground is located in a nature preserve 30 minutes east of the capital.
This park accommodates RV and tent camping with dogs and has tons of hiking trails to hit with your furry explorers. There's even a waterpark with waterslides, flume rides, and a pool where human campers can chill out during the summer. 
Washington DC / Capitol KOA
KOAs are usually a dependable choice when RV camping with dogs, and Washington DC KOA is no exception. 
Family fun is the park's first priority. You can shoot some hoops or have a ping-pong match with the fam, take the kids to jump out their energy on the inflatables or enjoy some quality relaxation with an outdoor movie. 
Between the nature trails and on-site dog park, Capitol KOA is always a winner with canine campers, too. With amenities this good, your pack won't want to leave! 
Where to roam
Curious about the best scenic drives in Washington DC? We have just the place! 
Take U.S. 29 South to Highland County for some of the best views in Virginia. This path crosses Shenandoah National Park about 1.5 hours in and George Washington-Jefferson National Park about 30 minutes after, so you're bound to spot lots of wildlife along the way. Pick a park and stop in for a picnic with the pack; there's no better way to take in the scenery! 
If you're heading west, U.S. Highway 50 is the way to go. This path will take you straight to Annapolis, Maryland, with gorgeous scenery and some pretty cool stops along the way. You'll pass right by the National Arboretum where you can see impressive botanical specimens. Or, keep heading west into the Globecom Wildlife Management Area for wildlife viewing and a pack selfie. 
Where to eat
There are tons of DC delicacies to choose from, from pub grub to international fare, but there are some must-eat dishes you have to try. One menu item you won't want to miss is local Chesapeake blue crab. For a light lunch, try them steamed and seasoned with Old Bay, or indulge with battered soft shell crab and crabcakes. 
Interestingly, Ethiopian cuisine is another one of the most popular food types in the capital city. The U Street Corridor has a "pawticularly" high concentration of traditional African restaurants serving up deliciously crispy tilapia, curry potatoes, and spicy beef tibs. 
"Half smoke" sausages are another DC staple. Locals describe them as smoked hot dogs with a kick of heat! Most prefer theirs on a steaming bun with chili, cheese, and onions. One thing's for certain on your dog-friendly DC road trip — Fido won't leave hungry! 
Where to learn
You can't pay a visit to DC without seeing the Smithsonian Museum of Natural History, but unfortunately, only service dogs come inside. Rather than missing these extraordinary exhibits, why not book a dog walker in DC to distract your pooch while you learn? 
After you finish at the Smithsonian, head over to the National Air and Space Museum to learn the fascinating history of aeronautical engineering. Glide through exhibits of satellites and countless military and civilian aircraft. This museum is sure to soar with your crew! 
Finally, sneak over to the International Spy Museum for a truly original museum experience. Your tour begins with a briefing where you'll receive a badge that tracks your movements through the museum. (You'll be able to access the information later to see how you did on your mission.) 
From there, you'll see ingenious gadgets used by real secret agents, hear riveting true tales of espionage, and even get the chance to decipher and analyze codes. Your pack will love this refreshingly interactive museum — just be sure to keep your newfound intel under wraps. 
Need help finding other great dog-friendly road trip destinations? How about tips for traveling with a dog? We'd love to help! Check out our guides for the down-low on everything travel and canine-related!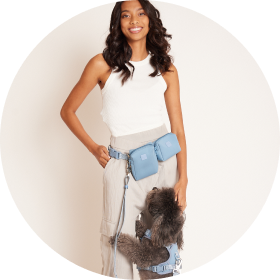 Need to upgrade your pet's leash?