How to Train Your Dog to Accept a Baby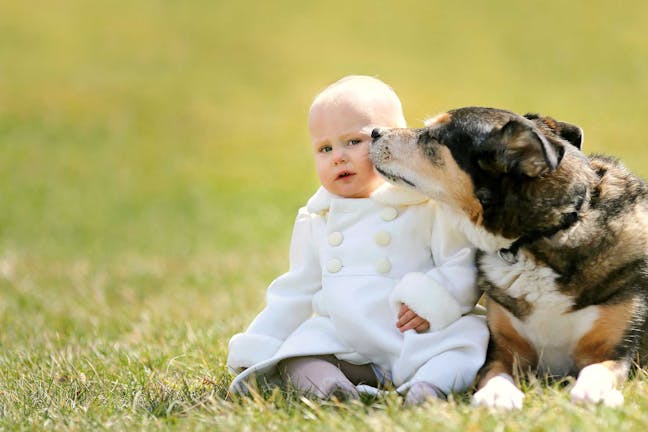 Introduction
All too often, when a cute, little, noisy roommate moves in, the ones with fur get evicted. You yourself probably know of friends or family who said goodbye to their dog once they found out they were expecting. And it's true, having a dog around a baby does present some dangers. But is there really no other choice but to rehome your four-legged family member?
Top
Defining Tasks
The fact of the matter is that there are lots of preparations you can take to help your pooch adjust to the new arrival. Doing all of these things doesn't guarantee that your dog will respond well, however, it does improve the chance that life will carry on smoothly.
Dogs who were properly socialized as puppies tend to do better around kids in general. A young dog who is exposed to babies will usually respond more favorably than an old, cranky mutt who has only ever been around adults. Babies react in unpredictable ways and make all sorts of strange noises that may confuse or upset your pup. Your job will be to help your canine understand that these new sounds and scents aren't threatening.
Top
Getting Started
To help you on your journey to a harmonious household, you need to stock up on some things. The following will help make your dog's transition as smooth as possible.
Treats: Yummy food is the ultimate positive reinforcement. You'll need lots of treats to help condition your pooch.

Baby Gear: Make sure you get some of the bigger (potentially scarier) items for your wee bundle of joy well in advance. This way your canine will be able to get used to them first.

Baby Grooming Products: These creams and goops will help normalize the smell of a baby for your dog.

A New Dog Bed: If you currently share a bed with your pupper but plan on changing that, get him a new, super comfy spot to sleep before the big event. It'll make the change easier.

A Doll: Some people find that using a baby doll during their training sessions helps the dog understand what's in store.
Keep in mind, even if you are successful at teaching your dog to be peaceful with your baby, never leave them alone together. Even a well-meaning pooch could seriously injure a little person, or worse.
Below are some great methods to help prepare your pup for her new, less furry sibling.
Top

Pamper a doll like you would a baby
Use the creams, put on the diaper and dress it in a onesie. Allow your dog to see this going on.
Every time dolly is in hand, say "sit"
This will help your pup to understand that jumping up is a definite no-no when a baby is in your arms.
Reward gentle behavior
Allow the pooch to get close to the doll. Any soft touches with the nose or little licks should be rewarded with a treat (but try to avoid the doll's face!).
Introduce the real baby right
Go in first while someone watches the baby outside or in the car. Let your doggo give you a full welcome home.
Then bring in the babe
Have the other person bring in your little one after your fur buddy has calmed down. Take the baby out of their car seat and hold them in your arms how you held the doll. Your dog should associate the wee one with all of your doll training.
The Post-Birth Routine Method
Figure out your feeding times
Try to guesstimate when you'll be nursing or feeding your baby. Obviously, this won't be bang on, but at least you can get your dog used to coming with you into the baby's room and sitting quietly at your feet.
Switch up his mealtimes
While baby might get a rigid schedule, your pupper most likely won't. Help him become flexible by adjusting his food times by an hour or two each day.
Hire a dog walker
The first month or so after a new babe comes home is chaotic. Help your fur buddy feel secure by having a dog-walker come a few times a week. Start the walks before your due date.
Adjust habits you don't want
Train your barker to give up his snuggly spot on the bed or couch before there's a baby in sight. This way, he's not going to associate his loss of privileges with the new small human.
Set up the baby's stuff
Put together all of the large furniture or singing bouncy seats ahead of time so your pooch can get used to them. This limits the number of new things bombarding her all at once.
The Smells and Sounds Method

Use your baby's grooming products
Go out and buy all of the washes, creams, and lotions that you plan to use on your little one before they have arrived. Apply them to yourself so your dog gets used to the smells.
YouTube some baby noises
It may not be the most relaxing thing to do, but by putting on coos, squeaks, and cries for a little bit of time each day, your pupper will start to think of these sounds as normal.
Ask a friend for some baby swag
If you know of anyone with a baby, ask if you could borrow a blanket or other material that has been wrapped around the baby. Bring it home and allow your mutt to go sniff-crazy.
Do the same with your baby
Once your bundle of joy is finally here, have your spouse or a family member bring home a blanket or a piece of clothing that has been on the baby. The dog can "meet" your tiny kiddo before they even come home.
Gradually allow in-person smelling
At first, keep the dog on leash when in the same room as the baby. If the dog is calm and interactions are going well, let her off but keep things supervised. Never shove your baby at your dog, let the dog come to the baby.
By Amy Caldwell
Published: 10/04/2017, edited: 01/08/2021
---