How to Train Your Dog to Accept Another Dog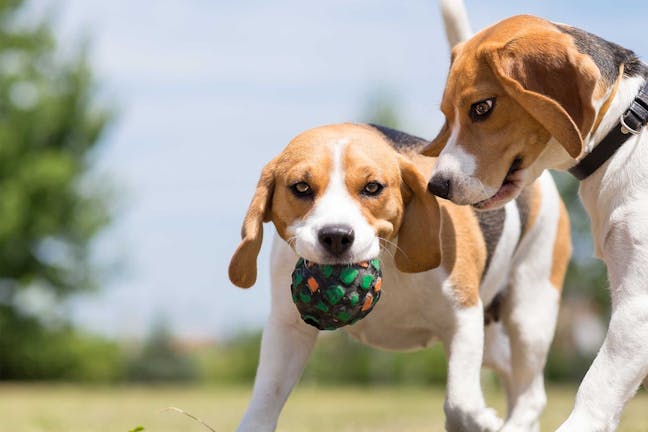 Introduction
Okay, so we'll admit that we like staying home on a Friday night in our PJ's, ordering Thai food and tuning out the rest of the world, just as much as the next person. In the company of our dogs of course, though. While not interacting with other people is a great choice for us humans from time to time, your dog is a different matter altogether.
In the wild, dogs are naturally pack animals and use their interactions with each other to form complex social structures. Dogs perform many tasks together in the wild. From hunting to sleeping to working together to raise young and protect their families, dogs frequently travel and operate with other dogs. It only makes sense, then, that teaching your pooch to accept another dog would be a critical behavior for your pet's social well-being.
Top
Defining Tasks
If you're bringing home a second dog into your household, it's critical that you know how to properly introduce your current pet with your new companion. Setting the stage for positive interactions will help ensure doggy harmony in the future, lowering stress and preventing hassles such as gating and separating your canine family members.
Even if you don't plan on bringing home a new dog any time soon, it's inevitable that your furry friend will need to mind their manners around other dogs at some point in their lifetime. Dog parks are great sources of off-leash interaction and play. Veterinarians' offices will typically have multiple patients waiting in the lobby to be seen and no trip to the pet store would be complete without the occasional friendly sniff. It's essential to start your dog off as young as possible with good doggie manners and reserved interactions with other pooches in order to set the foundations for a lifetime of good behavior.
Top
Getting Started
Before you get started teaching your dog to be accepting of other canines, it's important to point out that some pups should not be home taught. If your dog has previously displayed serious aggressive and potentially harmful or dangerous behavior you should enlist the services of a qualified canine behaviorist or trainer that specializes in aggression. You should never put yourself or a friend or family member at risk by creating a dangerous dog fight scenario.
If your dog hasn't displayed previous aggressive tendencies, then training can begin and requires only a few special items to get you up and running. You should have a sturdy flat buckle collar and leash for all dogs. Stay away from pinch, prong or choke collars for introductions as you want to create as much positive reinforcement as possible. Toys and treats should be on hand but are reserved for more advanced interactions, after dogs have gotten to know each other, in order to avoid contention over these coveted items. Grab another adult to help introductions go smoothly and you're ready to try out one of our training methods for teaching dogs to accept another pooch in their lives.
Top
The On Leash Walking Method
Burn off excess energy
Introducing your dog to another pup on leash is a great way to build up acceptance and can be done in your backyard or on neutral ground. Start off by walking each dog individually to use up their excess energy and let them acclimate.
Long distance interactions
Once your dog is relaxed and chugging along on your walk, bring both pups within eyesight but still well away from each other. Keep walking in parallel until both dogs calm down and are indifferent to the other pup.
Get a little closer
Walk the dogs closer together, close enough so that you and the other dog walker could have a conversation but not close enough that the dogs can touch. Aim to keep 5-10 feet between dogs and continue walking until both animals calm down and seem indifferent to the other's presence.
Time for the sniff test
While continuing to walk, slowly bring the dogs within sniffing distance of each other. It's important that you keep both dogs moving at a slow, steady pace and that you and the other walker do not change your speech or other behaviors. This will help each pooch feel as if nothing important, special, or different is happening and will reduce stress and worry.
Bring everyone together
If the previous steps have gone well, it's time to allow the dogs to interact on leash. While continuing walking, allow the dogs to be in close enough proximity to interact with each other. Keep walking slowly and steadily and be sure not to change any other behavior. This can be repeated over multiple days and is an especially handy strategy for teaching to accept strange dogs that won't be a permanent resident of the home.

Selecting neutral ground
Introducing dogs on neutral ground is a great method for introducing a new dog to an existing household. Often times, dogs will become territorial of their own turf. Start out in an unfamiliar park, path, or other open setting.
Make an arc
Start off with both dogs on leash and slowly walk them in the vicinity of each other in arcing paths. The dogs should only come within 20 feet of each other or so.
Get a little closer
Gradually decrease the distance between dogs so that you are walking them within sniffing distance of each other. Each time your dog nears the other, treat and praise, teaching your dog a positive association with coming into the vicinity of another canine.
First contact
Work your dog up to meeting the other dog on your final arc. Both dogs should be on leash at this point, but only be allowed brief contact with the other.
Allow full interaction
After both dogs have indicated they are accepting the other pooch in their personal space, allow both dogs to interact the next time they come in contact with each other. Sniffing, playing, and minor mouthing should all be allowed. If the level of interaction is becoming too excited, bribe the dogs away with treats and praise. Follow these steps and your dog will be accepting others in no time.
The Home with Boundaries Method

Prep your home
Before bringing your new pooch into the house, do a little preparation. Set up baby gates, x-pens and crates so that you'll have plenty of places for your dogs to view, smell and hear each other without interacting.
Hear no evil
Position both dogs in different rooms or areas of the house where they can hear and smell the other but can't see or otherwise interact. The intent is to let each dog slowly acclimate to the other's presence without causing undue stress or alarm.
Meeting through the gate
Once both dogs seem calm knowing the other is in the house, progress towards allowing interaction through a baby gate, x-pen, or other barrier. This will allow your pups to interact without feeling threatened. Pay attention to body language in this step. You should see relaxed tail wagging, licking of lips, and heads turned away from each other before you progress.
On-leash interaction
After the dogs seem to be adjusting and accepting each other well through a gate, start introducing them on leash in the house. The leash provides a safety mechanism in case things don't go quite as smoothly in person as they did through obstructions. Allow the dogs to approach and sniff with caution. Always remember to treat and lure away rather than pull, as this could create unwanted aggression or aversion to meeting other dogs.
Release the hounds
If all has gone well up until this point, it is now safe to allow the dogs to interact without leashes. You should attach the smallest leash possible to your dogs' collars in order to have a method of restraint in case one dog is not as accepting as they should be of the other. Owners should be aware that it takes up to two weeks for dogs to become acclimated to a new home. After all goes well during this honeymoon period, you will have a pooch that is accepting of other dogs.
By Amy Caldwell
Published: 10/17/2017, edited: 01/08/2021
---