How to Train Your Dog to Stay Calm During Fireworks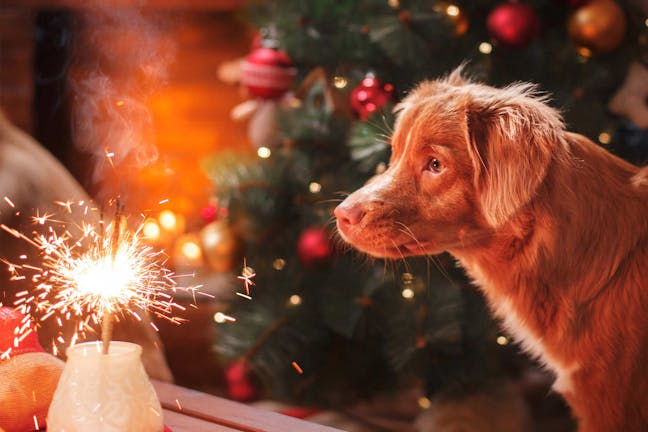 Introduction
While you and your family might eagerly await the annual fireworks display, your canine friend is likely to be huddled under some furniture shaking like a leaf. The deep and loud sound of fireworks may startle us, but such sensitive canine hearing can leave your dog feeling like bombs are being dropped overhead. They might not be eating his food, they may stop drinking, and they might not be able to sleep.
Training your dog to accept and live with fireworks will save them some serious anguish. Seeing your dog trembling for hours on end isn't easy, so if there are steps and measures you can take to reduce that fear, it's a no-brainer! We've laid out a few simple methods to help you teach your dog how to stay calm throughout all those loud bangs and cracks for a calmer and more enjoyable evening for you both.
Need more help than this tutorial? Book an
in-home
or
digital dog training session
through the Wag! app today.
Top
Defining Tasks
Due to the serious fear that fireworks can bring out in dogs, training isn't always a walk in the park. You will need to take a number of steps to reduce your pooch's fear. A big part of training will be gradually desensitizing them to the terrifying sound. If your dog is a young puppy, then overcoming the fear may take just a week or two. If they have had a deep-rooted fear of fireworks for many years, then training may take many weeks to yield results.
Fortunately, the measures you can take as a guardian are straightforward and it's vital you follow them for the wellbeing of your dog. Dogs who experience such extreme fear may develop behavioral problems and fears in other areas of their lives. So be patient and persistent and you'll soon have your dog smiling through fireworks.
Top
Getting Started
Before you get to work with your canine pal you will need several things. Their favorite food or treats will be needed to calm and reward them during fireworks. You will also need some recordings of fireworks and an audio device to play them with.
You will also need to ensure your dog's den is comfy, homey, and a safe shelter when fireworks do start to go off, whether this is a bed, a carrier or crate. Apart from that, you just need 10 minutes a day for the next few weeks and a proactive attitude, and you're ready to begin!
Top
The Prep and Protect Method

Feed early
Feed your pooch way before you expect the fireworks to start. Many dogs will be so terrified from the fireworks they won't be able to eat their meal. This can leave them scared and hungry, which is not a pleasant combination.
Wear them out
Give them a very long walk before fireworks start. The logic to this is simple; if they are tired then they will find it much easier to sleep through the fireworks. If they are full of energy, it will all be focused on the deafening sound.
Stay calm and relaxed
Dogs look to the pack leader (you) to see how to behave and feel in situations. If you're calm and collected, they may well take that as a sign that they are safe and relax too.
Encourage
Give your dog treats and praise throughout the fireworks. Regular food and cuddles will help them feel more at ease and reinforce that they don't need to be scared. If you can't be there during fireworks night, find someone they are familiar with to stay and spend time with them.
Stick together
Don't isolate or lock them away. If you shut them away to deal with the fear themselves, then the fear may become even worse and be even harder to overcome in the future. Instead, it is important you show your dog you are there to support them.
The Managing the Environment Method
Provide a safe place
Ensure your dog's bed is super comfy and offers a secure place to retreat to. When dogs are scared they like to retreat to their territory where they feel safe from the scary sounds around them. This could mean you get them a crate or a roofed bed in preparation for fireworks night. This extra shelter will make them feel much more at ease on the big night.
Consider a thunder shirt
These garments can be bought from a range of online retailers and local pet stores and can be really effective in reducing fear during fireworks. They work by gently applying pressure to your dog's chest, helping to calm their breathing and reduce fear and anxiety.
Consult your vet
Many dogs are so terrified of fireworks that to slowly reduce their fear they need to be mildly sedated. You can ask your vet for different options that will help your dog slowly drift off and be less aware of the fireworks around them. You can then slowly reduce the strength of the medication until it is no longer needed.
Follow through
Try all of the above methods at least several times before you give up. With a fear that has been ingrained for years, it will often take several times of trying a measure before you see success. So don't give up just because your dog was still scared the second time, be patient! You can also use any of the above steps in conjunction with each other.
The Desensitization Method

Cue the audio
Head online and find an audio recording of fireworks. Ensure the sound is clear and the clip is long enough that you can leave it to play for up to 10 minutes. You are going to gradually introduce your dog to the sound and break down their fear, prior to fireworks night.
Start low
Place a speaker in the same room as their bed and play the clip on a very low volume. Make sure they don't look too startled. If they are shaking or trying to escape the room, turn the volume down.
Play it cool
As the clip plays, sit with your pup and praise them for their calm behavior. Be sure to shower them with attention and be upbeat and jolly. Many dogs gauge how to feel and behave from their guardians, so if you are relaxed they may mirror that.
Repeat
Play the clip each day for 10 minutes and slowly increase the volume. The key to this training is to build up the volume very slowly. If your dog looks terrified, you are going too quickly and you need to decrease the volume. Be sure to sit and play with them throughout the clips—you can talk to them, encourage them to play and even give them the occasional treat.
Separate
When you can play the clip relatively loudly and they don't appear scared, leave the room and watch through a window or doorway. You now want to ensure they are still relaxed and calm even when you aren't there to distract them. It may take weeks to get to this stage, but this gradual process will help them overcome their fear and ensure they can be left alone on fireworks night.
By Amy Caldwell
Published: 10/05/2017, edited: 06/10/2022
---