How to Train Your Dog to Bark When Someone Is at the Door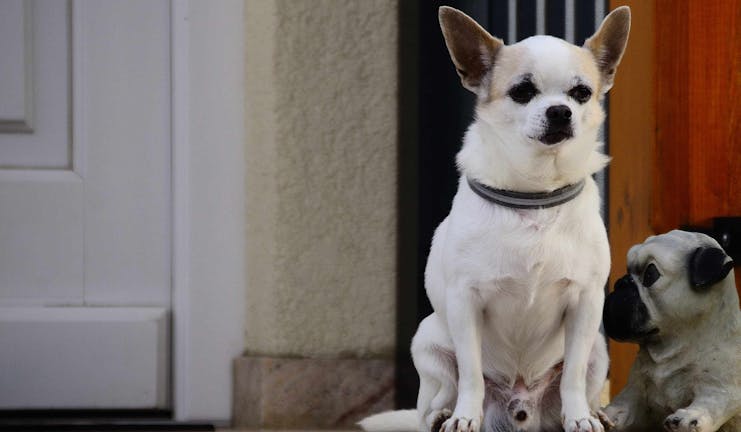 Introduction
Dogs are uniquely suited to help us. It seems that they fill in wherever we are lacking. While we rely on sight, having relatively weak senses of smell and hearing, our dogs experience the world primarily through their ears and noses. While we are meticulous planners who sometimes forget to have fun, dogs are always reminding us to enjoy life and play. We should be able to trust our dogs to not only lift our spirits and remind us what's fun in life, but also to alert us to things our weaker senses may miss, like someone at the door. If your dog doesn't already bark frantically at the first sign of a visitor, teaching her to do so is simply a matter of pointing out the desired behavior and the reasoning for it. Alerting the group to a visitor is instinctual to most dogs, so it should not be difficult to reawaken this instinct in your passive pooch.
Perhaps the most difficult aspect to teach your dog is that she ought to be alert at all times to the specific stimulus of someone at the door. A good guard dog will wake from a dead sleep at the slightest knock or scuff from the doorway. Most attentive dogs learn to identify the mail or delivery trucks, and the vehicles of repeat visitors, and set off the alarm at the first sign of visitors. This is in some ways, however, a character trait. Some dogs are simply deep sleepers, and no amount of training will cause them to wake at the sound of the daily mail being delivered or a light tap at the door.
Top
Defining Tasks
Your dog must learn what she is supposed to do when she hears the visitor. While barking is instinctual to most dogs, some dogs will only whine or run around excitedly, or hear but do nothing. You have to let your dog know that you would like to be alerted to the visitor and that you would like her to provide the alert by barking to you. If you have a large house or yard, you may want your dog to come to you to bark to inform you of the visitor.
For many dogs, the hardest part of learning to bark when someone is at the door is learning when to stop barking once the visitors are appropriately announced. While you want the person at the door to hear your dog bark before you open the door, once you are inviting someone in or receiving a package, you do not want to have to talk over your barking dog. Dogs keep barking at visitors because they have misunderstood their training to be not to bark to alert their owner, but rather to bark to warn away potential threats. Be specific in your training goals in order to prevent dogs from misunderstanding.
Top
Getting Started
To train your dog to bark when someone is at the door you will need patient volunteers to act as visitors. Ideally, these people will arrive randomly, as well as at set times that you discuss. Talk to the people who already have reason to visit your home and explain that you are training your dog. If you can, tell delivery services to inform their delivery drivers to be patient and wait for the barking to start and stop before expecting the door to open.
Have plenty of good treats and toys on hand to motivate your pup. If your dog doesn't bark easily, but you know of something she will bark at, it is a good idea to have that on hand. Noise making robots, mirrors, and noise-makers of all kinds are good options.
Top
The Teach 'Speak' First Method
Stimulate barking
Use a toy, food item, funny voice, or anything else that you know will stimulate barking in your dog. Dogs often bark when they become frustrated, so dangling a desirable item out of reach is a good way to entice barking.
Name and reward
Name the barking with a command word like "speak" and reward enthusiastically. When your dog is rewarded and is quiet, name the quiet behavior with a command word like "quiet".
Practice
Practice until your dog is barking when you ask her to and getting quiet when you ask her to. Practice in a variety of situations and places throughout the house.
Introduce visitor
Have a volunteer knock at the door and instruct your dog to bark. Reward her for barking, ask her to be quiet, reward her for being quiet, and open the door. Practice this several times.
Move further from door
Go to places throughout your house and have the volunteer knock. Reward your dog for seeking you out and barking.
Stimulate barking
Sit somewhere near the door and have your volunteer knock. Pretend that you didn't hear the knock at all. Have your volunteer keep knocking, increasingly loudly, and shouting if necessary, until your dog reacts by barking. Ignore every other response besides barking.
Reward jubilantly
As soon as your dog makes a peep, encourage her enthusiastically. If she seems tentative, you can even join in barking with her until she has more confidence.
Open the door
Open the door and have your volunteer also reward your dog enthusiastically. Your dog should quiet when she meets the visitor. Name the cessation of barking with a command word like "Quiet".
Move further away
Go further into your house and practice the routine again, waiting until your dog comes and finds you before rewarding the barking.
Practice
Keep practicing the routine until your dog is reliably finding you wherever you are and barking to alert you to visitors. Also be careful to reward your dog for quieting on command.
Instinct
Barking to alert the group to a visitor is an instinctual behavior that most dogs need only be reminded of. Watching another dog react appropriately is a great way to teach your dog how to respond.
Establish in-group with model dog
Hang out with your reliable barking dog model and your dog for awhile. Encourage natural behavior and play.
Introduce visitor
Have your visitor knock. When the model dog barks, reward her enthusiastically and even join in. Keep it up until your dog barks too.
Reward and open the door
Reward your dog enthusiastically and open the door. This will tell her that it was her barking that prompted you to open the door and let in the visitor, who should reward both dogs enthusiastically. When your dog is quiet again, name that behavior and reward it.
Move further from the door
Practice at various places throughout your house before removing the model dog. By then your dog should have understood the mentality of seeking you out to inform you of a visitor by barking.
By Coral Drake
Published: 12/21/2017, edited: 01/08/2021
---