How to Train Your Dog to Be a Comfort Dog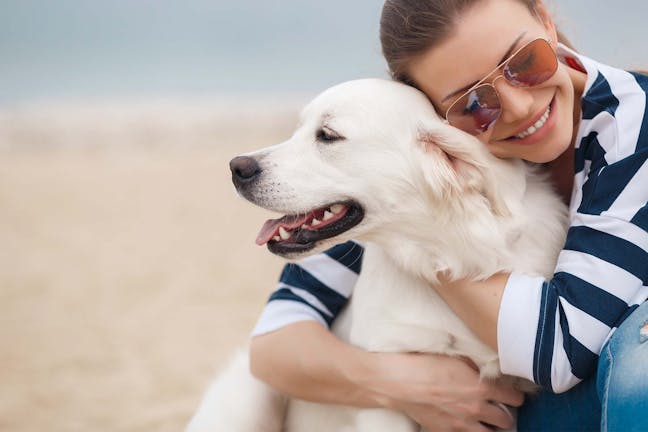 Introduction
Imagine you are suffering from the aftermath of a stroke, confined to a rehabilitation setting, alone, and confused in a strange environment, when a comfort dog is brought into your room. A quiet, gentle dog is placed in your lap, you stroke his silky fur, he licks your hand, and curls up for a good long cuddle with you. You feel less alone, your mood elevates, and within minutes you feel better and less afraid. The use of comfort dogs as part of recovery and rehabilitative care is increasingly being recognized for its beneficial effects, and being implemented as part of therapy available to patients. A comfort dog, sometimes referred to as a therapy dog, is used to provide comfort and affection to people in therapeutic settings as part of a medical treatment program. A comfort/therapy dog is not the same as a service dog, however, comfort dogs must go through many of the same behavioral training and certifications as service dogs in order to be approved for use in a therapeutic setting. Comfort dogs have been shown to lower blood pressure, heart rate, anxiety, and increase levels of beneficial healing hormones such as endorphins and oxytocin.

Top
Defining Tasks
A comfort or therapy dog interacts with people in a medical setting such as a hospital, rehabilitation center, school, or nursing home. The dog's non-judgmental presence, affection, and attention bring comfort to patients who have experienced trauma and are experiencing stress, pain, and separation from loved ones. Comfort animals may be part of animal-assisted therapy which involves activities that provide therapy interacting with the dog, such as caring for and grooming the dog or playing with the dog. These activities provide therapeutic benefit to the patient by improving motor coordination and interaction. Animal-assisted activities involve less structured activities that promote communication and emotional healing, by allowing interaction with the dog such as petting and cuddling that help patients relax and feel better.
Comfort dogs must be friendly and non-aggressive, quiet, calm, gentle and obedient. All comfort dogs must be well-socialized. They should be comfortable with lots of different people and not get over excited or fearful around strangers or in a disturbing environment such as where patients may make sudden involuntary movements, or experience emotional, or verbal outbursts. Older dogs are usually more appropriate choices for therapy dogs, however, some puppies of the right temperament can be used. Small dogs may be more suitable for cuddling, while larger dogs may be more likely to be used for activities, such as fetching balls or providing other physical therapy.
Top
Getting Started
You will need to spend lots of time with your dog to prepare him for becoming a comfort dog. If you have a young dog, you will need to ensure he has plenty of opportunity for socialization and is comfortable in a variety of situations. Some dogs do not have the temperament for being a comfort dog; if your dog has a nervous temperament you should not consider trying to force this role on your dog. Using a leash, treats, grooming tools, and toys to teach your dog obedience and tricks will be required, in addition to desensitizing your dog to different situations and ensuring they are comfortable with a variety of people and places.
Top

Go
Take your dog on lots of walks and excursions, interact with other people and dogs.
Variety
Expose your dog to potentially frightening situations, crowds, noise, and unexpected activity.
Children
Visit friends and neighbors with children. Have your dog play with children who may make loud noises and unexpected movements, ensure your dog is comfortable with this activity.
Seniors
Visit friends with seniors in the home.
Crowds
Take your dog to homes with lots of people around, or invite lots of friends to your home so your dog is used to being in a crowded room full of people, noise and activity.
The Deep Pressure Therapy Method

Application
DPT is used for people with anxiety, autism, self harming behaviors, and stress. Dogs apply gentle pressure to the body. Large dogs use their head or front paws, small dogs use their body.
Paws up
Teach your dog the paws up command. Put a treat on the sofa and say paws up, or head up if you have a very large dog. When your dog puts his paws up on the chair or sofa, reward with the treat. You may have to help him shape this behavior by raising a paw to the furniture until he understands what your want. If the dog is large, just his two front paws should be on the furniture. If he is small, you can teach him to jump onto the sofa with all four paws and then lay down. A very large dog performs a variation by resting his chin on the sofa.
Practice
Practice lots, and eventually remove the treat reward and just provide praise as a reward.
Paws off
Teach paws off command. Say "paws off" and then call your dog off the sofa, reward with a treat.
Transfer to a person
Now sit on a chair or sofa and give the paws up command, have your dog put his paws, or head on your lap, reward. Gradually have a small dog move to sitting on your lap, and putting his body against yours, and his head next to yours and lying quietly. A large dog will use his head or front paws on your lap or torso. Practice paws up and paws off.
Simulate
Practice your dog's skill of lying across your body or putting paws or head on you, while you mimic signs of anxiety, or emotional distress, such as verbal outbursts, shaking, twitching, etc. When your dog is faced with these behaviors in a clinical setting he will not be distressed.
The Obedience Training Method

Basic obedience commands
Teach your dog to sit, stay, lie down.
Leash Manners
Teach your dog to walk with slack on a leash or to heel.
Manners
Teach your dog not to jump, bark, lunge or beg for food.
Tricks
Teach simple tricks like roll over and sit pretty.
Practice
Use positive rewards such as treats, walks, praise, and attention during training. Repeat often in a variety of situations--start in quiet settings then move to more distracting environments.
By Amy Caldwell
Published: 10/16/2017, edited: 01/08/2021
---