How to Train Your Dog to Be Calm Around Other Dogs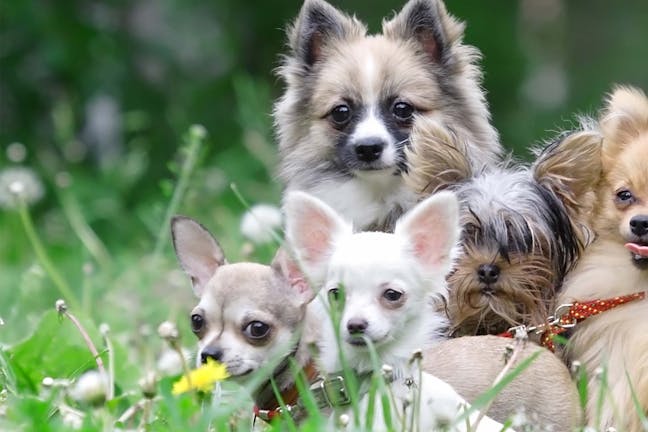 Introduction
Dogs are pack animals. They are highly social animals that crave the attention and company of others, especially others of their own kind, so it is natural for your dog to get excited around other dogs. But what happens when your dog gets so excited he becomes completely out of control around other dogs? A dog that barks, whines, jumps at, or runs at other dogs may not be welcome with the other dog. This can put your dog in danger of being attacked if the other dog does not want their personal space violated. Another issue that can develop occurs when excitement morphs into aggressive behavior, especially where fear and anxiety are involved, as is often the case with hyperactive, excited dogs. Pulling back on a dog that is trying to reach another dog just creates further tension, which escalates the behavior, as does yelling, which just adds to a negative energy level and excitement. Punishing your dog can create a negative association with other dogs, and lead to unwanted behaviors. How do your stop out of control behavior and teach your dog to be calm around other dogs?
Top
Defining Tasks
When your dog sees or approaches another dog, you want him to behave in a calm, friendly, confident manner. It is natural for him to be interested in the other dog, but not to rush into the other dog's space, or vocalize excessively, which another dog may perceive as threatening, and can result in aggression. Teaching your dog to be calm around other dogs and making meeting other dogs a pleasant experience may take some time and insight on your part, to address the underlying causes for your dog's excitement. Many dogs who get overexcited are actually anxious, and addressing anxiety issues may need to be part of training your dog to be calm. The methods used to gain control over your dog's behavior and socialize them are useful in many situations, and are well worth investing the time in so that your dog can interact safely with other dogs and in a variety of other situations.
Top
Getting Started
You will need to be able to restrain and redirect your dog during training. Because an excited dog pulls when around the object of their excitement, in this case another dog, using a front clip harness that will help protect your dog's neck during training may be advisable. You will also need to find other dogs to help teach your dog to be calm when in the presence of another dog. Find a mature, calm, well-balanced dog to help. A young dog is liable to respond to excitement with excitement, an unsure dog could become aggressive when approached by an over-excited dog and will not be beneficial to training. Have treats available to provide positive reinforcement for calm behaviors. During training, avoid letting your dog have access to other dogs when not in a training session, so that exited behavior does not occur, and is not reinforced.
Top
The Calm Reaches the Goal Method

Meet
Have a friend with a calm dog offer to assist you. Arrange to have your friend and their calm dog meet you while out on a walk. Put your dog on a leash and go for your walk to the arranged meeting place.
Stop
When you see your friend and their dog from a distance, ask them to stop while your dog is still calm. Ask your dog to sit/stay.
Retreat
Have the other dog approach.When your dog gets up and starts to act excited, your friend and the other dog should stop, turn around and walk away.
Continue
Wait until your dog is calm again. When your dog is calm and sitting, your friend and the other dog can approach again. As long as your dog stays calm and sitting, the other dog can approach closer. If your dog gets up and acts excited, repeat step 3.
Repeat
Repeat over a number of days until your dog learns that sitting calmly means the other dog will come over, while getting excited means the other dog will leave.
The Teach Sit and Stay Method

Teach sit & stay or down & stay
Teach your dog to sit and stay or lay down and stay. Practice on and off leash.
Trigger
Have a calm dog come over to your house or yard, or meet you on a walk. Put your dog on a leash prior to the dog entering the house or yard.
Command
When the other dog enters, give your dog the down/stay command, use the leash to pull them to the side, not back, to direct them if necessary.
Reward calm
When your dog is obeying the sit/stay or down/stay command, and is calm with the other dog present, give your dog a treat. Repeat in multiple sessions with different dogs, over several weeks, until your dog learns to calmly sit and stay or down and stay when a dog enters their home or yard, or when he encounters another dog on a walk.
Reward calm with goal
After your dog is calm, call your dog over to meet the other dog.
The Teach "Get It" Method

Provide treats for get it command
Put treats on the ground in front of your dog's nose and say "Get it".
Move reward
Start dropping treats beside you, and then behind you, and giving the "Get it" command, so your dog learns to look for, and get his treats behind you. Use a loose leash, do not direct your dog let him find the treats. Do this repeatedly until it becomes automatic for your dog to go look for treats behind you when you say "Get it".
Expand
Move the "get it" game to more distracting environments-- go outside. Perform the get it game frequently on walks.
Introduce another dog
Have an assistant with a calm dog approach you. When you see the other dog from a distance, provide the "get it" command and give treats, your dog should move behind you to get his treats, this distracts him from the other dog, teaches him a different behavior rather than getting excited, and puts you between the other dog, which is the object of excitement, and your own dog, which will further distract your dog. Provide lots of high quality treats in small amounts to distract your dog and keep him focused on the get it game and not the other dog.
Increase stimulus
Gradually move the "get it" game closer to the other dog, providing treats to distract your dog, and providing an alternate behavior, so he does not get excited by the other dog, but remains focused on his "get it" treat game. Repeat this exercise over several weeks, until your dog starts to look for his treats as soon as he sees another dog, and does not direct his excitement at the other dog.
By Amy Caldwell
Published: 10/06/2017, edited: 01/08/2021
---