How to Train Your Dog to Be Gentle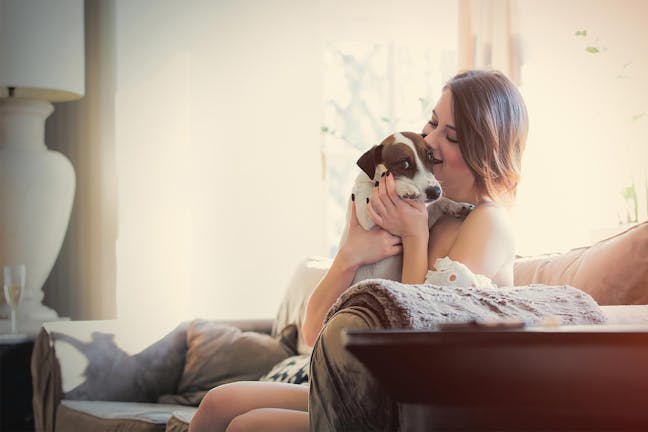 Introduction
Your sweet new puppy jumps up on you when you give him treats, wrestles and nips you while playing, or snatches food and runs away, so cute right? Wrong! It may seem cute now, but when he weighs 100 pounds, having him jump, mouth, or snatch things from your hand can result in injury and will not be appreciated by others who are the victims of his aggressive treat taking habits or play. Teaching your dog manners and gentleness when taking food, greeting others, and playing is important for your safety and the safety of other household members and visitors, and teaches your dog an important expectation that will translate to other training.
Top
Defining Tasks
In order to keep yourself, and everyone else, safe around your grabby, rambunctious, dog, you need to teach him to be gentle. Dogs should be taught to take treats from your hand gently and calmly, and that play does not involve mouthing, scratching, jumping, or grabbing your arm or clothes. Verbally reminding your dog to "Be Gentle" or Easy" to indicate to him that his behavior is getting too rough and he needs to "take it down a notch", will make him a much more pleasant companion and avoid injuries. The best way to ensure your dog is gentle, is to start teaching him when he is young and correcting bad behavior as soon as it manifests. If your dog has already started to be grabby or plays too rough you will need to counteract this behavior by guiding him towards gentle behaviors; carefully taking food from your hands or playing with a toy instead of your arm! Most dogs learn this behavior fairly readily as they are eager to please you, especially if you have already established with your dog that you are his leader, and the provider of all good things!
Top
Getting Started
To teach your dog to take food gently, you will need lots of different kinds of treats with which to teach him gentle treat taking behaviors. For correcting play that has become too aggressive, a toy for your dog should be employed to transfer his mouthing behavior to a more appropriate target, while still allowing him to enjoy playing. Be sure not to get over excited, or yell when correcting behavior as your are trying to establish a calm gentle behavior and you want to create a calm environment to match the behavior you are teaching your dog.
Top
The Gentle Treat Taking Method

Pre-feed
Feed your dog their regular meal to make it easier for him to calmly take treats, as he is not too hungry. Take your dog to a quiet place, free from distractions, so he does not get excited by interruptions and can concentrate on you.
Control
Have your dog sit, or have someone hold him on a leash.
Offer
Hold a treat in your hand and say "gentle" or "easy".
Correct
If your dog grabs for the treat, close and withdraw your hand, say "no". Offer your hand again, give the command for gentle. When he slowly puts his nose up to your hand to gently lick your hand, provide him with the treat say "yes" or "good".
Repeat
Repeat several times a day for a few days. Your dog will learn that approaching your hand with the treat slowly, and gently gets results, grabbing does not. If your dog is liable to take you fingers off, he is so grabby, you can wear gloves during this procedure. Or see the Implement method for an alternative.
The Using an Implement Method

Pre-feed
Feed your dog their regular meal to make it easier for him to calmly take treats as he is not too hungry. Have someone hold your dog on a leash.
Offer
Put some peanut butter or cream cheese on the end of a wooden spoon and hold in front of your dog. Say "gentle" or "easy".
Correct
If your dog grabs for the treat, withdraw the spoon, have your handler restrain the dog, say "no", and wait until he is calm
Reward
Offer the spoon again and give the command for gentle. When your dog slowly puts his nose up to the spoon, and gently licks, say "gentle" again, and "good". Let him have the treat, but if he grabs at it, withdraw the spoon. Repeat as necessary until your dog learns to take the treat gently.
Use your hand
Now repeat the process, using your hand until your dog takes a treat gently from your hand.
The Play Gently with Toy Method

Offer toy
When playing with your dog, provide him with a toy to grab, not your arm.
Withdraw
If your dog grabs your arm, stop playing immediately, and walk away.
Try again
Try again a few hours later, offer your dog the toy to grab.
Play
If your dog grabs the toy, continue playing with him. Play tug of war or toss and fetch the toy. If the dog grabs you, end the game immediately and withdraw.
Repeat
Repeat this procedure several times, over a few days. Your dog will quickly learn that if he plays rough, play ends, and if he uses his toy, play continues.
By Amy Caldwell
Published: 10/06/2017, edited: 01/08/2021
---