How to Train Your Dog to Behave on Walks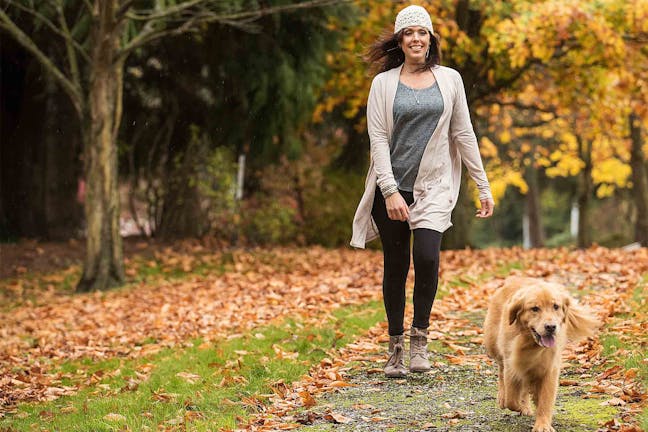 Introduction
Having a large breed dog, or even a smaller dog who could overpower you, could put you in a dangerous position while on walks if he is not under your control and behaving. Teaching your dog to behave on walks is important for your safety and your dog's safety, as well as the safety of people and pets around you. You will want your dog to walk calmly on a leash close to you using his manners as he passes other people, other dogs, wild animals, and distractions along the way. Teaching your dog to behave on walks starts with you maintaining control. A dog who pulls or lunges could pull you along very quickly behind to chase something as small as a baby rabbit or to get to another dog, who could cause you both harm.
Top
Defining Tasks
Teaching your dog manners requires time, patience, and dedication from you both. Starting with proper equipment, such as a harness for a larger dog, the correct size leash for you to maintain control, and treats to keep your dog's attention will set you up for good behavior while walking. Training puppies to behave on walks is easier than training a dog who has years of bad habits built up. This could take several weeks and tons of dedication from you and your dog. Be patient and change your routes if you need to in order to avoid distractions while your dog is working on training. Keep your dog focused and be prepared for rewarding your dog's positive behaviors.
Top
Getting Started
Depending on your dog's size and breed, you may want to consider a harness instead of simply a collar. A harness which clips to the back will give you more control over the dog than having a dog pull with a collar. Using a collar on a dog who pulls could cause injuries for you as well as trachea injuries for your dog. For large breed dogs or dogs who are out of control, consider using a harness which clips on the chest. When your dog pulls up, you can pull the leash down, maintaining better control. Special treats for these walks are imperative. Keep a baggie full of processed meat, jerky, or even cheese to entice your dog to behave well while he is in training.
Top
The Leader of the Pack Method

Respect
Show your dog you are the leader of his pack and demand respect while he is on a leash with you. Stand tall and be firm with your commands so your dog gives you respect.
Short leash
Keep the distance between you and your dog short. Try not to keep the leash tight because it will give your dog opportunity to pull.
Correct your dog's behavior
If your dog pulls, make your correction quickly and return the leash to a short but loose state. Corrections can be done by stopping in your tracks without moving forward until your dog stops as well.
Repeat
Repeat these steps so your dog begins to learn how his behavior is corrected when he misbehaves. Continue to correct his behavior by stopping in your tracks and ignoring him.
Continue
Begin walking again with a short and loose leash once your dog's behavior has improved.
Practice
Take your dog on walks often to practice behavior while walking.
Reward
Reward your dog when he stops after being corrected and to acknowledge his good behavior.
Distractions
As your dog's behavior improves on a walk, include some additional distractions to keep him challenged. If he lunges or pauses, stop and correct, then continue with the steps above.
The Short Leash Training Method

Leash without walking
Put your dog on a short leash and stand still.
Wait calmly
Your dog will be excited to see the leash or simply knowing an activity is to come. Stand still and wait calmly for your dog to settle down.
Command
Use a keyword command you can use for every walk such as 'let's go for a walk.' Take a step and pause. When she stops, give her a treat as well.
Repeat
Repeat the command 'let's go for a walk,' only this time take a few more steps and pause. When your pup pauses with you, give her a treat and verbal praise. Repeat this step several times, extending the distance each time you walk forward.
Distractions
Once your dog has enough practice on short leash walks, go on a longer walk with a few distractions. When your dog is distracted, pause as you have taught your dog to do and wait calmly for her to settle. As soon as she settles give her the command, 'let's go for a walk.' Offer her a treat as you begin to walk.

Get your dog's attention
While walking together, if your dog is distracted grab his attention by saying his name.
Stand still
Plant yourself firmly without moving until your dog stands calmly as well.
Treat
Hold a treat up to your face and use the cue words, 'watch me.'
Attention
When you have your dog's attention, give him verbal praise and offer the treat.
Repeat
Each time your dog is distracted on your walk, use the 'watch me' tactic to get his attention again.
Practice
Continue practicing this method on several walks until your dog gives you his attention every time you use the command 'watch me.'
By Amy Caldwell
Published: 10/27/2017, edited: 01/08/2021
---