How to Train Your Dog to Brush His Teeth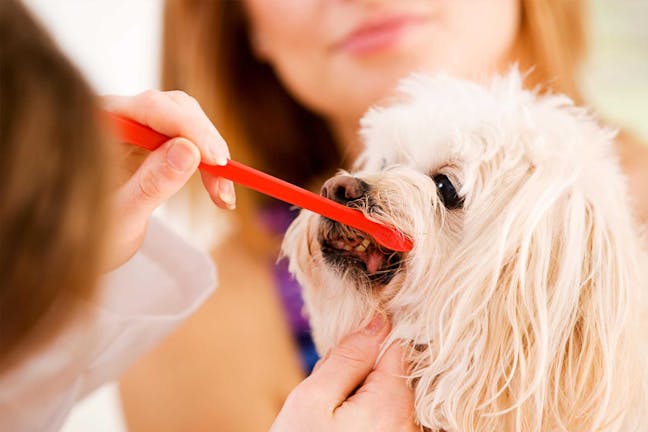 Introduction
Your dog's dental hygiene is as important as your own. Keeping your dog's teeth clean and maintained not only gives him a better chance at fighting periodontal disease but can also improve his overall health. Many dog owners complain about brushing their dog's teeth because dogs don't enjoy it, but frankly it's not very fun for owners either. If you teach your dog to brush, it will be easier for you both. The American Veterinary Medical Association says Up to 65% of dogs with periodontal disease are left untreated. With proper dental care from the start, this number could be much lower. Your dog can retain his healthy teeth for his entire life if you could just teach him to keep them brushed and cleaned.
Top
Defining Tasks
Training your dog to brush his teeth is not just about brushing his teeth. It's about allowing a comfort level to give you, a caregiver, a groomer, or a veterinary tech the right to have your fingers in his mouth without him being uncomfortable and without the potential of biting. Anytime you put something near your dog's mouth, he is going to think it is something he can eat. This could potentially include your fingers, so training your dog to brush his teeth will include training your dog not to bite the toothbrush or your fingers, and not eat the toothpaste. Starting when your dog is a puppy certainly makes teeth brushing easier than trying to train an adult dog to get used to this new sensation. Expect to use a few tricks to get your dog not only interested but also to lose his fear. Be sure to practice patience as well.
Top
Getting Started
To get started on training your dog to brush his teeth you are going to need some very important tools such as a dog toothbrush and dog toothpaste. Be sure not to use human toothpaste. Fluoride, which is often found in human toothpaste, is poisonous to dogs. Dog toothpaste can be found at your veterinarian's office as well as your local pet store. Picking out the perfect toothbrush for your dog is also important. Studies have shown that a double headed toothbrush with bristles at a 45-degree angle is best to clean the gum line, which is important for your dog's overall dental health. You might want to be prepared with some extra treats as well and maybe even a partner for the first few times until your dog gets used to the toothbrush and the motion in their mouth.
Top
The Introduce Slowly Method

Start with fingers
Your dog may not be used to having your fingers in his mouth. Before you even begin brushing your dog's teeth, play with his lips and gums and put your fingers in his mouth several times a day for a few days.
Introducing toothbrush
Once your dog is used to being handled around his mouth you can introduce a toothbrush. Hold the toothbrush up to your dog's nose to let him sniff and investigate. The first few times you introduce the toothbrush to your dog, just let him investigate, lick, and sniff as he pleases.
Introduce toothpaste
With a pea-sized amount of toothpaste on your dog's new toothbrush, introduce the paste and the brush to your dog. Let him sniff it, let him taste it, but do not let him eat it.
Brush
Without brushing all of his teeth, introduce the toothbrush and a small amount of toothpaste to a few teeth by running the brush how long the teeth and gum lines.
Reward
Be sure to reward your dog each time he allows you to brush his teeth.
Build up
Once your dog is used to his mouth being touched, your fingers in his mouth, the toothbrush, and the taste of the toothpaste, build up to brushing more teeth. You can increase the length of time you brush and the number of teeth you brush each time you introduce the toothbrush to your dog.

Hold tightly
With a gentle hold, place your arm around your dog's shoulders and hold tightly.
Lift upper lip
With that same arm grab your dog's upper lip from over his nose.
Brush
With your dog comfortably under your arm and his lips pulled upward, use a small toothbrush and a small amount of toothpaste made especially for dogs. Gently brush as many teeth as he will let you get before he wiggles out of position.
Repeat
Repeat this process with your dog's bottom teeth the next day. As he gets used to this new routine, you may want to do top teeth and bottom teeth on different days.
Practice
Continue these steps every few days to get your dog used to the position and the act of brushing teeth. Be sure to brush your dog's teeth once a week to maintain good oral hygiene.
The Brush with Fingers Method

Introduce fingers
Very gently put one or two fingers in your dog's mouth and start by massaging along your dog's gums.
Repeat
Repeat this over the course of a few days until your dog is used to your fingers being in his mouth and you have rubbed the gums along his top and bottom teeth.
Increase time
After few days, increase the amount of time you leave your finger in your dog's mouth and try to claim more each time.
Add toothpaste
Add some dog toothpaste to the tip of your fingers and repeat the previous steps, but remember never use human toothpaste. Extend the time your finger is in his mouth, getting the toothpaste over as many surfaces that you can.
Toothbrush
Once your dog is used to the taste of toothpaste and the feel of your finger in his mouth, introduce a dog toothbrush into his mouth with a pea-sized amount of dog toothpaste.
Brush
Continue brushing once your dog is used to the feel of the toothbrush and the taste of the toothpaste on a weekly basis.
By Amy Caldwell
Published: 10/08/2017, edited: 01/08/2021
---