How to Train Your Small Dog to Chew a Bone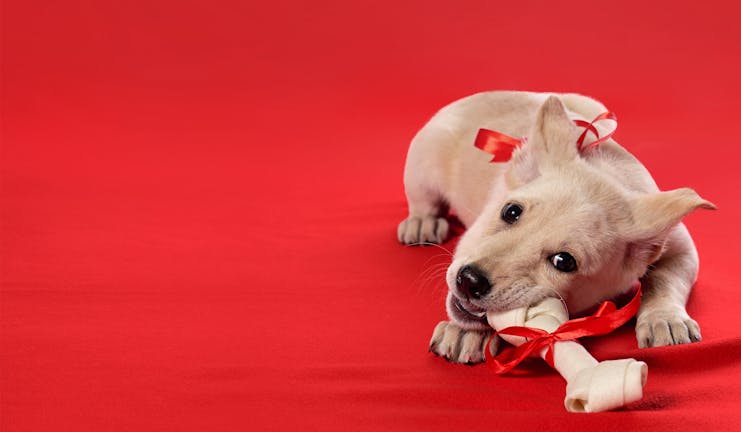 Introduction
While most dogs of all sizes chew bones instinctively, some dogs tend to take to it more than others. Dogs that chew different sorts of safe material more frequently tend to have healthier teeth and gums than dogs that don't. Small dogs are often more prone to tooth and gum problems, since all of their teeth are crammed into smaller mouths and their teeth often meet up unevenly, making chewing less effective for cleaning tartar and food buildup. Some small dogs take to chewing unsafe and undesirable things, like furniture, rugs, clothing, etc. It is often the case that such materials or shapes address issues in their teeth that the bones provided do not. Provide a wide variety of chew toys, natural and artificial bones, and food dispensing toys, in order to address all of your small dog's chewing needs.
Top
Defining Tasks
The more types of bones and bone stuffing you have, the easier it will be for you to encourage your small dog to chew bones. Choose natural bones of multiple sizes. You may want to avoid dense, weight bearing bones from large animals, as there is some evidence that these can wear down your dog's teeth. Rawhide of various flavors are great. Choose some rawhide bones that are much bigger than it seems your dog would need. These provide angles and weight to work against, that can entice picky chewers or dogs prone to chewing on undesirable things.
Choose some bones that can be stuffed with treats or fillings. Trying to get to the filling will provide a natural motivation for your small dog to chew. Provide some different textures and structures in chewing materials, like antlers and horns. Try large dog teething toys to provide some interesting texture in plastic chews.
Top
Getting Started
Motivating your small dog to chew a bone requires some patience and a willingness to experiment. Some dogs seem more motivated to chew after exercise, so try taking your dog for a brisk walk before offering a bone. Heating or cooling a bone can make it much more appealing to some dogs. Check that the bones and possible fillings that you are using are safe to heat or cool and try adding these variables to entice the picky dog
Chewing is as much psychological for a dog as it is about food. A dog who is really enjoying a bone will settle into a methodical chewing that seems almost meditative. Throughout the training process, keep in mind a positive attitude that will encourage your dog to seek stress relief as well, through the natural behavior of chewing a bone.
Top
The Bones Everywhere! Method
Prepare the bones
Get together as great a diversity in bones and bone fillings as you can. Prepare dishes or prepare messy bones for the kitchen or bathroom.
Spread the bones
Hide bones throughout your house and yard. Let your dog explore freely. Don't encourage her to leave one bone for another, but take note of how long she spends with a bone before moving on
Repeat and observe
Repeat this process, taking note of which bones your dog spends more time with and which she is most excited about.
Rate the bones
Give all the bones you have available ratings from not very desirable to very desirable. Take note of situations in which they are more useful, messy bones for outside or while making dinner in the kitchen, dry time-consuming bones for evening family time.
Use the bones
Give bones to your dog in order of least desirable to most, to encourage chewing on different sorts of bones with varying caloric content. Don't let your dog ignore one bone to get the next level up, make sure she is sincerely disinterested or done with a bone before giving a better one.
The Bones for Tricks Method
Prepare varying bones
Prepare a wide variety of bones with different fillings, sizes, and textures. Put them into a basket or container that is convenient to carry and keep with you, and which your dog cannot get into.
Reward with bones
Ask your dog to do tricks or behaviors and reward with a bone. If your dog seems disinterested, play with her with the bone, pretend to take it away and chew it yourself, etc.
Vary the bones
Note how excited your dog is about each bone, and how long she spends with it. Give better bones for more difficult behaviors.
Control the bones
Make sure to take away a bone as soon as your dog is finished with it, and not give it back without asking for a behavior. This will build value in the bone for your little dog, and will encourage her to chew for longer periods at a time.
Keep changing
Keep introducing new bone ideas and fillings whenever you find them, so as to keep it interesting for your little dog.
The Introduce Competition Method
Find an appropriate dog
Find a dog that is not food or toy aggressive but who enjoys a good bone. Ideally she would be about the same size as your dog.
Give bones
Give both dogs the same type of bone and observe their behavior. Discourage them from trying to get each other's bones. They should both quickly realize that if they drop a bone the other dog will likely try to take it.
Encourage peace
Don't interfere more than necessary, but be peacefully present. The dogs should finally settle down to chewing.
Help remind your dog
If your dog leaves the bone and the other dog takes it, let her see it before returning her bone. She will soon learn to keep chewing to keep her bone.
Remove the other dog
Allow your dog to chew alone. She should have internalized an innate value in the bone, and enjoy chewing enough to keep doing it consistently.
By Coral Drake
Published: 01/15/2018, edited: 01/08/2021
---