How to Train Your Dog to Drink from a Water Dispenser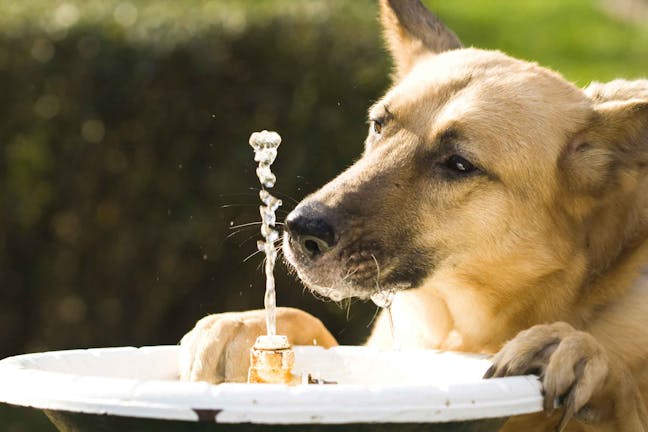 Introduction
There will be many times you and your dog will be out and about and he will need fresh drinking water. When you take your dog on long walks or hikes or just to a dog park, you might need to teach your dog to drink out of something other than a conventional water bowl. If you are hiking, the less you must carry the easier your hike will be. With different options available and different scenarios of places and situations your dog may need to access water, you may need to train him how to drink out of a water dispenser so he can remain hydrated when he's away from his water bowl.
Top
Defining Tasks
There are items on the market available to make your life easier when you are out with your dog and need to supply him with fresh water. An adapter to a water bottle is simply a cap that will go over the water bottle with a little ball inside to control the water flow. Think of it as a large hamster water bottle. There are also water bottles with sides that flip out and create miniature water bowls. Your dog should also know how to drink out of a running water fountain. Many city parks may have dog water fountains that are low to the ground and require you to just step on a pedal to get the water flowing. Others will only have fountains for people, and you may need to train your dog to use one.
To teach your dog to drink from a water dispenser, you are going to need to practice. You will need access to different dispensers your dog will use for water. So, if you are taking your dog to a dog park, you may need to introduce him to a water fountain while at the park so anytime he is in this situation he has access to water. This should be fairly easy to train and you can teach puppies as well as adult dogs.
Top
Getting Started
To teach your dog how to drink out of certain water dispensers, you may need those items on hand. Obviously, you can't carry a water fountain with you, so you should go to various places that have water fountains and allow dogs to drink. Whether these are higher people-sized fountains or the lower, ground-level dog fountains, he will still need to know how to drink with running water. Taking water bottles on walks and hikes with you can help teach him how to drink directly from a water bottle or from an adapter on a water bottle. Be prepared with treats, lots of praise, and excitement.
Top
Pet adapter
Add a pet adapter to a water bottle. These can be found in pet stores. Your dog may not be interested in drinking straight from a water bottle unless you make it enticing at first and he understands what this funny thing is.
Entice
Add chicken broth to the water. This will encourage your dog to drink because he will smell the delicious chicken broth instead of just the water.
Encourage
Pet adapters for water bottles have balls in the cap, and as the ball rolls around the water releases. This controls the water flow for your dog. You may need to encourage your dog to drink by rolling the ball a bit yourself and releasing some of the chicken broth, or at least the scent, from inside.
Command
Each time you bring the water bottle to your dog's mouth, hold it upside down vertically so he just has to lick the ball to get the water flowing. Each time you do this used the command 'drink water.' This will help your dog connect this new water bottle to the action of drinking.
Adjust flow
You can adjust the flow on these pet adapters for water bottles making it easier for your dog to drink.
Reward
Once your dog is used to using a water bottle for drinking, the reward itself will be getting water. However, while you're training your dog to drink from a water bottle, be sure to reward him with a small treat and excitement for a job well done.
The Large Opening Bottle Method
Introduce
Introduce a bottle of water with a large opening to your dog. The opening should be large enough that your dog can get his tongue inside. Sport drink bottles often have large openings. Toy or small dogs may be able to get their little tongues inside the opening of a normal sized water bottle. Be sure you're not using a water bottle that is too small.
Entice
Unless your dog is extremely thirsty, he's not going to do much beyond sniff the water bottle. Entice your dog to drink the liquid by adding chicken broth to the water to give it a scent and a delicious taste.
Peanut butter
If your dog is still not interested in sticking his tongue into a large opening on a water bottle, put a little bit of peanut butter on the outside and as he licks off the peanut butter, he will discover the tasty chicken broth flavored water inside.
Tilt
Be sure you are tilting the bottle as he drinks the water so the water stays near the top of the opening. Don't tilt too much. Your goal is to not pour water down your dog's throat, rather let him lap it from the top of the bottle.
Reward
Give your dog lots of love and praise when he successfully drinks from a water bottle. You can also offer him a small treat to reward for a job well done.
The Water Fountain Method
Introduce fountain
You may find water fountains in your local parks or along pathways on hikes. You can also buy water fountains for your home and to hook up to your hose. Introduce the water fountain to your dog and teach him this is where fresh water comes from.
Playtime
If you are using a hose or an attachment on a hose to create a water fountain your dog can control by stepping on, consider creating a little bit of play time. Most dogs will play with a small amount of water as it pours out of the hose. Many dogs won't like to be sprayed with the hose, so be sure not to make your dog uncomfortable and scared of the water flow. Once he is comfortable with play, he'll realize this could be drinking water.
Public fountains
Some areas have low water fountains for dogs and some areas do not. A dog water fountain will typically have a pedal to get the water flowing where it will settle into a bowl before draining. These fountains are typically easy for dogs to use, however, if your dog needs to drink from a taller water fountain, you may have to teach him. Large dogs will have to place their paws up on the water fountain, while smaller dogs you might be able to hold.
Introduce the water
If your dog is hesitant to drink from a public fountain, put a little water in your hand and place it on his lips and tongue, letting him drink and lick off of your hand. You can also create a bowl by cupping your hand. Continue but move your hand away so your dog can drink directly from the fountain.
Reward
When your dog successfully drinks from a fountain or a running hose, be sure to reward him. When you are out and about at a dog park or outside all day, keeping your dog hydrated is really important. Drinking from a running water source can be challenging for some dogs. Be sure to reward your dog when he does well.
By Amy Caldwell
Published: 11/17/2017, edited: 01/08/2021
---