How to Train Your Dog to Jump on Command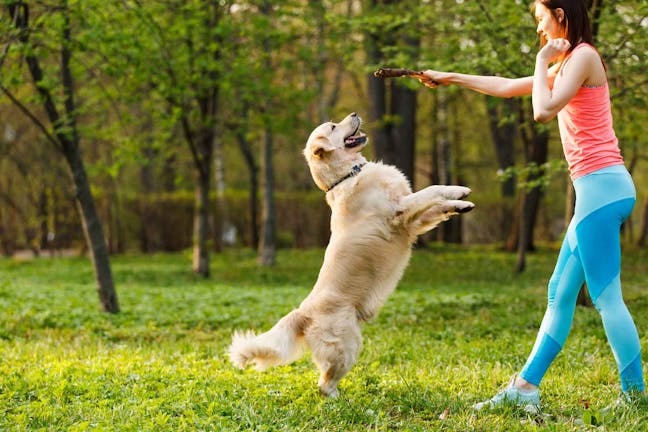 Introduction
Do you want to go on lots of adventures with your pooch; however are they always such a hassle because he just doesn't get the hang of jumping into the car and you find yourself covered in mud after a walk out in the country? Imagine how much easier and less back breaking it would be if you didn't have to lift your 90-pound pooch into the car, or maybe you've got a few small dogs and with each pupper you lift in, the chore becomes heavier and more time-consuming. Or maybe you've got a large 4x4, small kids, and a ton of camping equipment to take with you and the last thing you want to do is load the dog into the car as well. How much easier would it be if you could teach your pupper to jump, saving your back as well as your time? Well using this guide in a few simple steps, you can do exactly that.
Top
Defining Tasks
In this guide, we will be teaching your pupper the 'jump' command, which has a lot of useful applications and can save you a lot of effort and exasperation in trying to lift your dog. As mentioned in the scenario before, particularly if he's a large breed dog, it will be useful to get him to jump into cars, onto couches or even onto the table at the vet's. This command has some real uses in service dogs, as they need to complete complicated obstacle courses. Aside from practical applications, it is also a very cute and fun command to teach and will build on the trust and disciplinary bond you have with your pet. It would also be an invaluable asset to those thinking of competing in competitive training events with their pooch. The command is of a medium difficulty and most pooches should pick it up within a week or so, however, your pup should be approximately a year old so that most of their growth has taken place and they are less likely to injure themselves learning to jump. Bear in mind that not all dog breeds can jump--breeds with long backs and short legs such as Dachshunds are not suitable, as the risk of spinal injury is high.
Top
Getting Started
In order to get started, you'll need plenty of tasty treats and a can-do attitude; energy will also help, so be sure you and your pooch are both well rested. If you're looking for a more complicated jump technique, you can use suitable objects or bars that your dog can jump over, which can often be purchased at large pet supply stores. It's important to think of you and your pooch's health and safety when teaching this trick. In order to make sure neither you nor your pooch injure yourselves, select a location with an appropriate amount of space with an even surface for flooring, the yard can be good for this, but just make sure there aren't any potholes lying around. Now you're ready to get started.
Top
Begin sitting comfortably
The best position for your dog to learn to jump is from sitting. Make sure he already has a good grasp of this basic command before teaching him to jump. Be sure to tell him to sit first and give him a treat.
Treat placement
Kneel down and place the treat a little above your dog's head to begin with so he just can't quite reach it.
Say 'Jump!'
Now as he's reaching more and more for it, tell him to 'Jump' in a firm but friendly voice. When he does this and gets the treat, tell him how much of a good boy he's been and give him a fuss.
Rewind and repeat
You want to really consolidate the basics before you get him to jump higher, so make sure to repeat the previous step, until he jumps without hesitation.
Increase the height
Gradually keep moving the treat a little higher and repeat the 'jump' command, increasing the distance each time your pupper gets it right.
Sit and jump
Revert back to the starting position by commanding 'sit'. Now this time, instead of holding the treat out in front of your furry friend, say 'Jump'. by now he should have associated the command with the action and will jump up high. Now give him a big treat and shower him with praise.
Sturdy object selection
Choose a sturdy object, such as a solid step, or look into purchasing specialized jumping tools from pet suppliers. This should be a fairly low object, to get your furry friend used to jumping onto something low to begin with.
Use those treats
Hold a treat for them above the object and give the jump command in your friendliest, encouraging but authoritative voice.
Give them praise
Make sure you reward your dog highly with treats and give the loveliest back scratch ever to your four legged friend when they've made it on to the object, as jumping can be a scary feat when you're on all four paws.
Gradually increase the height
Start to use higher objects such as hurdles or obstacles you come across during your every day routine. This can be a sofa (if your pup is allowed on the furniture) or even a garden bench or low walls that you find on a walk. Make sure you use the jump command on approach and treat generously after. Jumping into the car is another good example.
Go to classes
Now that your pooch has this basic training under his collar, if you wanted to take the exercise further you could take him to an agility course where he could have a go at all sorts of specialized jumps and obstacles. This form of exercise is especially good for intelligent, enduring, medium-large breed dogs that require lots of stimulation to prevent bad behavior traits and teach discipline.
The Jumping Together Method
Positioning
To avoid injury and get enough height, jumping needs to begin with the 'sit' position.
Jump with him
Again, you want to use treats to encourage jumping, however, hold the treat just out of reach above the dog's head and show him what you want him to do, by doing a little jump yourself.
When he jumps
Once your pup jumps up, give him lots of praise and tell him how much of a good boy he has been.
Jumping higher
If your pup takes to following your lead, get him to sit again, get another treat, and then do a higher jump yourself. If he follows suit, keep increasing the distance you are jumping as well.
Introduce 'Jump'
Now each time you jump, introduce the 'jump' command, saying it clearly and in a friendly manner, to reinforce this is what you want him to do.
Stop jumping and just command
Once jumping has been associated with the command, your pup should just jump straight up at your say without you having to do any work this time.
By Catherine Lee-Smith
Published: 10/13/2017, edited: 01/08/2021
---