How to Train Your Dog to Lick His Lips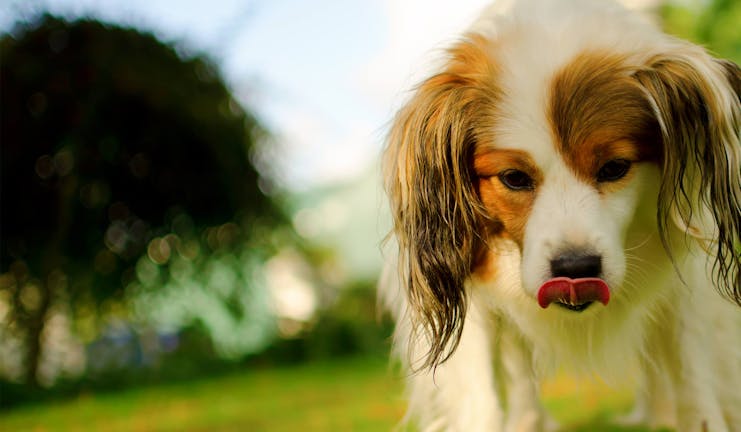 Introduction
Training your dog to lick their lips on command is a very easy trick to teach. This trick can be hilarious when timed just right.
If you ask your dog "Do you love socks?" and they smack their lips in response, it is sure to get a giggle. Consider putting this fun trick on a secret hand signal to really make the most of a punch-line!
This trick is so easy to train that it makes for a great beginner training session. You will get a chance to work on your timing with marking and rewarding the right behavior. You will be sure to see results fast. 
Top
Defining Tasks
All dogs can learn to lick their lips! Puppies and older dogs alike can learn how to give this behavior on command within just a few training sessions. If your dog is already used to clicker training, or other positive reinforcement based training methods, they are very likely to pick this trick up in a single session!
You can put this trick on a verbal cue, a secret hand signal, or both. Decide what works best for your purposes and go with your gut. You can always change your cue down the road if you want. Once the behavior is learned, you just use the new cue right before the old one, and pretty soon your canine will respond to the new cue.
Remember to practice this trick regularly to make sure that it stays in your canine's repertoire. You want to be sure they will be ready to do it when the timing is perfect so that you don't miss out on a big laugh. 
Top
Getting Started
Depending on which method that is most effective with your pup, you will need to get a few items together before training this trick:
Treats: For all of the methods you will want to be sure to have some small, tasty treats for rewards. Pea-sized pieces are perfect!

Clicker: If you use a clicker, then you already know to click when you see the behavior you want, then immediately reward. If you do not have a clicker, decide on a sound that you can use exclusively to "mark" the behavior you want to reward.

Additional things you will want to have ready before training:
Temptation Method: You will want an extremely tasty and smelly treat to use that is tempting enough to make your dog salivate just thinking about it! Try small bits of pepperoni, bologna, or cooked chicken liver.

Peanut Butter Method: Have some creamy peanut butter on hand for this training method. Make sure you never use sugar-free or "light" peanut butter for training. The sweetener, xylitol, is fatally toxic to dogs! 

Top
Bait the lick
Starting with your dog in the 'sit' position within reach, grab some of the extra tasty (and smelly!) temptation food that you have chosen. Hold it and let your dog sniff it, but don't let them have it until they start to naturally salivate and lick their chops. Ignore all other behavior until you get a lick on the lips, even if it is a tiny one. Mark with the clicker or a sound and immediately let them have the reward. Repeat 5 times.
Fade the bait
One secret to dog training is to always try to get rid of lures and baits within as few repetitions as you can get away with. After you have done the first step 5 times, try just holding your hand as if it had food in it, get a lick on the lips, then click and reward from the other hand. Repeat 5 times.
Transition to treats
Usually the bait food that you use for this trick is pretty rich, so you will want to start using either your regular training treats or kibble for rewards pretty early on. Repeat 5-10 times.
Add the cue
You are ready to add your cue. This can be a sound, a word, or a nonverbal signal. Simply give the cue right before your dog offers the lick the best you can. Mark and reward all licks. Repeat 10-15 times.
Refine
Start taking more pronounced licks for reward, and ignoring half-hearted licks. This is your chance to "shape" the behavior to get the form just where you want it.
Practice and proof
Start practicing the trick at random intervals throughout the day. Stop rewarding the behavior unless you have asked for it. No correction necessary, just ignore licks that are not asked for.
Butter him up!
Place a little peanut butter on your dog's nose. He will immediately lick it. Click or mark with a sound and reward. Repeat 5-10 times.
Fade the bait
Wait 10-15 seconds to see if he will volunteer a lick without peanut butter. If not, do the peanut butter again. Your goal is to get him licking without peanut butter as quickly as you can.
Add the cue
Add a verbal or nonverbal cue for the lick. Just start by giving the cue before or right as they give you a lick. Within 10-15 repetitions, your dog will "get it."
Refine
Start being selective about the licks that will get your dog a reward. This will make the lick more pronounced.
Practice and proof
Practice the trick in your next several training sessions, and randomly through the day. Stop rewarding any licks that are volunteered without being asked for.
Imitation
Mirroring is a method that works great with some dogs, but just won't work with others. Try having your dog sit in front of you with your clicker and treats ready. Start licking your lips. Some dogs are good at imitating and you may get a volunteered lick from this technique. Click/reward and repeat 5-10 times.
Add the cue
An advantage of this method is that there is no lure or bait to fade, saving you some time. You can go directly to adding the cue that you want to trigger the licking behavior. It is fine to do it as you are still licking your lips, but your goal is to transition to the cue that you want as quickly as your dog will let you get away with it.
Refine
Once your dog is on cue for this trick, you can start to be more picky about which licks you will take. Start raising the bar for the licks that are showy enough to accept. In time you will get more pronounced licks.
Practice
Be sure to continue practicing this in your daily training sessions for a few weeks. In addition, try randomly asking for the lick when you have a reward on the ready.
Proof
Stop giving rewards for when your dog volunteers a lick. Only reward when you have asked for the behavior so that your dog only lick when the time is right!
By Sharon Elber
Published: 01/01/2018, edited: 01/08/2021
---