How to Train Your Dog to Not Chase Bikes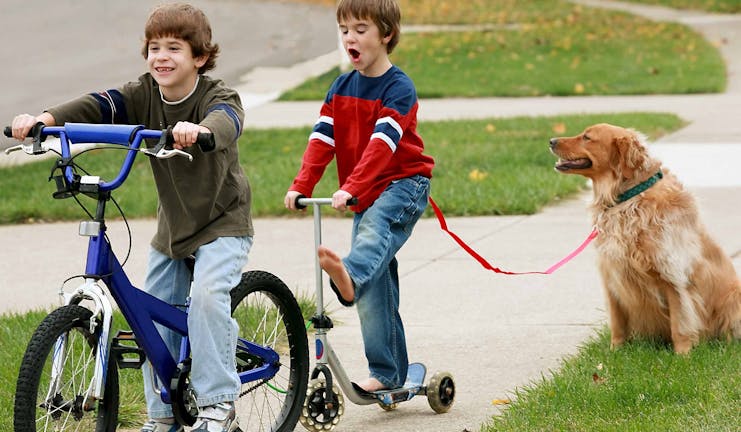 Introduction
Walking with your dog should be one of the best parts of your day. It's a relaxing stroll to let go of work and get outside in nature together. However, if your dog has picked up the habit of chasing after bikes, walks can suddenly turn stressful for both of you. It's important to train your dog to not chase bikes as soon as possible. He could cause an accident, run into the street, or get hurt himself, not to mention frighten the bikers and potentially get into trouble with the police. 
Your dog can learn to not chase bikes, but it's going to take time and consistency to change this habit. Make sure you are walking your dog on a leash and try to avoid areas with bikes while you are working on this behavior. If you are really struggling, you can always enlist the help of a trainer who can help your dog with this issue.
Top
Defining Tasks
Dogs can chase after bikes for a variety of reasons, but one of the most common reasons is their instinct. Herding dogs like Australian Shepards, Blue Heelers, and Border Collies often struggle with the chase, trying to get the rouge bike back into the "herd." Other dogs with a high prey drive like terriers might automatically start chasing when a fast bike zips by. Even though the chase or herding instinct is part of the dog's natural reaction, you can still train your dog to stop chasing bikes. 
Working with your dog to pay close attention to you on a walk and getting him used to these weird "animals" on two wheels can do wonders to correct this habit and improve your dog's behavior in general. Be prepared to change your routine for a while, and move slowly. Eventually, you won't have a problem walking the bike paths after work.
Top
Getting Started
To get started, you are going to need to have basic commands and leash walking under your belt. If you need a quick refresher, work on those skills and then come back. Once you're ready, have these items on hand to help you along:
A three to four-foot leash
Your dog's favorite treats
A clicker
A friend or family member with a bike
Plenty of patience
There are several ways to work with your dog to not chase bikes. Read through the three methods outlined below and pick the right one for your dog. The sooner you get started to easier it will be to curb this habit. Good luck!
Top
Pick a quiet spot
Start working in a quiet and controlled area. This could be your yard or driveway. Put your dog on a leash and bring him outside to the spot.
Start practicing commands
Start by practicing commands like 'sit' and 'stay'. Give your dog a treat each time and make sure he is paying attention to you.
Enlist a friend
Enlist a friend to slowly walk a bike by the driveway at a distance (preferably on the other side of the road). Keep your dog sitting or lying down.
Hold his attention
When he turns his attention to the bike, ask him to refocus on you. You can use 'watch me' or 'look' commands. As soon as he looks from the bike to you, give him a treat.
Move the bike closer
After your dog is no longer looking at the bike, have your friend walk it closer to you. Repeat asking him for attention until he ignores the bike.
Ride the bike slowly
Once your dog is unfazed by someone walking a bike, have your friend go back to the far side of the street and ride by slowly. Keep asking for your dog's attention.
Keep riding closer
Have the friend ride by closer, faster, and even in different directions. Each time your dog focuses on you, give him a treat.
Go for a walk
Now go for a walk with your dog down the street. Make sure he is focusing on you. Keep asking him to watch you as you walk so he is paying attention.
Have your friend ride by
Have your friend ride by again slowly, this time while you are walking. When the dog looks at the bike, ask him to focus on you instead and give him a treat when he does.
Keep practicing
Keep practicing with your friend. Have him ride by faster and closer until your dog begins to look at you as soon as he sees the bike.
Walk on a challenging path
When you are confident he will look at you instead of a bike, take him to a more populated area. Soon you'll be walking around your favorite spots again stress-free.
The Behavior Switch Method
Pick your desired behavior
Choose a behavior you want to replace the chase reaction with. This could be a 'sit' or a 'lie down' command. 'Turn and sit' usually works well.
Teach the behavior at home
Start by training the behavior in a quiet place at home. If you have chosen 'turn and sit', practice walking across the room and asking your dog to face you and sit on command. Once you have mastered this you are ready for a bike.
Introduce a bike
Walk outside to the yard or driveway with your dog. Have a friend or family member walk by at a distance with the bike. As soon as your dog notices the bike, ask him to turn and sit. When he does, give him a good treat.
Bring the bike closer
As your dog becomes faster at turning and sitting when he sees the bike, have your friend walk it closer.
Keep working
Keep working with the dog in your yard or driveway. Have your friend ride the bike faster or come from different directions. Each time the dog looks at the bike, ask for the alternative behavior. Eventually, he should do the behavior on his own as soon as he sees the bike.
Take him for a walk
Now try taking your dog for a walk in a busier neighborhood. Make sure he is on a leash at first. As soon as a bike comes into view and your dog notices it, ask him to turn and sit. Keep working with him in busier areas until you feel confident that he will choose to turn and look at you instead of chasing bikes.
Pick a favorite toy
Choose one of your dog's favorite toys or purchase one you think he will love.
Start by walking in a quiet area
Start by walking on a leash in a quiet neighborhood or a place where there won't be many bikes.
Enlist a friend
Ask a friend to slowly ride a bike by on the other side of the road. When your dog sees the bike, distract him by giving him the special toy. Keep his attention until the bike goes by.
Repeat this step
Repeat this step over and over until your dog begins to expect the toy when he sees the bike.
Up the stakes
Have your friend ride closer, faster, in different directions and any other way that usually catches your dog's attention. Each time, give him the toy.
Walk in a busier area
Head to a spot you know will have bikes like a park. You can start by walking off the bike path a little to give you some space. Keep practicing giving him the toy each time he sees a bike. As he gets better and expects the toy, try getting closer to the path.
Walk with confidence
Eventually, you will be able to walk your dog with confidence and without worry as cyclists ride by.
By Katie Smith
Published: 02/02/2018, edited: 01/08/2021
---