How to Train Your Dog to Not Poop in the Yard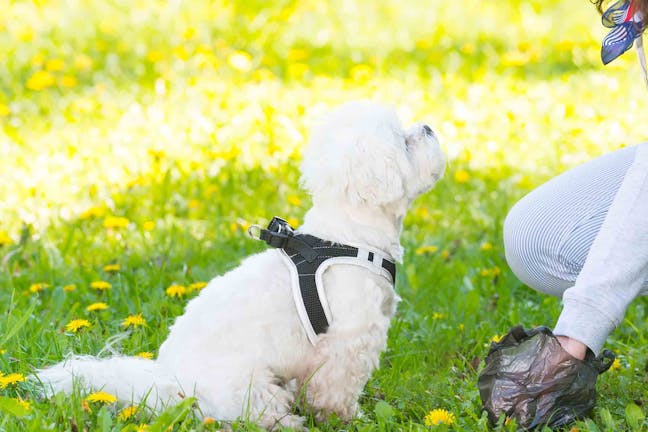 Introduction
Do you get tired of walking across the lawn barefoot only to step in a pile of poop? Or perhaps you just don't want to have to keep cleaning up the mess. Wouldn't it be nice if you could teach your pup to do his business out in the woods, the long grass out in the fields, or just about anywhere but out in the yard? The good news is that your furry friend can be taught that "yes puppy dogs do poop in the woods" with just a little time and patience.
Top
Defining Tasks
While most dogs do tend to choose their own spot, which is why that one or two areas in the backyard are always brown, you can move the spot to somewhere outside of your yard. There are several methods of doing so, all of which can be used with similar results. With consistent effort, you can put an end to this problem in less than a month.
Top
Getting Started
Depending on which of the methods you choose to try, the list of items you need may include:
Your pup's favorite treats as a reward for getting it right.

A command word that can be used to make your pup poop on command.

A specific location you want him to use as his personal restroom.

A lot of patience, kind words, and praise.

As with most forms of training, the fewer distractions your dog must deal with the easier it will be for him to focus on what you are trying to teach him. The big thing here is that you need to have an area picked out where it is "okay" for him to relieve himself. With proper training, you can train him to use this area and even further to the point at which you can be out far away from his home and he will still poop on command.
Top
The House Training Method

The concept
Remember how you how you trained your pup not to do his business in the house? You can use a very similar method to train your dog not to poop in the yard.
Stick together
Never let your dog out in the yard alone.
Discourage pooping in the wrong spot
When you see him act like he is ready to poop correct him by saying "No!"
Find a good spot
Put him on the leash and take him for a walk to the area where you want him to go.
Reward!
When he finally goes, give him lots of praise and a treat.
Be patient
This method will take a fair amount of your time and patience and there are going to be accidents, be sure to praise him when he gets it right, but never punish him for getting it wrong. Before long, your pup will be begging you to go for those longer walks together so he can take his evening constitutional.
The Poop Placement Method

The concept
For this method, you will need to collect a small amount of your dog's poop that you can place in the area you want him to start using.
Location, location, location
Place one or two small piles of your pup's poop in the area where you want him to poop.
Find the new spot
Grab a bag of treats and take him for a walk to the area you have "marked."
Get comfortable
Let your pup sniff around the area for a little while. He will eventually mark it by peeing.
Keep it up
He might not poop there the first time, but keep taking him back the area and add more fresh poop to encourage him to start using the area. When he finally does, be sure to give him lots of praise and one of his favorite treats.
Extra effort
This method may be one of the faster ways to teach your dog to poop somewhere besides your yard. The hard part is you still have to keep picking up his poop to "seed" the new spot you have chosen. Be sure to use lots of praise and rewards for when he gets it right.
The Poop on Command Method

The concept
This method of training your dog to "poop on command" is very popular as you can then use it anywhere you and your dog happen to be. Start out with a positive attitude and ready to have tons of patience.
Introduce command
At this point choose your command, you could use "go potty" or simply "poop" whatever feels comfortable. Use the word in a commanding tone that lets your dog associate the word with the action.
Repeat
Repeat this for a few days and then as he gets ready to poop, immediately walk him to the area where you want him to poop.
Command + location
Give the command you have chosen and allow your dog to sniff around until he finally poops. Give him lots of praise and a treat.
Stick it out
It may take a couple more weeks or so for your pup to put it all together, but once he does, you will be able to use this command anywhere you take your dog.
Consistency is key
Teaching your dog not to poop in the yard shouldn't be any harder than teaching him not to do his business in the house. You can extend the same type of training to when he pees. The most important thing to remember is that consistency is the key to any successful training program and that means for every member of the house who takes him out to do his business.
By Amy Caldwell
Published: 10/24/2017, edited: 01/08/2021
---