How to Train Your Older Dog to Ring a Bell to Go Out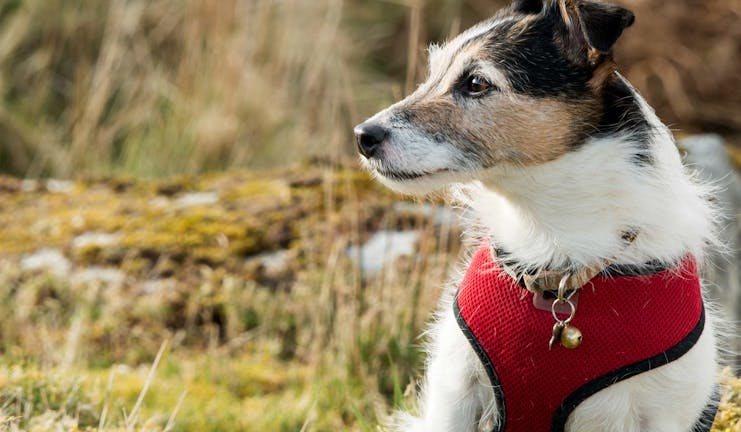 Introduction
Teaching your dog to ring the bell if they want to go out is a great way to have a built-in reminder for when it is time to let them out for a potty. This can be especially helpful for older dogs, or those with medical conditions that require frequent potty breaks.
Once they have the basics of ringing the bell down, you can bring a spare bell on a string with you when you travel so that your dog can bring their trick with them to hotels or when visiting friends and family. It is a great trick for adding some consistency to the sometimes stressful environment of new places.
You can train younger dogs to do this behavior as well. The trick with older dogs is simply to be more patient and do plenty of repetitions before moving to the next training step in order to make the training session about success and confidence building. It is a myth that old dogs can't learn new tricks, but sometimes they do need a little more patience. 
Top
Defining Tasks
Prevent accidents! This trained behavior will help you prevent your older dog from having accidents in the house by giving them a way to give you a clear signal that it is time to go out, without wining or pawing at the door.
Once you have taught them the basics of the trick, you can make it a requirement for going outside.
What you will find is that in time, once ringing the bell is a requirement before going out, your dog will ring it on their own when they are ready. You don't actually have to teach this last step, your dog will just naturally do it when they have had enough prompting and practice. 
Top
Getting Started
If you use a clicker to train your dog, then make sure to have that and some small treats handy. If you don't use a clicker, just make a special sound or word to "mark" the behavior you want at each step, always followed promptly by a reward.
Training Tip:
The instructions below may take several sessions to accomplish. Be sure to start at the last step your dog mastered for lots of practice at the start of a new session before trying to move on to a new step. This builds confidence and keeps your dog engaged in learning. 
Top
Bell in hand
Start with your dog in front of you near the door with the bell in your open hand. Offer your hand to the dog to encourage them to investigate the bell. Click/reward when your dog moves their nose to the touch the bell. Repeat 10 times.
Bell on string
Tie the bell to a short string (2-3") and hold so that it is hanging down from your hand. Your dog will most likely go to touch the bell again. Click reward any touch of the nose to the bell.
Raising the bar
Once your dog is reliably and enthusiastically touching the bell on a string with his nose, raise your expectations to include actually making a ring sound, no matter how small. Only click/reward when your dog rings the bell. Repeat 20-30 times, trying to get an enthusiastic ring every time.
Mount the bell
You are now ready to mount the bell. Make sure to mount it near nose level for fastest results. For your first training session after the bell is mounted, try pretending like you are holding it in place to help jog your dog's memory from the last session. Repeat 10-20 times.
Transition the reward
Eventually, the reward for this trick is going to be to let your dog outside, rather than treats. Once they are reliably doing the trick for treats, start to let your dog out the door when they ring the bell, along with lots of praise. If your dog will come right back in, try to practice several times in a row, several times a day.
Proof
Once your dog has some practice with ringing the bell before going outside in practice sessions, start making it a requirement to get outside. Stand patiently by the door, giving your dog a hint by putting your hand near the bell. Make a big deal out of a successful ring and then let them outside. Your dog will get the picture, and eventually they will ring the bell before you are at the door, letting you know they are ready to go out. Reward with praise and letting them outside.
Building block
A building block trick is one that is used as a baseline skill that can later be applied to different training situations. Teaching your dog to nose a target is one such building block trick that is a great one to have in your repertoire. This method starts by teaching the basics of "Target," and then shows you how to use that to train a totally different trick – ringing the bell to go out.
Pick a target
You want to pick something as a target that you can use in multiple training situations. Common choices include Post-it notes or small pieces of painter's tape.
Teach nose to target
Start with the target on the palm of your hand and offer it to your dog like it is something interesting. Most dogs will come in for a sniff to check it out; give them a little help by touching the target to their nose gently, then click/reward. Repeat 10-15 times, until your dog is touching the target without your help reliably.
Add the cue
Say "Target!" in an excited tone right before your dog goes in to touch the target again. Click reward for successful attempts, making sure your dog actually touches the target every time.
Move the target
Now put the target somewhere close to your training spot so your dog does not have to move much to get to it. Give the cue, wait for the touch, click/reward. Repeat 10 times before moving the target around, staying in the same area so your dog will build up a lot of success.
Go away to target
After you have a lot of repetition with this trick at close quarters, your dog will have some confidence with the target trick. Start to put the target a few steps away, giving the cue, and waiting for your dog to go over and touch the target. Click/reward, repeating a few dozen times.
Target the bell
With the bell already mounted by your door, put the target near it, say "Target!", and click/reward for each successful nose of the target. Work the target closer to the bell until it is behind it or so close that your dog rings the bell, click/treat. Once you have the bell ringing, repeat 10-20 times.
Bell before going out
Once your dog is consistently ringing the bell with the 'target' cue, you can start waiting for the bell before letting your dog out. Change the reward at this point. Every time your dog rings the bell, let them out. Eventually, with some practice, your dog will start ringing the bell on their own when they want to go out. Be sure to let them out every time they ring the bell for at least a few dozen times to reinforce the behavior.
Bait the bell
With the bell mounted near the door, put a little peanut butter on it. Your dog will go for the peanut butter and as soon as he rings the bell, let him out.
Repeat
Invite your dog back inside and be sure to give him a treat for coming back in. Close the door, and repeat the first step. Continue this for 5 times per session. Make sure to do a few sessions a day.
Practice
Once your dog understands the game, you can bait the bell before going out for regular potty or walk breaks. At this stage, make ringing the bell a requirement before opening the door.
Fade the bait
Eventually, your dog will ring the bell without being baited. When he is ready to go out, just wait by the door patiently and look at him like you are expecting something. Don't punish any alternative behavior or get frustrated. Just wait for the ring of the bell then excitedly open the door and give him praise.
Stay patient
If you have to, return to baiting the bell if your dog seems to forget or get too frustrated at the expectation that he rings the bell before going out. Don't worry, with practice and patience your dog will naturally start to ring the bell on his own when he is ready to go out.
By Sharon Elber
Published: 01/01/2018, edited: 01/08/2021
---