How to Train Your Dog to Stop Attacking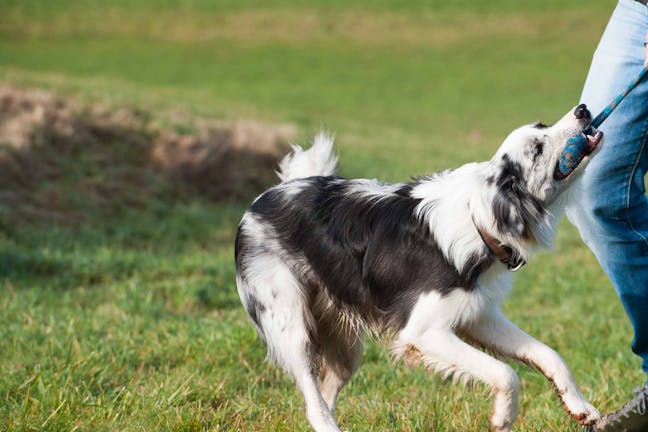 Introduction
You're out on a walk with your canine pal, the sun is out and you're enjoying a welcome hour of peace and quiet from your busy life. Then, all of a sudden, you are pulled to the side as your dog lunges and attacks another dog. You eventually manage to pull him away without anyone getting hurt, but this wasn't the first time and you fear it won't be the last.
If your dog attacks others, you have a serious problem on your hands. First, there is the damage and injury he could cause to another pet or person. Then, there is the risk of serious injury to himself and the hefty vet bills that come too. On top of that, there is also the risk a court will order your dog to be put down if he keeps attacking.
Top
Defining Tasks
Training of this sort is never straightforward because you have to tackle the underlying cause of the dog's aggressive behavior, which is usually fear. You will need to use strict obedience commands to assert yourself as the pack leader and take control. You will also need to take a number of steps to manage your dog's environment, in turn reducing the chances of attacks.
If your dog is a young puppy he will probably be receptive and likely to respond to training in just a few weeks. If your dog is older and his attacking habit has been going on for years, then you may need months before you finally squash his aggressive behavior. Getting this training right though is essential, not just for the health of your dog, but also for other pets and humans around. You don't want to end up with a dog who can't be allowed near your own children!
Top
Getting Started
Before the training campaign gets underway there are several things you will need. A secure leash will be required. If your dog is big and strong then a body harness will give you more control and reduce strain on his neck. It's always helpful to have an assistant to monitor progress and give advice. And, if at any time you feel overwhelmed or that your dog needs better instruction, call upon a professional trained in guiding aggressive dogs in the right direction.
Your dog's favorite food and treats will play an essential part in incentivizing and rewarding good behavior, and a friend with a dog may come in handy. Once you have the above, just bring patience and a positive attitude and you're ready to get to work!
Top
Head out
Secure your dog on a leash and a harness if required, and head out the door. You are going to avoid potential conflicts and ignore any bad behavior until your dog realizes he will get nothing out of it.
Avoid triggers
If you see another dog or person, quickly pull him away. If you linger he may feel trapped and scared, leading to signs of aggression. If you move quickly out of the situation he will feel no need to get aggressive.
Be the protector
Create space and use barriers. If you are in a situation where you cannot avoid close proximity with another person or dog, create a barrier. Dogs attack because they are scared. If you stand between both dogs, or walk on the side that separates him and a passerby, he will think you are the pack leader and that it's your job to protect, not his. Walking the other side of a car is another easy way to create a quick barrier.
Ignore, don't punish
Don't punish your dog when he is aggressive. Dogs never respond well to punishment and training through fear. Instead simply ignore the behavior. By ignoring his aggression you are not giving him any attention, response or justification.
Reinforce and reward
As he improves, praise him when he is calm and well behaved. If you are successful with the above steps, your dog will rarely get an opportunity to get aggressive. Over time, he will stop attacking because it will no longer be a habit. You will have successfully broken the cycle of behavior. When this happens be sure to reinforce his calm behavior with treats and verbal praise. After many weeks you can then reduce the frequency of treats until they are no longer needed.
The Desensitization Method
Go for a stroll
Place your dog on a secure leash and head out on a normal walk. You will also need a pocket full of treats, plus a friend with a dog. You are going to slowly desensitize him to situations he currently feels scared in, which leads him to attack.
Approach
Slowly walk towards the other dog, holding him firmly at your side. Give him a treat and praise him as you get closer. You are showing him the behavior you want to see and the promise of food will gradually reinforce that. As long as he is calm, be sure to shower him with praise.
Pull away
As soon as he gets aggressive, pull him firmly in the opposite direction. It is important you pull him away the moment he starts to attack. This quick jolt will signal to him if he behaves in this way, he won't get any say in where he walks.
Close in
Use both the positive reinforcement and the firm pull every day and slowly decrease the distance between you and the other dog. Every few days you will see process and within a few weeks you will be able to walk your dog right up to the other dog.
Add variables
Slowly introduce him to other testing situations and use the same steps as above. Keep a firm hold on your dog. Stay calm; your dog can sense your feelings and will react on them.
Follow through
The key to this training is the combination of the positive and negative reinforcement. He will quickly learn that if he wants food, that he needs to stay calm and before he knows it he will realize he doesn't need to be scared anymore because all his experiences with other people and dogs have been peaceful!
Find a good spot
Find a good spot to practice the method. Secure your dog to a leash and take him to a quiet field or park, away from distractions. You're going to teach your dog to 'come away' whenever you instruct him to. This way you can control him in a dangerous situation and call him away before an attack takes place.
Get some distance
Let your dog roam around the field to himself to start with. Keep an eye on him though, you don't want him to wander so far he won't be able to hear you.
Call to you
Firmly say 'come away' and call his name. To start with, he will need his name to be called until he understands the 'come away' cue on its own. You may also need to hold out a treat at this point to entice him over.
Move back
As he runs over to you, take a couple of steps away to encourage him to come even closer. Once he reaches you, give him a treat and shower him with praise. It is important he gets the treat as soon as he reaches you so he associates the command with the treat.
Practice
Practice this every day for 10 minutes. As he gets the hang of it, just say 'come away' and stop using his name. Also slowly reduce the frequency of treats as the weeks pass. It is also important that when you feel confident you practice in environments with more distractions such as parks and other public places. Keep up the training religiously and soon enough you will be able to call him away from any dangerous situation before an attack can take place.
By Amy Caldwell
Published: 11/08/2017, edited: 01/08/2021
---