How to Train Your Dog to Stop Howling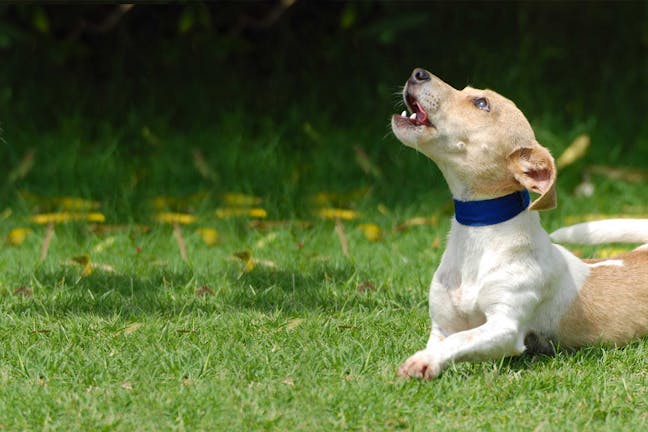 Introduction
Howling is a natural behavior that almost every breed of dog exhibits, using the howl as a form of communication with other dogs, animals, or even their owners. The behavior goes back to their ancestor, the wolf, whose primary form of communication with the rest of its pack members is the howl that can be heard across large areas of land, carrying their message from one member of the pack to another. A domestic dog may howl as a way of mimicking behavior, such as when a person whistles or sings in a high pitch, or when a baby cries. It can be utilized as an alert system, most prominently in hunting dogs whose breeds are more likely to sniff out and identify prey or another similar target. However, howling can also be used as a response to pain, discomfort, or anxiety. Ultimately, there are many reasons dogs howl and interpreting it can sometimes be difficult for those who don't speak "dog".
Top
Defining Tasks
While howling can seem like an effective tool to a dog with a desire to express something, it's not always seen as appropriate to use howling to communicate with you. Howling can be disruptive in a suburban backyard, or inside an apartment with close proximity to other renters on all sides. It can interrupt your sleep or just be generally noisy and unpleasant. While puppies may howl during their younger years, the issue may often extend into adulthood if not addressed. Teaching a puppy to stop howling early on can be much more simple than an older dog who has been howling for years. However, for dogs of any age, howling can also be the sign of a greater problem, such as separation anxiety, territorial behavior, or an injury that needs to be tended to.
Once you can eliminate the possibility of it being another issue that requires you to address it first and come to the conclusion that your dog is simply howling just to howl, you can find your preferred method of correcting the excessive noise-making.
Top
Getting Started
Have your dog checked by a vet to ensure there is no injury, illness, or anxiety that is causing him to howl. There are any number of reasons why he may be in discomfort.

If your vet offers your dog a clean bill of health, you can proceed to address the howling behavior. To do this, you'll need a quiet environment where you can control the noise level, some treats for rewarding, a leash for exercise, your phone or a nearby computer where you can play sounds, some stimulating toys for distraction, and a lot of patience. Howling and barking are two behaviors that come very naturally to many dogs and getting rid of the behavior takes some work. With enough dedication to the following methods, you can start remembering what it's like to get some peace and quiet.
Top
Find a quiet place
If there are too many noisy distractions, your dog may not know what you want from him. A quiet environment will give you control over the noisy sounds that may make him howl. Desensitization starts from zero and ramps up as you go along, so it's important to get rid of anything that might get him too excited to pay attention to you.
Reward for relaxation
Once your dog is settled in the quiet environment with you and can lay down or sit and relax along with you, give him a treat to reward him for being nice and quiet.
Trigger howling
Play a sound that usually triggers howling, but at a very low volume This sound can be anything like other howling dogs, a baby crying, or an ambulance siren. Reward him with a treat when he successfully remains quiet. If he starts howling, lower the volume to when he was last successful and try again.
Challenge
Gradually increase the volume and amount of time before you treat For every time your dog can remain quiet while the sound is being played, reward him. Play the sound for increasing amounts of time and wait a few seconds before treating him. Start from two or three seconds and work up to five, ten, and fifteen seconds for each volume level.
Replace simulated sounds with real sounds
As you progress, you may feel like your dog is ready to proceed out of that quiet environment and into one that is less controlled. Repeat the same process that you did with every noise that usually triggers him to howl. It may take some time for him to experience the sounds out in the environment to properly desensitize him to all of them. If he starts howling, return back to the last time he was quiet, even if it means going back into the controlled environment, and try again.
Reduce treats
Get rid of the treats once your dog is more comfortable outside of a controlled environment When you think your dog may have a reasonable handle on being quiet, reward him every other time instead of every time, then every third time, then randomly, and then eliminate the need for treats altogether. Eventually he will associate noisy environments with being quiet instead of howling in response.
Daily exercise
Sometimes dogs will howl when they have excessive energy and are bored. Make sure your dog gets at least an hour of exercise per day. This can be done by taking a walk or run or practicing things like agility. If you have a pool or live near a dog-friendly beach, swimming may also be an option for a dog that loves the water. Higher energy breeds may require up to two or three hours of exercise per day.
Stay busy
Boredom can be alleviated by providing your dog with a variety of toys to play with or a particularly interesting chew toy. Puzzle toys are great for mental stimulation indoors and play areas like a kiddie pool filled with water or sand with treats and toys inside can provide hours of fun for a dog in the backyard. You may want to supervise her for the first few times you do this to ensure she can get the most fun out of it.
Work on basic obedience
Teaching your dog to 'fetch', drop things on command, 'sit', 'stay', 'lie down', or even fun things like rolling over and playing dead will keep her mind and body occupied and keep her from having the spare energy to howl. Consider teaching her to focus on you while excited and surrounded by distractions. This command may help you catch her attention whenever you feel like she may be about to howl.
Give your dog a job
Many dogs were bred to do a specific job such as herding, retrieving, or scenting. Without a "job" to do, your dog may be lacking the stimulation that comes with those tasks. Instead, you can provide them with jobs that benefit both her and you. Things like teaching her how to pick up toys and put them away, opening and closing doors, or turning lights on and off can all be effective jobs for her to do. More advanced jobs can include water rescue, sled or cart pulling, or even things like therapy work.
Socialize
Be sure your dog is dog-friendly and you're in a safe environment such as a fenced in area or a dog park before letting her run free. Monitor her as she plays to prevent any incidents. Socialization is a key component of exercise and stimulation for many dogs and can help prevent problem behavior.
Make sure your dog's needs are met
Double check all food and water bowls and make sure your dog doesn't need to go outside or use the bathroom. Sometimes howling can be a way to get you to notice that he needs something from you.
Don't acknowledge howling
Turn your body away from your dog and don't make eye contact when he howls. He may soon learn that you will not reward him for howling.
Avoid verbally punishing your dog
Even negative attention can be seen as a positive thing by your dog. By saying "no" or yelling at him, he may continue to do the behavior, as it gets a response out of you. Avoid making any sort of contact with him altogether.
Replace howling
Instead of howling, use a command your dog may already knows like sitting at your feet, placing a paw against your leg, or pressing her nose against your hand to get your attention. Reward these behaviors with positive attention and affection and continue to ignore any howling or noise making.
Provide plenty of attention
Sometimes we forget how much time together our dog really needs to be happy and comfortable with us. Try to set aside time every day to spend with her, even if it's just sitting down and watching TV together. This can increase the level of trust between you and can satisfy her desire for attention and affection so she doesn't feel the need to howl.
Get everyone on board
If you share a home with other members of the family or a roommate, be sure that everyone else is on the same page. Teach them to ignore howling, even if they think it's cute or funny. Consistency will help your dog realize that she will not get rewarded by anyone if she howls and that being quiet is much more preferable.
By Amy Caldwell
Published: 12/12/2017, edited: 01/08/2021
---