How to Train Your Older Dog to Use an Indoor Potty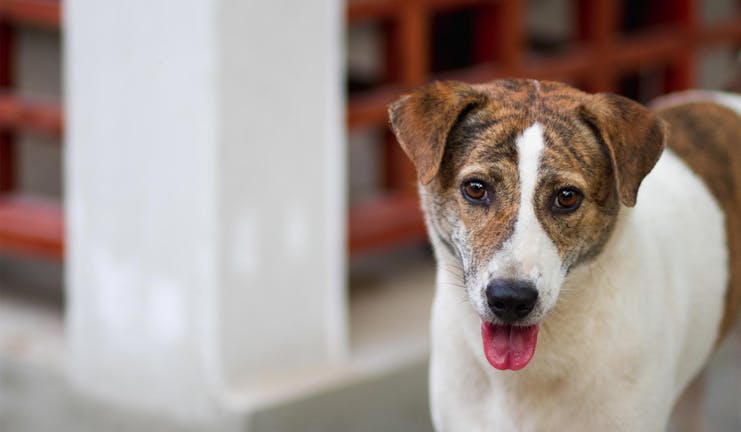 Introduction
You and your dog have been together for many years. She is getting older now, and slowing down a little. She has her good days and her bad days, but she still enjoys all the things she's always enjoyed. She just does those things a little bit slower these days. You may have noticed that it is harder and harder for your older dog to get down the steps at the front door, or she may not be able to hold it while you are at work or overnight. Perhaps your older dog has mobility issues, and getting her in and out to go potty is becoming difficult for you. It may be that your older dog's arthritis acts up in the cold, and you hate making her go out into the cold to go potty.
There are many reasons why you may want to teach your older dog to use an indoor potty. If your dog has always been very well house-trained, it may be challenging for her to learn to go inside. If your dog is the 'do or die' type who will wait three days to go potty if it's raining or snowing, you may have a challenge on your hands. All dogs can re-adjust their understanding of "outside" to include a potty area that you designate inside, it may just take some creativity and a good deal of perseverance on your part.
Top
Defining Tasks
Training your older dog to use an indoor potty has two distinct training components. First, you must teach your dog what designated area you intend for her to think of as outside. Second, you must help your dog overcome her anxiety of peeing under a roof, which has always been discouraged previously.
You can rely on the trust you've built with your older dog to teach her a new way of perceiving her environment. While dogs have an intuitive understanding of a den, a place where they sleep and should not poop or pee, the concept of extending this to an entire house and even onto porches is entirely human. Just as it is a human concept to go potty outside, you can teach your older dog the intuitive concept of going potty in a designated place inside.
Top
Getting Started
You may have to try a variety of potty surfaces before you arrive at one that works for you and your dog. Be willing to be creative, and try to think about things as your dog would. Does your dog always pee on the same potted plant? Maybe bringing that pot in could help your dog understand the principle of bringing outside behavior inside. It is a good idea to designate an area that you can expect to have some accidents with. Line floors and lower walls with plastic until your dog gets a feel for exactly where she should be going potty.
Make sure your designated potty place is sufficiently far from where your dog sleeps to make sure she does not see this area as part of her den. Another room is best, but if this is not possible the other side of the room should be sufficient
Top
The Bring the Outside In Method
Bring in the outside
Bring in a plot of sod, some potted plants, and anything else your dog likes to pee on. Put them in an area well covered with plastic.
Go potty
When your dog asks to go out, lead her to the inside space and tell her to go potty. If she asks to go to the door again, reaffirm that she should go on the grass inside.
Reward and clean
When your dog goes potty on the inside grass, reward her enthusiastically and clean it up quickly.
Transition to pee pad
Lay a pee pad on top of the grass inside and encourage your dog to use it. Reward when she does.
Pee pad alone
Replace the outside area with a pee pad. If your dog is resistant to the pee pad, try artificial turf over a pee pad.
Bring the pad outside
Start by bringing the pee pad outside with your dog. When she goes to pee or poo, put the pad under her and reward her for going.
Pad first
Lay the pad down somewhere your dog likes to go and encourage her to use it. If she refuses, bring it to where she wants to go and reward her for going on it. Keep practicing until she is willing to go to the pad to go potty.
Pad right outside
Lay the pad just outside, not in a desirable pee area, and encourage your dog to use it. Reward her enthusiastically when she does.
Pad inside
Put the pad inside and encourage your dog to use it exactly as you would if it were outside. If you usually leash your dog to go potty, leash her now.
Establish routine
Transition to only using the pad inside. Make sure to change the pad as soon as it is dirtied.
Lay a pee pad in front of the door
Make sure you don't have any guests coming over, and lay the pad in front of the door where you dog asks to go out.
Go potty there
When your dog goes to the door to ask to go out, tell her to go potty right there. She may whine and paw at the door, but be encouraging for her to go there.
Reward enthusiastically
Reward your dog enthusiastically when she goes and promptly clean it up.
Practice
Practice laying down the pad when your dog asks to go out and rewarding her for going.
Move the pad
When your dog is comfortably going on the pad, move it to your desired location and encourage your dog to use it there. Reward enthusiastically.
By Coral Drake
Published: 01/11/2018, edited: 01/08/2021
---