Pumpkin Pet Insurance Review 2022 - Coverage, Cost & More
Pumpkin Pet Insurance Review 2022 - Coverage, Cost & More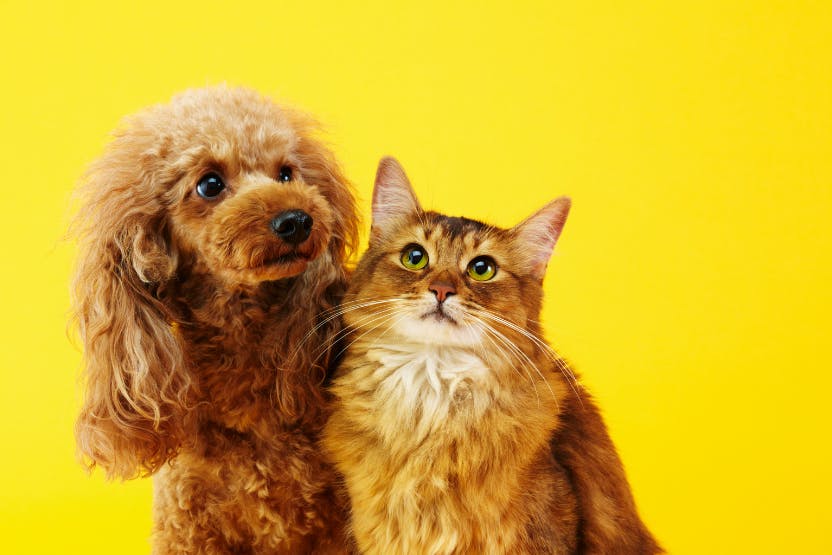 By Tim Falk
Published: 09/19/2022, edited: 09/20/2022
More articles by Tim Falk
Save on pet insurance for your pet
You don't have to choose between your pet and your wallet when it comes to expensive vet visits. Prepare ahead of time for unexpected vet bills by finding the pawfect pet insurance.
Overview
Pumpkin Pet Insurance is designed to offer comprehensive accident and illness cover for American dogs and cats. Offered by Pumpkin Insurance Services Inc., Pumpkin covers up to 90% of eligible vet bills when your pet gets sick or injured. 
However, before deciding whether Pumpkin pet insurance is right for your pet, it's essential that you research exactly what Pumpkin policies do and don't cover. Keep reading for a full rundown of the cost, features, exclusions, and reviews of Pumpkin pet insurance.
Is Pumpkin pet insurance right for your pets? Quick summary
Pumpkin might be right for your pets if you:
need comprehensive coverage with high annual limits and reimbursement amounts

want coverage for microchipping, alternative therapies, or dental disease

are looking for a policy that covers vet exam fees and diagnostic costs for covered conditions
Pumpkin may not be a good fit for your pets if you:
want a policy with customizable reimbursement amounts
prefer to file claims via fax, mail, or phone
Read on for a detailed review of Pumpkin's claims process, monthly premiums, covered conditions, exclusions, and more.
Find the "pawfect" insurance plan for your pet in seconds
Not sure which insurance plan is best for your fur-children? Use our pet insurance comparison tool to see how plans from leading providers stack up.
What does Pumpkin pet insurance cover?
Insurance from Pumpkin is underwritten by United States Fire Insurance Company. For full details of Pumpkin Pet Insurance coverage and exclusions, check out a sample policy on the Pumpkin website.
Pumpkin covers 90% of vet bills for the following treatments and expenses:
Vet exam fees for accidents and illnesses
Emergencies and hospitalization
Surgery and specialized care
Diagnostics and treatment
MRI or CT scans and X-rays
Prescription medication
Eye, ear, and skin infections
Digestive illnesses
Cancer treatments
Parasites and infectious diseases
Orthopedic injuries
Hereditary conditions
Alternative therapies
Behavioral problems
End-of-life costs associated with covered conditions

What conditions are excluded from Pumpkin pet insurance coverage?
Some procedures and expenses not eligible for coverage through Pumpkin, such as:

Pre-existing conditions
Cosmetic, endodontic, or orthodontic dental services 
Boarding
Breeding or pregnancy
Cosmetic and elective procedures
Grooming or grooming supplies
Ligament and knee conditions (if your dog has previously had a ligament or knee condition prior to coverage starting)
Funeral expenses not associated with a covered condition

How much does Pumpkin pet insurance cost?
The cost of insuring your dog or cat with Pumpkin varies depending on a number of factors. These include your pet's age, breed, and sex, as well as where you live.

To give you an idea of "ruffly" how much you can expect to pay for Pumpkin pet insurance each month, we applied for a range of mock quotes through Pumpkin's website.
The monthly premiums we received for dogs ranged from $43 to $125 per month. Insurance for cats through Pumpkin was slightly cheaper, with premiums ranging from $25 to $69 per month.
The quotes we received were for adult dogs and cats of mixed breed. Purebred dogs, puppies, and elderly dogs may cost more or less to insure depending on their health history and costs of living in your area.

Your premium will also be affected by the specifics of your pet's policy. Let's take a closer look at each one.

Annual deductible options
Choose a deductible of $100, $250, or $500. The higher the deductible, the lower the cost of coverage. However, there's no option to adjust your reimbursement amount with Pumpkin pet insurance, with all policies covering 90% of vet bills.
Annual coverage limits
Pumpkin offers 3 annual coverage limit options which will affect the cost of pet insurance. The higher your coverage limit, the higher your monthly premium.

Coverage limits for dogs insured with Pumpkin:
Coverage limits for cats insured with Pumpkin:

Optional add-ons
If you want wellness coverage for your dog or cat, you can add Pumpkin Preventive Essentials to your pet insurance plan for an additional fee.

In our mock quotes, wellness coverage cost an additional $11.95 per month for cats and $18.95 per month for dogs. However, this cost may vary depending on several factors, including costs of living in your area.

Discounts

Pumpkin offers a 10% discount if you insure multiple pets.

How do I file a claim with Pumpkin pet insurance?
If you need to make a claim on your Pumpkin pet insurance policy, here's what you need to do. You can take your pet to any licensed vet in the US or Canada for treatment, then submit your claim online via the Pumpkin website. You must submit your claim within 270 days of the treatment date.
You'll need to upload a copy of your vet bill as well as your dog or cat's medical records. It's also possible for the claim amount to be reimbursed to you or directly to your vet clinic.
How to apply for Pumpkin pet insurance
Pumpkin pet insurance is available for pets aged 8 weeks or older. There are no upper age limits or breed restrictions to worry about.
If you'd like to take out Pumpkin pet insurance coverage for your dog or cat, you can apply online by completing the following steps:
Providing your pet's breed, age, and gender.
Entering your name, email address, and ZIP code.
Selecting your annual limit and deductible.
Choosing whether or not you want to add a Preventive Essentials wellness package to your policy.
Reviewing your quote.
Providing your address and contact information.
Submitting your payment details.
What is the waiting period for Pumpkin pet insurance?
A 14-day waiting period applies after you take out a Pumpkin Pet Insurance plan. Any condition that occurs during this time will be classed as a pre-existing condition and will not be covered by your policy. 
If your pet has a pre-existing condition that has been cured for at least 180 days, that condition can be covered by the plan. However, please note that this is not the case for knee and ligament conditions.

Pumpkin pet insurance reviews
Pumpkin Insurance Services has a C+ rating with the Better Business Bureau (BBB) and is not BBB accredited. In the 12 months prior to writing, the BBB had closed 10 complaints against the company.
On Trustpilot, Pumpkin has an average rating of 4.5 out of 5 stars from over 230 reviews. Consumers who left positive reviews praised Pumpkin for a fast and easy claims process, while those who left negative reviews sometimes complained about slow claims processing and rejected claims.
Had a "ruff" time finding the right pet insurance plan?
Wag!'s pet insurance comparison tool lets you apply for quotes from leading providers all at once — so you have more time (and money!) to spend on your fur-babies.