How to Train Your Dog to Accept a Cat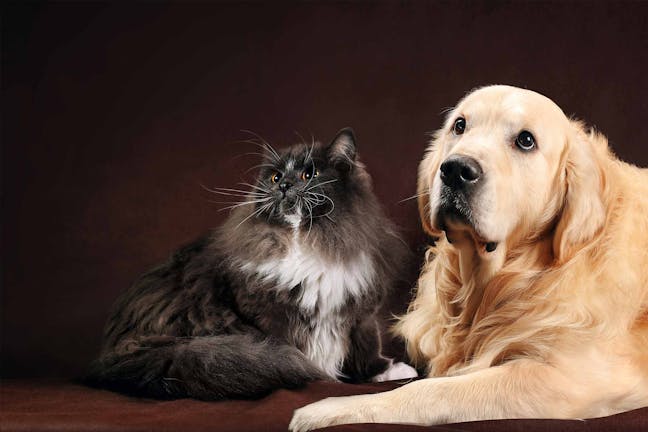 Introduction
Getting along like cats and dogs has never been known as a good thing. Though they both are predators, even small dogs seem to think they should chase down cats. Most felines also don't appreciate canine rambunctiousness and have no problem swatting a pooch in the face if he comes too close. So what can a lover of those who bark and those who meow do? Can the two worlds ever live in peace?
Top
Defining Tasks
While some pups and kitties can figure things out on their own, lots need a little intervention to smooth things over. Basically, it all boils down to how much prey drive your dog has. Prey drive is a natural instinct that helps wild dogs get dinner. As pooches have been domesticated, this urge has been decreased, but it's always still there to an extent.
This drive causes your pupper to go totally primal when a cat starts to run. The chase is then on, much to your kitty's dismay. The amount of training it will take to convince your pets to cooperate will vary depending on your animals themselves, but be prepared to spend weeks of work before progress is achieved. If your dog is still a puppy, they may get used to cats sooner than an older dog who has never been fond of felines.
Top
Getting Started
So now that you have your goal in view, you need to be prepared. Some handy things to have include:
Treats: Food goodies are the mother of all positive reinforcements. Don't be stingy, stock up on the yummy stuff for each training session.

A Friend's Cat: Preferably, find a cat who is at least semi-comfortable around dogs. A practice cat can help your dog get used to felines before you bring one home.

A Crate: Use the crate as a tool so that both animals can be in the room safely. Your pooch will be able to sniff the cat fully from inside.

A Calm Demeanor: Your four-legged friends feed off of your energy. If you aren't calm, neither will he be. Set the right tone for an interaction by being in your most zen frame of mind.

A Leash: Those first few meet and greets can get a little crazy. Keep your pup on a leash to control the situation.

Sometimes the animals are just on polar opposite sides of the spectrum. In these rare cases, you may have to consider finding a new home for one of the animals, for the safety of both.
Below are some great ways to teach your dog how to react to the presence of a cat. It's best to focus on the dog's behavior, as they respond better to training (and often are responsible for interactions going bad).
Top
The Do Not Disturb Method

Arrange a cat meeting
Talk to your pal with the dog-friendly cat and plan to have them come over for several training sessions.
Put on the leash
To keep your pup in his place, make sure to leash him up. A prong collar can also be used if your dog requires it.
Make your dog sit
Use the "sit" command to keep your dog stationary beside you.
Have them come in
Be sure to give your dog a treat if he stays calm. Reprimand him if he does not, and say "leave it!"
Repeat, but closer
If your doggo is being a good boy, you can have the cat come closer during each session. Keep the treats flowing when everyone is calm, but correct the dog if he starts to get jumpy.
The Prepared Pooch Method

Sign up for classes
Enroll you and your pup in some obedience training to help fine-tune your basic commands.
Tire her out
Before the meeting takes place, take your dog on a big, long walk. You might even want to stop at the park and play fetch for a while to really get her exercised.
Give a calming treat
Toss a few natural calming treats to your pooch to help her stay collected from the inside out.
Check yourself
Make sure you are going into the interaction as the leader. Be assertive, but also relaxed.
Make sure the cat has a safe spot
The feline will react much better if he knows he has a place to go out of the dog's reach. A calmer cat is less likely to dart, which will help prevent your pup from freaking out.
The Caged Confrontation Method

Introduce your dog to the crate
If you haven't already been using a crate, make sure your pup's first interactions with this tool are positive. Give lots of treats while your dog goes inside and even put a toy in there.
Put the dog inside
Once your dog is comfortable with the crate, have him go in and shut it.
Bring in the kitty
After the pooch is secure, have your cat come in the room.
Let things happen naturally
Allow the cat to come close to the crate if she's feeling like it. If not, don't force it!
Progress to a leash
If the crated interactions go well, take your dog out but restrain him on a leash. Praise him if he stays calm while in the room with the cat.
Work toward a free meet
When your canine has proven he can be calm with a free roaming cat, let them interact without restraints. Keep things supervised for a long time afterward, until the two fully accept each other.
By Amy Caldwell
Published: 10/04/2017, edited: 01/08/2021
---