How to Train Your Beagle Dog to Be Obedient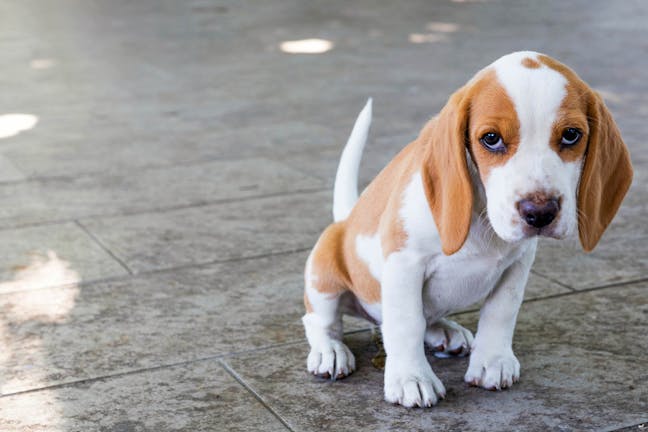 Introduction
What's not to love about a Beagle? From those velvet ears to their inquisitive nature and sense of fun, they are a fur companion who will give you years of loyal devotion. Of course, the downside of this beautiful breed is that they are their own worst enemy. A Beagle's brain is ruled by their sense of smell. Pick up an interesting scent on a walk and the dog becomes deaf to their owner and the instinct to follow a trail takes over. This can lead to the dog getting lost, or worse--being involved in an accident. 
However, the Beagle's other outstanding trait...their food obsession...can be used to your favor. Using morsels of food as motivation, most Beagles will become instantly attentive to your every move. Therefore, food can be a strong ally in the battle to teach your Beagle obedience. 
Top
Defining Tasks
Obedience is all about having the dog pay attention to the handler, and performing actions on request. Beagles are active, energetic, and easily distracted, which makes them potentially hard to train. Indeed, they have a reputation for not being ideal for a first- time dog owner, for just this reason. 
But don't despair, once you understand how to motivate a Beagle he'll actively want to please you in order to earn a treat. 
Train regularly, at least a couple of times a day. Keep the mood light and try to end on a high, so the dog is excited to take part next time. 
Top
Getting Started
Beagles are intelligent dogs (if easily distracted) and enjoy the bonding experience of training. You can start teaching a Beagle to be obedient from around 8 weeks of age, although be careful to keep the mood light and happy. If he seems to be tiring and making mistakes, stop, do one last action the dog can do well, and end on a high note. 
The training equipment is fairly basic,  because most of the skill is in the timing rather than having fancy gadgets. You will need: 
 A distraction-free place in which to start training

A collar and leash
A longline 
Tasty pea-sized treats
A treat bag or pouch for ease of access to rewards
A clicker
Top
The Clicker Training Method
Understand the idea
Once again, you're going to use the Beagle's never-full stomach as a way of motivating him to want to please you. This is done by teaching the dog that the click of a clicker is an IOU for a treat. The dog then works hard to make you click, so he can get that scrumptious morsel.
Link 'click' to a treat
Throw a small treat on the floor. As the Beagle gobbles it up, press the clicker. Repeat. The dog will quickly link the click to getting a reward. Try clicking, before throwing the treat. If the dog's head immediately goes to the floor, you'll know he's made the link and can move on.
Click when he does what you want
Watch for the dog sitting of his own accord. Click the instant his butt hits the ground. The dog knows a click means a reward. Repeat this. The dog will quickly realize that a simple action such as sitting has the potential to earn a treat. Hey presto, he starts sitting with the intention of pleasing you.
Add a cue word
With the Beagle going all out to make you press that clicker, start adding the cue word, "sit" as his butt goes down. This teaches the dog that this butt-lowering action is called "sit" and when he does it on command, he gets a scrumptious reward.
Work on other actions
Clicker training is a great way to 'capture' small actions such as a turning the head or placing a paw on an object. The ability to immediately label an action as something to be rewarded is a great way of teaching your Beagle obedience.
The Help to Concentrate Method
Understand the idea
The Beagle is a high energy dog that is easily distracted by his nose. If you attempt to train a Beagle that is bursting with energy, this makes things unnecessarily hard. Basic things like taking burning off some excess energy ahead of training should help him to concentrate during a training session.
Use a longline
It may well be your Beagle has an appalling recall and is likely to run off and follow his nose. This makes it difficult to give the dog a good run around, and is one of the reasons you wanted to train him. Don't risk losing the dog, but instead attach a longline to his collar. This gives you control over the dog should he go too far, but without restricting the dog's movements too much. Use a longline rather than a flexi-lead, as the latter teaches a dog to pull on the lead.
Play games of ball or fetch
As a breed, the Beagle was bred as a hunting dog capable of running all day. A simple walk round the block is unlikely to cut it for your beagley friend. Games such as ball or fetch are excellent ways of tiring your fur-friend but without having to put the full distance in yourself.
Provide mental stimulation
Bored Beagles don't score highly in the concentration stakes. Be sure to give him plenty of opportunity for mental stimulation. This includes strategies such as using puzzle feeders or scattering his food over the yard, so that he has to sniff it out. This has him using his senses and mimics foraging behaviors that are highly satisfying for a scent-driven breed like the Beagle.
Train in a distraction-free place
If your train in a field crisscrossed with animal tracks, it's going to be hard (if not impossible) for the Beagle to focus on you. During those early training sessions, work in a room or a space with few distractions so that you can sow the idea of listening to you, and therefore better cope when distractions are around.
The Food Motivation Method
Understand the idea
You may think you are up against it, training a Beagle, but their natural love of food can actually work in your favor. Beagles are highly food-motivated dogs and all you need do is harness this food obsession in order to get the dog listening to you.
Lure the dog with treats
Teach basic commands such as 'sit' by luring the dog with a food treat. Simply hold the treat in front of the dog's nose to get his full attention, and then move the treat in a low arc up and over his back. In order to follow the treat, the dog's butt will drop to the floor, at which point you say "Yes" in a happy voice and give the treat.
Link obedience to a treat reward
When your Beagle behaves well, such as walking without pulling or staying put, say "Yes" in an enthusiastic voice and then give him a treat.
Label the actions with a cue word
The Beagle mind is such that he'll soon realize that simple actions such as sitting can earn him a much-desired treat. When the dog starts sitting early on in the arc, you can add the label "sit" and put the action on cue.
Phase out out the treats
Once the dog has learned the command, stop rewarding him every time he cooperates. Instead, reward every-other 'sit'. This focuses the dog's mind and has him wondering if he sat too slowly last time, and that's why he didn't get the treat. By slowly increasing the gap between rewards, the dog will actually make more progress then giving a treat every time.
By Pippa Elliott
Published: 12/11/2017, edited: 01/08/2021
---