How to Train Your Dog to Behave Around Horses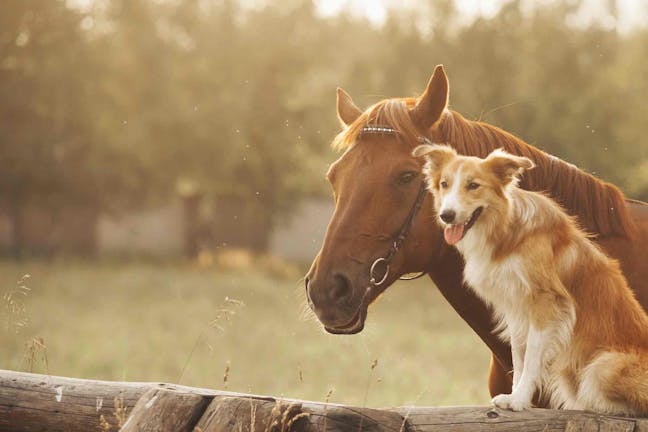 Introduction
It is not uncommon for animal lovers to have pets from more than one species, but what happens when one of your pet species is a predator and the other is a prey animal? Does mayhem necessarily have to follow?  Hopefully not!  Many horse owners also own dogs, and they get along famously, but this does not necessarily occur without some work, training and assimilating the two companion animals from species with very different natural instincts. Remember herding dogs have a tendency to want to herd livestock and large dogs, especially from hunting breeds, may also be prone to chase livestock. Other dogs are just plain excited about being around a new animal and may jump at the horse or, if fearful, may bite out of fear. If you do not teach your dog that these behaviors are not compatible with being around your horse,  you could be in for a wreck. There is a danger to the horse if it becomes frightened and the flight instinct kicks in--the horse could become injured in its panic to escape, slip and hurt itself or run through a fence, person, or other obstacle. Also, your dog can become hurt if a horse, being annoyed or harried by a dog decides to "fight",  a horse can easily injure or kill a dog by stepping on, kicking or even biting it.
Top
Defining Tasks
Because horses are prey animals who tend to react by fight or flight to the presence of  a predator, which technically your dog is, you will need to teach your dog to behave in a respectful, calm way around horses in order to avoid a confrontation in which your dog or the horse could be injured or worse. Ideally, a dog that is going to be around horses is introduced when young, but this is not always possible. If a horse owner adopts or acquires an older dog that has no experience with horses, some precautions and training will need to take place so that the dog learns to behave appropriately around his equine family members.  If the dog has a history of aggression or chasing bikes, people or other livestock, teaching the dog to behave around a horse can be particularly challenging.  Dogs need to not chase, jump at, or nip horses and should stay a respectful distance from the horse's feet.  In order to not put themselves or the horse at risk, dogs need to learn to be calm, gentle and not make sudden movements around horses.
Top
Getting Started
Before you introduce your dog and horse and start teaching appropriate behavior around horses, you should be aware of the temperament of both the horse and the dog, and whether either of them has been exposed to the other species before. If you have an excitable dog and your horse has never seen a dog before, you might want to introduce the horse to a calm dog first so the horse has a positive experience around dogs before introducing an excitable dog, and vice versa. If your dog is calm, but the horse not so much, get your dog used to quiet horses that accept his presence before introducing him to a more high-spirited equine friend. Your dog should know basic obedience commands and have good on and off leash control prior to exposing him to a horse or horses. A leash, to control your dog, and a round pen or corral with safe fencing such as rail, not barbed wire, is ideal for introducing your dog to how to behave around horses.
Top
The Slow Introduction Method
Contain and provide distance
Put your horse in a corral or enclosure and your dog on a leash. Let them see each other from a distance.
Keep it natural
Be calm, do not point out the horse, ignore the presence of the horse. Repeat several times over a few days.
Get closer
Take your dog over to the horse when feeding the horse. Keep the dog on a leash. Let the horse and dog be closer to one another, and get used to each others presence.
Make routine
Make the dog part of your daily routine of caring for the horse or horses. Keep the dog on a leash until he acts calm and being around the horses becomes part of a daily routine.
Allow contact
Let the dog come in contact with the horse, sniffing noses. Be calm and reward your dog if he stays calm. Remove him if he becomes overexcited. Try again later.
Allow off leash
When your dog is calm around the horse, and the horse is calm around the dog, try allowing off-leash contact in a controlled environment. If excitement occurs, return to leash, if your dog remains calm off leash, reward him.
The Off Leash Control Method
Teach basic commands
Teach basic obedience on leash, like sit, down, come, stay.
Teach off leash commands
Teach your dog basic off-leash control, like sit/stay, down/stay and leave it, as well as off-leash recall or come.
Contain the horse
Put your horse in a round pen, corral or enclosure with safe fencing.
Leash and introduce dog
Bring your dog to the pen on a leash. Ignore excited behavior and reward calm behavior around the horse.
Perform commands around horse
Give your dog commands such a leave it or sit/stay if he approaches the horse too closely.
Remove leash
Once your dog has learned to be calm around the horse on leash, and gives the horse appropriate space, remove the leash.
Introduce dog off leash
While off leash, introduce your dog to the horse again in a safe enclosure. If the dog approaches the horse too aggressively, command leave it or sit/stay and return to leash work.
Reward calm off leash behavior
When the dog is calm or obeys off-leash commands, reward your dog.
The Model Behavior Method
Obtain positive models
Find a horse that is calm around dogs and another dog that is calm around horses or ignores horses.
Introduce dogs
Introduce your dog to the calm dog.
Introduce horse
Bring the dogs around the horse while your inexperienced dog is on leash.
Allow modelling
Allow the experienced, calm dog to model appropriate behavior in the presence of the horse. Walk your dog, the calm model dog, and the horse together like a pack. Repeat several times over a period of days.
Remove leash
Once you're inexperienced dog has learned to be calm around the horse on leash and experienced the other dog's calm behavior, try taking your dog off leash with the horse in a safe enclosure.
Provide alternate behavior
Give your dog a distraction, a game with a ball, or give obedience commands for him to focus on while off-leash in the presence of the horse. Let the other, calm, dog, participate if available. If the dog crowds the horse or gets excited, recall him and put him back on leash.
Reward calm
If your dog is cam, ignores the horse, or is quiet and gentle with the horse, reward.
Practice and remove model
Repeat as often as necessary until calm gentle behavior is established, remove the model dog and introduce other horses.
By Laurie Haggart
Published: 10/11/2017, edited: 01/08/2021
---