How to Train Your Border Collie Dog to Come When Called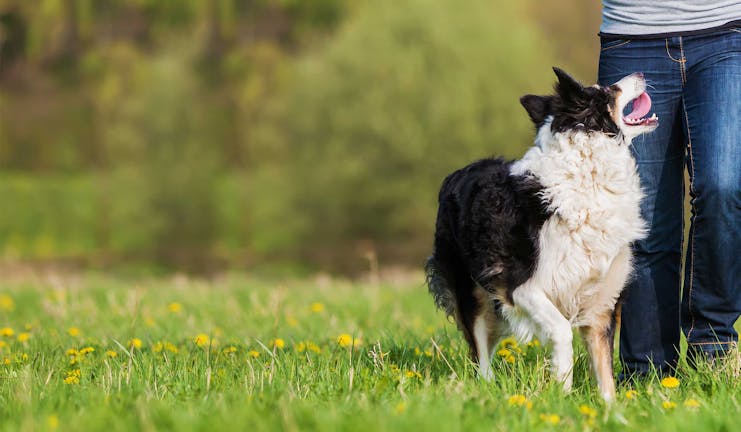 Introduction
Border Collies are the rocket scientists of the dog world! They are considered to be among the smartest and most trainable of dogs, which should make training them to "come" easy, right? Maybe... unless they outsmart you!  
The reason they are so trainable is that Border Collies have been developed to learn complex commands and behaviors required for herding livestock. They tend to be excited about their work and they are very high-energy, another trait required for their work. However, the chasing and herding motivation, along with their high energy, can result in them being reticent about coming when called. The 'come' command is one of the most important for your dog's safety, especially your active Border Collie, to keep him out of danger that could result from running away, out on a road, or chasing livestock when he is not supposed to. 
The good news is, your Border Collie is very oriented to be part of a team with you, so training him to come can be a matter of developing that team mentality and making coming to you a great experience that your dog wants to do. Border Collies want to work and they want to please their team members. Training them to be obedient to commands like 'come' is a matter of tapping into that natural inclination. So don't let your Border Collie outsmart you, be the team leader!
Top
Defining Tasks
Because of their natural intelligence and energy, training a Border Collie to come when called is more successful if established from a young age. If an older dog has developed bad habits, they can be a challenge to reshape. Successful Border Collie trainers find they need to address the dog's working instinct and high energy level and tap into them for success. 
Making coming when called part of a fun game by playing hide and seek, stimulating your Border Collie's mind and making coming to you a treat, will ensure success. Never punish your Border Collie after he comes to you for a transgression, or follow it immediately with a negative consequence such as leaving the park. Instead, play with your dog before leaving, or give him a treat and attention when he comes. Border Collies also thrive on consistency; they are so smart that if you are inconsistent they will pick up on this and use it to their advantage. A lively, interested Border Collie exploring its world can be a challenge to get to come when called. Getting your dog's attention by cheerfully calling his name or by initiating a game like hide and seek or fetch works better than yelling or reprimanding him and then calling him. Punishing your Border Collie, will teach him that coming when called means he gets in trouble!
Top
Getting Started
Start training your Border Collie to 'come' at home and in an enclosed area, in the house or a fenced yard, so that there is no danger of your dog running away and into trouble. Use favorite toys, balls and treats to reinforce desired behavior. A long lead line can also be useful for training your Border Collie to come when called. Remember, the operative word here is "fun".  Teach your Border Collie that it is fun to come when called, more fun than whatever is out there in the world calling his name!
Top
The Variable Rewards Method
Call
Call your Border Collie's name and say "come" in an excited voice, while holding a high value smelly treat in your hand, like chicken or a hot dog.
Reward 'come'
When your dog comes, give him the high value treat, praise, and affection--say, "yes".
Practice often
Continue, practicing calling your dog in various situations. Start in the house or yard, practice in the park or on walks.
Vary treats
Vary treats used as a reward for coming when called. Use high-value treats like meat or cheese, dry kibble, toys, praise, and affection. Your dog may not always come for dry kibble, but he will come for the chance that this time's treat might be a hot dog!
Avoid negatives
Avoid negative consequences for coming. Do not leave play areas immediately, reprimand your dog, or clip nails or any other thing your dog doesn't like immediately after calling your dog to come.
Hide and reward seek
Start playing hide and seek with your dog in the house. Hide behind a piece of furniture and call your dog to find you. When he investigates and discovers you, present a favorite toy and play.
Move outside
Move the game outside where there are trees and other obstacles. If you do not have a safe enclosed area, you can start playing this game with your Border Collie on a long lead line, 25 to 50 feet long.
Simple hiding
Ask your dog to sit and stay, then go hide. At first, let your dog see where you hide, call him to 'come'.
Reward
When your dog comes to find you, reward with play or a treat.
Make complex
Increase the complexity of the game, making harder hiding spots. Don't let your dog see where you hide; you can use an assistant to face him in the other direction. Then call your Border Collie to come find you. Remove the lead line and go off-leash. By making a game of coming when called, you make it a fun and positive experience.
The Guide and Play Method
Teach 'come' in closed area
Teach your Border Collie to 'come' when called, in the house and in your yard, by calling him and providing a reward.
Move outside on leash
Go outside with your dog on a long lead line. Call your dog to 'come'.
Guide with line
If your Border Collie is distracted or does not come immediately, call his name to get his attention. Then guide him with a gentle tug on the lead line.
Reinforce
Reward with treats, attention, and play for coming when called.
Play
When recall is good, let your Border Collie off-leash. Call your dog's name and run in the opposite direction. Your Border Collie will run after you, it's a game! Play often, and reward coming when called to continue to establish that coming when called is fun.
By Laurie Haggart
Published: 12/26/2017, edited: 01/08/2021
---