How to Train Your Dog to Come with a Whistle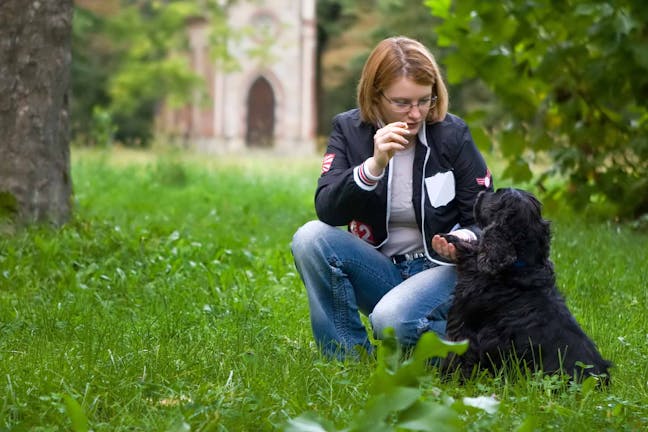 Introduction
Picture this:
You and Fido are out walking in the park. Suddenly, someone's off-leash and slightly bad-mannered pooch comes running out of nowhere. Or, instead, there's a commotion up ahead involving people, cars or other dogs. In these types of fast-paced scenarios, it's essential for your pooch to have a solid and reliable response to a come command. If the distraction is in a busy or loud place, it can especially handy to train your dog to come to a whistle. If you're new to dog training, this may seem like an aspirational task. However, there are plenty of simple and straightforward methods for training this essential behavior.
Top
Defining Tasks
While the idea of a "come" command may seem fairly simple, getting your dog to approach you can actually take many different forms and variations. Touching your hand, sitting in front of you or even coming to different commands or sounds are all potential options. Savvy dog owners can pick and choose which return to owner method works best for their pooch as well as their walking and outdoors activities habits. Adding a come to a whistle instead of a verbal command allows for a louder and longer range for your dog, which can be especially helpful in hiking or off-leash activities.
Top
Getting Started
Before you get started teaching your dog to come to a whistle, you're going to need a few supplies. A selection of tasty treats is a necessity to create a positive learning experience for you and your pooch. The treats should be of a variety of levels or values, ranging from your dog's least to most preferred delectable snack. A treat bag or pouch that allows you to use both hands for training is also helpful. Finally, to teach your dog to come to a whistle you will want a favorite tug toy to get them excited and happy. For young puppies that don't know how to "stay", you may want to enlist the help of a friend or family member to keep your pooch in one spot. It's important to not move forward on any step before thoroughly mastering the previous.
Top

The set up
Have a friend or family member sit on the floor or in the yard with your dog. They should hold your dog's collar or leash securely. You should be a number of feet apart from each other. Be sure to have a selection of treats available and a toy at hand.
Release and play
When ready, have your friend release your dog while you excitedly gesture and call their name. When your dog comes to you, treat and praise and then proceed to enjoy a quick game of tug with the toy.
Repeat and remove toy
Repeat steps one and two until your dog is reliably making a bee-line towards you on your prompt. At this point, start removing the toy game and instead offer only treats and praise, making the behavior more formalized.
Add in the whistle
After much repetition, add in a whistle when your dog is released. Be sure to keep the gesturing and call out to your dog if need be to get them to come to you. Treat and praise profusely when they obey.
Whistle only
Repeat the whistling with gestures multiple times until your dog has learned to associate the two items with each other. Remove the gestures and use only the whistle to call them to you. This type of modification is called shaping, as it slowly teaches your dog a behavior that is built off of previous steps.
Increase distance and distractions
Practice the come on a whistle in numerous settings. Remove your friend as an obstacle. Be sure to work the command into their daily routine. For example, whistle for your dog to come when they are outside playing or in other rooms of the house.

Set up an accomplice
If your dog does not know the 'stay' command, get a friend or family member to help. They should hold your dog's collar and leash to keep them from immediately chasing after you. They will also be able to help provide distractions for later, more advanced training.
Prep the treats
Get your dog ready for their training session by showing them that you have yummy treats as rewards. Put the treat in your hand and show it to your pooch. Give your pooch a couple of treats to help get them excited.
Step back
Once your pet knows that you have treats, take a few steps back. Your accomplice should still be holding your dog, or they should be in a stay if they're smarty pants and know the command already. On your signal, the accomplice should release your dog, who will immediately rush to you, the known provider of yummies. Praise your dog and give them a treat.
Repeat and whistle
Repeat step three multiple times until your pet is rushing to your side readily. At this point, begin adding the whistle immediately before they are released. This will associate the sound with treats in your dog's mind.
Add distractions and distance
Start adding distance and distractions in order to really cement the behavior for your pooch. The idea is to get them to know that a whistle means they should run to your side for a snack. Have your accomplice engage in a play session with your dog before you whistle or remove the accomplice altogether and use the whistle in other scenarios. Always treat when your dog comes on command.

Treats in hand
The "touch" method for teaching come is a great way to build a solid recall and can be cued to a whistle. Start out by showing your dog that you have a treat in your hand. You can use a stay command or an accomplice to keep your dog in place.
Mouth to hand
Take a step or two back and have your accomplice release your dog or say their release word. Continue holding the treat in your hand, at your side, but loosely so your pooch knows it's there. Release the treat when your dog gets to your hand.
Increase distance
Increase the amount of distance your dog has to travel in order to get to the treat. If you started out a few feet away, double that and then double that again. You want your dog to know that if they touch your hand, no matter how far, they will receive a treat.
Add in the whistle
When your dog is reliably nosing the treat out of your hand, add in a whistle immediately before they are released. Repeat this many times. It can take 40-50 times before your dog has built sufficient association between the whistle noise and receiving a treat.
Remove the treat
When your dog has associated the whistle with a treat, remove the lure of the treat from your hand. Instead, hold your hand in a low position, palm open, and whistle for your dog. They should come rushing over and touch your hand, sniffing for the treat. When they touch your hand, immediately give a treat with your other hand and praise.
Repetition makes perfect
Repeat this in multiple scenarios with increasing level of distractions. Whistle for your dog at random times and try holding your hand at different heights and in varying positions. Work up to being out of sight when you whistle for your dog, so that they have to follow their ears only to find you and get their reward.
By Amy Caldwell
Published: 10/10/2017, edited: 01/08/2021
---