How to Train Your Dog to Cover Up With a Blanket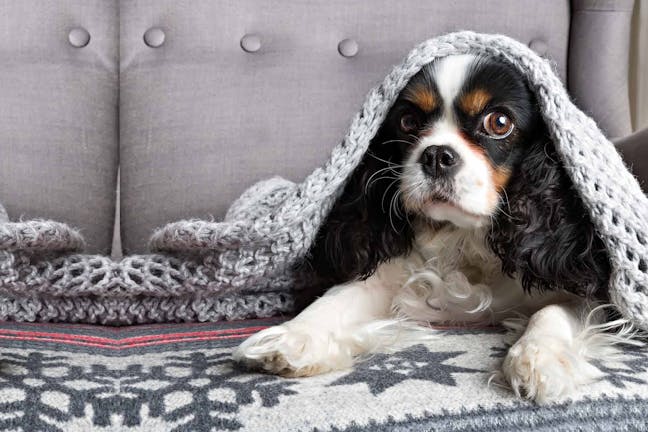 Introduction
Susan's corgi, Max, loved to hide under the blankets, rooting under them with his nose and squirming underneath. It seemed like a no-brainer! She added a verbal command every time Max dived under the covers; "bedtime", she would say. Now every time Susan says "bedtime,"  Max dives under a blanket. much to everyone's delight. 
Years later, Susan has a  new dog, Merry. She thought she would teach Merry the same trick, but Merry didn't take to being covered up at first, so Susan had to work on a few other commands and shape this trick so she could continue playing it with her new canine companion. Eventually, Merry caught on, and now happily performs 'bedtime' on command for family and friends.
Top
Defining Tasks
Your dog can learn to cover himself up with a blanket on command as a fun trick. Some dogs learn to perform this trick while sitting on a blanket, and then taking up a corner and rolling themselves up in the blanket. Others root under the blanket with their nose and squirm underneath, while other dogs can learn to lie down or sit next to a blanket on the floor, pick up the blanket in their mouth and then drape it over themselves while lying down. Which method you choose to teach your dog may depend on how comfortable your dog is with covering himself up with a blanket. You may need to acclimate your dog to being covered first if he is not comfortable with this.  Eventually, this will be a cute trick your dog can perform on command to "go to bed", or "cover up".  Even a young dog can learn this trick, but because the entire trick requires a set of behaviors strung together, it may be challenging for a very young puppy. You should wait until your dog has learned some other, simpler tricks first.
Top
Getting Started
This is a fun trick and should be fun for your dog to learn. Do not punish or reprimand your dog., Teach at your dog's pace, keep sessions short and fun, use treats to reward your dog. Some trainers like to shape this behavior with a clicker to mark stages of the behavior. Remember to end sessions on a positive note and stop before your dog becomes frustrated.
Top
The Reverse Training Method
Place blanket
If your dog does not naturally go under the blanket, start placing a blanket over him--slowly at first, so as not to frighten your dog.
Play peek-a-boo
When your dog peeks out from under the blanket, make a game of it. Say "peek-a-boo" and reward your dog so he becomes comfortable under the blanket and associates it with a fun game.
Encourage going under the blanket
If your dog likes to root under a blanket, wait for him to start to nudge under the blanket or initiate the peek-a-boo game when your dog starts nudging the blanket.
Add command
Then add a verbal command for the behavior and encourage your dog under the blankets. Reward your dog even for approximations of wriggling under the blankets.
Practice
Practice until your dog is adept at wriggling under the blanket on command and continue to reward and praise.
The Chain Behavior Method
Teach 'lie down'
Teach your dog to lie down on his side on command. Use a clicker if you are familiar with working with a clicker to mark and shape the behavior.
Teach 'roll over'
Teach your dog to roll over, using a clicker if desired.
Teach 'take it'
Teach your dog to 'take it' by presenting a cloth in front of your dog's nose. When he mouths the cloth, say "take it" and reward. You can use a clicker to aid in marking the behavior.
Establish 'take it'
Continue practicing 'take it' with larger and larger cloths until your dog is taking a blanket in his mouth on command and holding it.
Chain behaviors
Ask your dog to take the corner of the blanket in his mouth, and then to lie down. Then ask your dog to roll with the blanket so he covers himself up.
The Shape Behavior Method
Reward taking the blanket
Teach your dog to take the blanket corner in his mouth. Wait for your dog to mouth the blanket, click and reward.
Position blanket with dog lying down
Place the blanket on the floor. Ask your dog to lie down with the blanket at his feet.
Encourage reaching for the blanket
Pull the blanket part way up and ask your dog to take the corner of the blanket by reaching toward your hand. When your dog touches your hand and the blanket corner, reward. When he grabs the blanket corner in his mouth, reward further.
Practice and add command
Repeat and add a verbal command for 'cover up'.
Increase reaching for the blanket
Gradually make your dog lie down and then reach further back to grab the blanket and drag it over himself. Reward. Eventually your dog will be picking up the blanket and pulling it over himself to cover up.
By Laurie Haggart
Published: 12/07/2017, edited: 01/08/2021
---