How to Crate Train a Chihuahua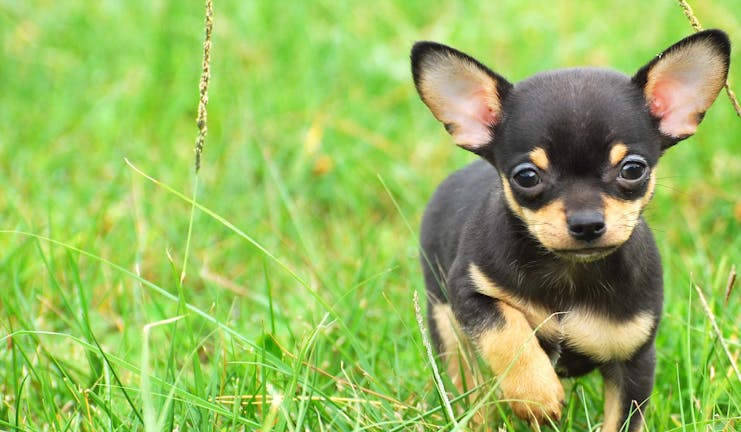 Introduction
Adding a Chihuahua to your family is going to bring everyone a lot of fun. These dogs are smart, fun, and full of life. With this in mind, you might think it cruel to train your pup to stay in a crate. But, in reality, providing your dog with a place he can call his own can turn out to be a very good idea. Thing is, you can't look at the crate as a jail cell, your pup won't see it that way. What he will see is a private space that is all his, one that can become his den, if you are willing to put in the training time.
When you look at this way, you are using the crate to provide your pup a safe spot, not a place of punishment. You should never use his crate to punish him. This will only result in your pup thinking of his crate as a jail cell, making it even harder to crate train him. 
Top
Defining Tasks
Crate training your dog should be considered as a part of your Chi's general training. While you can use the crate as part of his potty training, you can also turn his crate into a den where he can go to get away from the hustle and bustle of daily life, to hang out when you are at work, or to sleep in at night. Keep in mind that you must keep the training sessions short at first as your pup will not be able to hold himself for very long at a young age.
Rather than teaching your Chi that a crate is a bad place he is sent to when he has done something wrong, you will be teaching him that his crate is his den, his private place to go to, his hotel room at night. With this in mind, you should do all you can to make his crate feel more "den-like."  Carpet it so he has a soft surface to walk on or lay on, put a nice comfy doggy bed in there for him, and toss in a few of his favorite toys--anything to make him comfortable and feel like he is at home. 
Top
Getting Started
One of the most important steps in crate training your Chihuahua is to make sure you buy the right size crate. Too big and he may see one end as his den and the other as his personal toilet. Too small and he may not be able to stretch out or turn around. You will also need a few things to help make the training go further.
Potty pads – For accidents

Tasty Treats – A lures and rewards

Doggy bed – Something comfortable for your pup to sleep on

Toys – For your pup to play with

Much like any other type of training, you will need plenty of patience and time to work with your pup. Go slow and give him plenty of time to get used to the crate before you try to leave him in it for longer periods of time. 
Top
The Comfortable Den Method
It's all about location
Your pup would build his den in a quiet place in a cave if he could find one. So, with this in mind, find a nice quiet spot for the crate, be sure he can see you and you can see him, then create a comfortable den for him by padding the floor with carpet, adding a doggy bed, putting a pee pad down and giving him some toys to play with.
Bring on the pup
Bring your pup over to the crate and place him gently inside of using your choice of cue words. Gently close the door so as not to startle your pup and give him plenty of time to get used to it.
I don't like this
Your pup is likely to be quite vocal in his demands to be let out at first. Let him tell you all about until he has said his piece. Then, once he settles down, praise him and give him a treat.
Time to go outside
Time to let your pup out. Take him outside immediately so he can go potty and stretch his legs.
Add to the time
Continue the training, adding more time to his stay in the crate until he spends time there on his own and will happily stay there when you need him to. It will take a little time so be patient.
Locate the crate
Start by locating your pup's crate somewhere where you can keep an eye on it, preferably a nice quiet spot. Take the time to cover the floor with carpet, a blanket, even potty pads. Add a bed and toss in a few toys.
Create a meal station
Relocate his food and water dishes to just outside the front of his crate and fill them. Leave the door to his new "den" open and let your pup wander in and out at will. Let him do this for several days in a row. This should give him plenty of time to get used to it.
Locked in
The next time your pup goes into his crate, close the door behind him. Let him fuss and whine until he tires of it. Don't worry, it won't take that long. Eventually, he will stop whining. and when he does, praise him and give him a treat.
Release the hound
When he has finished his treat, open the door and take him outside so he can pee immediately. This will go a long way towards helping with his potty training too.
It goes on and on
The rest is all about repeat training and slowly extending the amount of time your pup spends in his crate. Eventually, you should be able to leave your pup alone while you go to work or sleep at night.
The Slow but Steady Method
Create a home for your pup
Place your pup's new "den" in a safe spot in the house, one out of the flow of traffic, but where you can still see it. Create a comfy home for your pup, add wall-to-wall carpeting, a nice plush bed, some toys, even a blanket over the top to mute the lighting.
Lure him in
Using some of your pup's favorite treats, lure your pup into the crate by tossing them in the middle. Keep doing this until your pup becomes comfortable with going in and out of his den.
Add the cue word
Each time you toss the treat into the crate, use your choice of cue word. This will get him used to hearing the cue and matching it to the action.
Work with the cue word
Keep practicing this until your pup will obey the command every time you give it.
Finish the training
The rest of this training involves repeating it and working with your pup until he has no problem spending time in his crate. You may even find him going in there on his own when he needs a nap or simply wants to get away from it all.
By PB Getz
Published: 01/24/2018, edited: 01/08/2021
---