How to Crate Train a Mastiff Puppy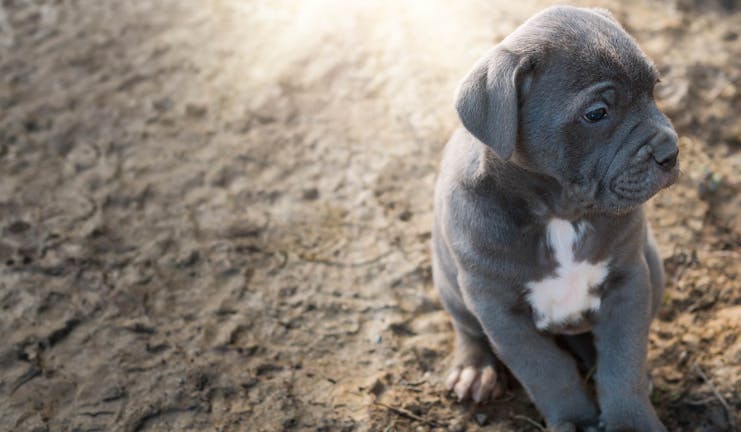 Introduction
Bringing home your new Mastiff puppy can be both exciting and a little intimidating. On the one hand, you just can't wait to have fun with your new best friend and teach him all the best things in life. On the other hand, you might be nervous about creating a safe and comfortable place while instilling good behaviors. One of the first skills you should work on is crate-training your Mastiff puppy. 
Crate training your Mastiff will give him a safe place to call his home, give you peace of mind that he won't destroy the house, and help with safe car travel in his new surroundings. Crate training is a sensitive issue and you need to approach it with patience and consistency. You can't expect to stick your dog in a crate, leave for several hours, and have him want to ever be in there again. You have to slowly let him take ownership of the space and learn to love it. Crate training your Mastiff puppy the right way will pay off for the rest of his life.
Top
Defining Tasks
Crate training your Mastiff puppy comes with a few considerations. Remember that your Mastiff is not a Lab, or a Golden retriever, or a herding dog and sometimes needs slightly different training methods from time to time. Never be afraid to think outside the box (or crate) and enlist the help of a professional with Mastiff experience. 
Make sure you get the proper crate for your needs. A wire crate is good for home and allows your puppy to see everything that's going on in the world. A hardshell crate is safer for travel because they can't collapse down, but make sure they have proper ventilation. Another consideration for you is size. Your puppy is tiny, cute, and cuddly now, but in six months he is going to be huge! If you purchase a crate your puppy will grow into, make sure you purchase a divider so he can grow with the crate. Too much room in the crate can be less effective in potty training since the puppy can go the bathroom without messing up his bedding. You can often find second-hand crates and upgrade them as he grows.
Top
Getting Started
The most important item you need to crate train your Mastiff puppy is patience and the second most important item is a sense of humor. Once you show your puppy that the crate is the place to be, he'll be excited to get inside. Here are a few necessary items to have on hand.
An appropriately sized crate
Some comfy bedding
Treats
A food bowl
His favorite toys
A blanket to cover the crate
There are several ways to crate train your Mastiff puppy depending on his personality and your daily routines. Check out the three methods listed below and pick the best one for you and your buddy. If you take your time and listen to your dog, he'll learn to love the crate.
Top
The Food Association Method
Set up the crate
Set up the crate in a room where the family spends a lot of time. Make it cozy with nice bedding. Make sure the door is tied open.
Allow your puppy to explore
Let your puppy in the room and begin to encourage his exploration. When he gets close to the crate toss him a treat. You can even place treats around the crate.
Encourage him to go inside
When he's sniffing the opening to the crate, toss a few treats just inside the door. Keep tossing them farther inside.
Reward him getting inside
Once he ventures inside the crate, give him a few treats and tell him "good boy!" Start to treat him only for going inside.
Give him meals in the crate
Once he's comfortable going inside the crate, start feeding him inside. Close the door while he eats and open it as soon as he is done.
Extend crate time
Start leaving the door closed for a few minutes after he is done. Extend crate time very slowly. Never leave him so long that he begins to whine. If he does, wait until he stops before letting him out and try again with less time.
Begin leaving the house
Once he can comfortably stay in the crate for 30 minutes, leave the house for about 15 minutes. Come back and let him out right away for a walk.
Leave for longer periods
Slowing increase the time you are gone from the house. Whenever you return, take him out for a walk and to relieve himself.
Introduce the crate
Set up the crate in the middle of a quiet room. Add in comfortable bedding and maybe a favorite toy.
Bring in your puppy
After a walk and play time, bring your puppy into the room and encourage him to sniff and explore the crate.
Entice him inside
Whether he goes in on his own or he is a little reluctant, entice him inside with a stuffed Kong toy, a bone, or a chew toy. Keep the gate open.
Make the routine
Turn this into an after-play routine. Bring him in after play time and give him a Kong or a chew toy. Encourage him to lie down and enjoy the treat in the crate.
Start closing the door
Start to close the door for a few minutes while you stand by. Make sure to open it before he starts to whine or worry.
Close the door for longer
Close the door for longer periods of time. Once you reach 10 minutes, begin leaving for a short amount of time and returning quickly.
Leave the house
Once he is staying in the crate for 30 minutes, try leaving the house for up to 15 minutes at a time. Keep your routine of playing first and making sure he has gone to the bathroom. The crate should signify quiet time.
Prepare the crate
Set up the crate in a family room or other room that your family uses frequently. Fill it with comfy pads or blankets and make it cozy.
Play close to the crate
Play with your puppy close to the crate. Give him treats each time he goes near it, or hide treats around it for him to find.
Make going into the crate a game
Create a game based on going into the crate. Toss a toy inside and give him praise when he goes in.
Play hide and seek
When he is comfortable going into the crate, begin to hide treats in the bedding. Make it fun for him to search and spend time in his crate.
Start to close the door
As he's searching, start to close the door for a few seconds. Open the door when he is finished.
Keep the door closed
Extend the time the door is closed while he is searching. Slowly extend the time, but don't wait long enough for him to whine.
Leave the room
Once he is comfortable with the door closed for five or 10 minutes, start to leave the room for a few seconds. Don't stay too long and always come back and let him out. Slowly extend the time you spend away and the time he is in the crate.
Try leaving the house
When he is comfortable staying in the crate for about 30 minutes (with you out of the room for five or 10 of those minutes), start to leave the house. Walk around the block or just stand outside. Slowly you can increase the amount of time you are gone. Always let him out right away to go to the bathroom when you get home.
By Katie Smith
Published: 02/01/2018, edited: 01/08/2021
---